You Can Now Wear Chanel's Infamous Micro-Bikini For 72 Hours Only
You, too, can be Kim Kardashian. (At least for 72 hours.)
---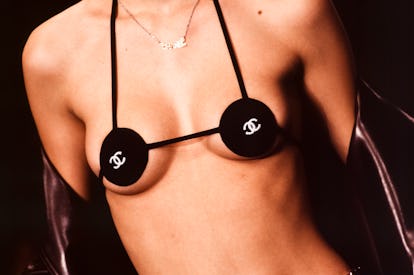 Alexis Duclos/Getty Images
More than two decades before the house was slapping its logos on everything from skate decks to surfboards, the two interlocking C's that stand for Chanel made their way onto a bikini top that, however microscopic, has since accrued an enormous legacy. It all began in 1995, on a day that the late marketing genius Karl Lagerfeld may well have known would go down in history, given how he outfitted the supermodels Kate Moss and Cindy Crawford before sending them out onto the runway in Chanel's spring 1996 collection.
The look he chose for Stella Tennant, for example, amounted to barely-there scraps. Aside from a towel tied around her waist, her sole source of coverage on the runway was the barest minimum of what could be considered a swimsuit: two logo-covered nipple pasties, held together by a glorified thread.
Now, proving once and for all that we live in a democracy, you, too, can cause a scene in the suit. (Not to mention pay a very special homage to the late Lagerfeld.) Healthcare might not be accessible to all, but (temporary) ownership of a vintage Chanel micro-bikini now officially is—assuming that you're bold enough to inquire about the suit at El Cycèr, the vintage shop currently offering a 1996 edition for rent. Oh, and also assuming that you're fine with black—the bubblegum pink version worn by Carla Bruni sadly has yet to resurface—and with paying 10 percent of the bikini's unknown retail price for the opportunity. (We asked El Cycèr for the cost of renting the piece, and will update if we hear back.)
Mysteriously enough, the newly rentable pasties also appear to be a bit more conservative than in the past. Maybe #FreetheNipple really was successful in the end, or maybe our minds have been warped by some of the celebrities who've helped usher along the suit's resurgence—one of which, of course, is Kim Kardashian, who Instagrammed proof that she'd gotten her hands on a top and bottom last October. A penchant for bikini revivals, apparently, runs in the family; it was only a year earlier, after all, that Kim's sisters Kendall Jenner and Kourtney Kardashian staged a swimwear throwback to Legally Blonde while aboard a yacht in Cannes. As usual, though, the Chanel has since proven to be by far the most memorable.
Presumably out of concern for conservation (or hygiene), there are some restrictions: El Cycèr will only rent the suit to those who are in the city of Los Angeles. They'll also only do so for 72 hours—a window of time perhaps intended to be prohibitive, but in fact is full to the brim with possibilities. Why not schedule your rental right before a spring break bikini contest, or a polar plunge? Why not follow Kendall Jenner's lead and act like your swim suit is also your snow suit? And, while you're at it, why don't you make like Naomi Campbell in effectively shutting down those all too relatable rumors that you're pregnant with Skepta's baby?
You do you!
Related: Revisit Karl Lagerfeld's Most Over-the-Top Chanel Runway Shows of All Time
A Look Back at Karl Lagerfeld's Biggest Runway Controversies at Chanel
The '90s marked the height of Lagerfeld's experiments with many of the most storied Hallmarks of Chanel, including the house's classic chains. It wasn't Helena Christensen's belted waist or short shorts, though, that caught the eye during the house's spring/summer 1996 show, but instead the proto-shutter shades she wore that came complete with a muzzle-like extension for her mouth.

Images Press/Getty Images
Say what you will about Chanel's fall/winter 1995 collection, but you can't deny that Lagerfeld didn't place emphasis on the house's logo. The most striking example of which was an itsy bitsy bikini worn by Stella Tennant, whose nipples were just barely obscured by a pair of interlocking C's.

Pat/Arnal/Getty Images
To be fair, at least Lagerfeld made sure that Tennant had company.

Alexis Duclos/Getty Images
Though Lagerfeld later protested that he "had no idea what the original meaning was," that didn't change the fact that his spring 1994 couture collection for Chanel featured three dresses printed with what turned out to be passages from the Koran, thereby sparking an international controversy. Eventually, Lagerfeld conceded to "apologize to Muslims" and Chanel destroyed the extant versions of the dress.

Gerard Julien/Getty Images
Chanel's spring/summer 1993 couture show saw Naomi Campbell parade her nipple down the runway just as proudly as the crucifix around her neck.

Victor Virgile/Getty Images
While full of Chanel's signature chains and pearls, Chanel's spring/summer 1991 collection saw Lagerfeld take inspiration from hip-hop and rap. Needless to say, not everyone approved of his source of inspiration, and criticisms of cultural appropriation soon followed. As usual, though, Lagerfeld stuck to his guns: "Rappers tell the truth—that's what's needed now," he said backstage after the show.

Pierre Guillaud/Getty Images
A few years later, Lagerfeld—who later appeared in a music video with Snoop Dogg—proved he wasn't finished with referencing the "theme" of rap. His spring/summer 1994 collection for Chanel featured not only chains, but also bandanas that seemed to be a high-fashion (and tone-deaf) take on signifiers of gang affiliations.

Victor Virgile/Getty Images
Lagerfeld's reimagining of the classic Chanel bouclé tweed suit reached new heights in his collection for spring/summer 1994, with hemlines that seem likely to have cut down the house's costs on fabric that season.

Michel Arnaud/Getty Images
Of all of Lagerfeld's reinterpretations of the classic quilted Chanel leather bag, the most, um, singular was the hula hoop version that appeared during Chanel's show for spring/summer 2013, which promptly became the talk of the season. The bag, Lagerfeld later explained, "is for the beach! You need space for the beach towel. Then you can put it into the sand and hang things on it."

Chris Moore/Catwalking/Getty Images
Several years before Fendi debuted the baguette bag, Lagerfeld showcased an early version of the oblong object, making the case for redubbing the Fendi version the demi-baguette.

Victor Virgile/Getty Images.
To set the scene of what he intended as a "feminist" protest, Lagerfeld handed models signs emblazoned with slogans like "history is her story" and "ladies first." However pure his sentiment may have been, the move did not go over well, prompting many to criticize Lagerfeld of attempting to co-opt a serious and timely political movement.

Catwalking/Getty Images
It wasn't so much the clothes that caused a stir at Chanel's fall 2010 show, but rather the enormous 265-ton, 30-foot tall iceberg that Lagerfeld took great pains to import from Sweden, as a symbol of sorts for global warming. (Never mind that it took six days and a careful maintenance of a temperature of 25 degrees Fahrenheit for it to make it all the way to Paris.)

Dominique Charriau/Getty Images
Climate change apparently forgotten, Lagerfeld put the emphasis of Chanel's spring 2018 show on clear plastic, which covered that season's collection as if it were a squeaky couch.

AFP/Getty Images