Naomi Campbell Responds to Skepta Pregnancy Rumors By Posting a Bikini Photo on Instagram
This is how you shut down a rumor.
---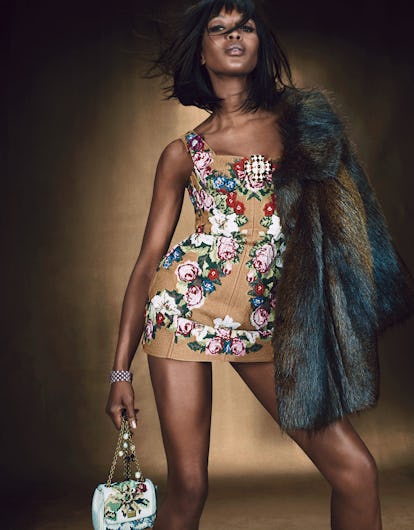 Photo by Emma Summerton, styled by Giovanna Battaglia; W Magazine July 2012.
Naomi Campbell just served a lesson in how to shut down a rumor. One day after her rumored boyfriend, Grime MC Skepta, posted a mysterious sonogram on his Instagram account with the title "Baby Adenuga"—which is his last name—the supermodel has seemingly set the record straight on her own Instagram.
While Campbell didn't bother to address the rumors that she and Skepta are expecting, she did post a bikini photo revealing her flat stomach. "HAPPY 1st Of AUGUST MY LOVES," she coyly captioned the photo of her flawlessly standing aboard a yacht.
Skepta didn't give any more context to the photo of the ultrasound he posted, other than adding a rose emoji, leaving his followers guessing. It's possible that the ultrasound could belong to one of his family members, though, as he has two brothers and a sister, all of whom are also active in the music industry.
Whether or not Campbell's intention was to dismiss any pregnancy talk, she has opened up before about her desire to have children one day. Last May, she told the Evening Standard, "I think about having children all the time." The 48-year-old isn't in a rush, though. "Now, with the way science is, I think I can do it when I want," she added, before revealing that she would hope to bring children into the world with a partner. "I do want a father figure. I think it's important."
The year before, Campbell said the same. "I'm not saying I won't have children," she told The Sunday Times. "I could have children. I just don't know which way I'll have children. But I think I'll have children, everyone thinks I'll be a good mother. I've always considered it. I'll just do it when I'm ready. I'm not rushing to anyone's drumbeat, I'm going to my own."
Meanwhile, Skepta is clearly a fan of children, as he built a playground for kids in Nigeria a couple of years ago. "Me and my Dad been talking about making a place for the children to play in his village in Nigeria," he explained at the time on Instagram, per NME. "He sent me these pics and my heart is smiling… Gonna keep developing this playground and hope we inspire kids to get into activities and maybe find talents they never knew they had. More life."