Channing Tatum Is Reportedly Dating Jessie J
They've been spotted together several times in recent weeks.
---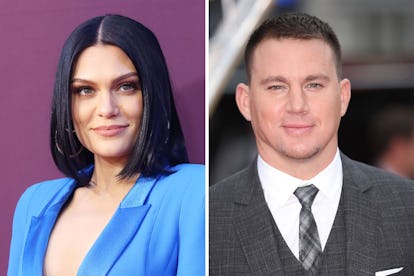 Composite. Getty Images
Several months after announcing that he and wife Jenna Dewan were separating, Channing Tatum has reportedly jumped back into the dating pool. Multiple outlets report that the actor has recently begun dating the English singer-songwriter Jessie J, with an inside source telling Us Weekly, "It's new, casual, and they're having fun together."
Though the pair have reportedly been seeing each other for a few months, they've only been spotted together a few times, all in the month of October. Per Us Weekly, Tatum was seen attending Jessie J's recent Seattle and Salt Lake City concerts, both of which took place in the last week. Ahead of the singer's Seattle show on Saturday, October 6, she and Tatum reportedly snuck in a round of miniature golf at a local course. Late the evening before, according to People, a Twitter user claiming to work at the mini golf course wrote about seeing the couple while on the job. The user noted that Tatum and Jessie J (née Jessica Cornish) were flanked only by a bodyguard and a few friends, and added in a subsequent tweet, "they were hella nice. Jessie came down and I was shook and then when I went to get them to play, Channing turned around and I was like ?. We hugged and got a pic and then I got to hear Jessie singing somebody to love with the radio at the end of the course."
The reports come almost exactly six months after Tatum and Dewan, who are parents to five-year-old daughter Everly, announced their divorce. In early April, after almost nine years of marriage, they released a joint statement on social media. "We have lovingly chosen to separate as a couple. We fell deeply in love so many years ago and have had a magical journey together. Absolutely nothing has changed about how much we love one another, but love is a beautiful adventure that is taking us on different paths for now. There are no secrets nor salacious events at the root of our decision—just two best-friends realizing it's time to take some space and help each other live the most joyous, fulfilled lives as possible," they wrote. "We are still a family and will always be loving dedicated parents to Everly."
For her part, Dewan has also jumped headfirst back into dating, with People reporting in September that the dancer and actress had "been on a few dates but doesn't talk about a boyfriend." In the meantime, she and Tatum have remained solid co-parents, even spending Mother's Day together just a few weeks after making their announcement.
Related: Channing Tatum, Norman Reedus, and More Male Celebrities Who You Forgot Started as Models
Channing Tatum, Norman Reedus, and More Male Celebrities Who You Forgot Started as Models
The Walking Dead star Norman Reedus, in his Prada campaign from the '90s. Incidentally, his son Mingus is following in dad's footsteps by modeling for Calvin Klein. Photograph courtesy of Prada.
Long before he was an actor, and even before he was a rapper, Mark Wahlberg posed for this iconic Calvin Klein advertisement from 1991. Photograph courtesy of Calvin Klein.
No wonder Jamie Dornan wasn't afraid to flash some skin in the Fifty Shades movies; he did so frequently during his modeling days, including in his Calvin Klein advertisement from 2006. Photograph courtesy of Calvin Klein.
Before appearing in Supergirl and Desperate Housewives, Mehcad Brooks did some early work for Calvin Klein and returned to modeling for this advertisement from 2010. Photograph courtesy of Calvin Klein.
Ian Somerhalder's cheekbones are legendary, so it's not a surprise to see him in this Versus by Gianni Versace 1995 advertisement. Photo courtesy of Versus.
A frequent face in editorials, runways, and campaigns in the '00s, here's Boyd Holbrook photographed by Hedi Slimane for Dior Homme in 2003. Photograph courtesy of Dior.
Not all male models go on to become famous for acting. Here's conceptual artist (and Björk ex) Matthew Barney (far left) in a J.Crew advertisement from 1989. Photograph courtesy of J.Crew.
Before Vikings, Travis Fimmel became famous as the face (and body) of Calvin Klein underwear and appeared on the cover of W Magazine with Gisesle in November 2002. Photograph by Michael Thompson.
Though Djimon Hounsou appears in this Calvin Klein ad from 2007, he began work as a male model in the late '80s in Paris. Photograph courtesy of Calvin Klein.
Channing Tatum already made a movie about his male stripper past, so why not one on his male model past? Here's Tatum in a Nautica advertisement from the early 2000s. Photograph courtesy of Nautica.