Channing Tatum and Jenna Dewan Spent Mother's Day Together Even Though They've Separated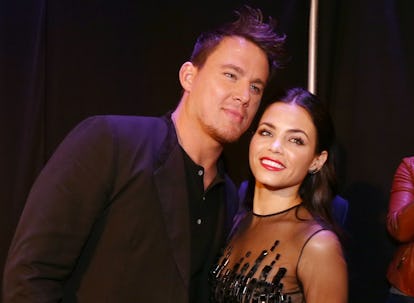 Christopher Polk/Getty Images
Channing Tatum and Jenna Dewan may have separated, as they announced last month, but that doesn't mean there's any lost love. Just like they were couple goals for many, the pair have become breakup goals: They've stayed civil throughout. Mother's Day was no different as the couple, who were married for nine years, spent the holiday together with their four-year-old daughter Everly Tatum.
Tatum, who got in quality time with his ex and daughter on the holiday, as a source revealed to People, also posted a tribute to Dewan on his Instagram stories. "Happy Mother's Day everybody," he said in a video, "Jenna, happy Mother's Day, baby. Mama, happy Mother's Day—I hope you're enjoying this beautiful sunset. Love you guys."
Meanwhile, Dewan posted about motherhood on her Instagram, sharing adorable pictures of Everly, though she didn't reveal she had spent the day alongside Tatum. "Thank you Everly for choosing me as your mother?," she wrote. "I will love, cherish and support you till the end of time. You teach me every single day and i am continually in awe of your strength and your wisdom. I can't believe this was almost 5 years ago….!!!! Love you bigger than the sky and all the stars ✨✨"
When Tatum and Dewan announced that they had "lovingly chosen to separate as a couple," they posted a note explaining their decision on social media. "First off, it feels odd that we have to share this kind of thing with everyone, but it's a consequence of the lives we've chosen to lead, which we also happen to be deeply grateful for," they wrote in a joint statement Dewan posted to Instagram.
They also acknowledged that they still held each other in admiration, writing, "Absolutely nothing has changed about how much we love one another, but love is a beautiful adventure that is taking us on different paths for now. There are no secrets nor salacious events at the root of our decision—just two best friends realizing it's time to take some space and help each other live the most joyous, fulfilled lives as possible. We are still a family and will always be loving dedicated parents to Everly." Clearly, they're making good on that promise.
Related: Brad Pitt Is Reportedly "Much Happier" and "Charming" Again After Split with Angelina Jolie
Martin Schoeller: Portraits
George Clooney and Brad Pitt photographed by Martin Schoeller.
Jay Z photographed by Martin Schoeller.
Steve Carell photographed by Martin Schoeller.
Marina Abramovic photographed by Martin Schoeller.
Jake Gyllenhaal and Heath Ledger photographed by Martin Schoeller.
Sean Combs photographed by Martin Schoeller.
Lil' Kim photographed by Martin Schoeller.
Tony Hawk photographed by Martin Schoeller.
Cesar Millan photographed by Martin Schoeller.
Martin Schoeller: Portraits