Actually, Channing Tatum and Jenna Dewan Apparently Split Up Months Ago
Here's all the rumors swirling about the pair's heartbreaking breakup.
---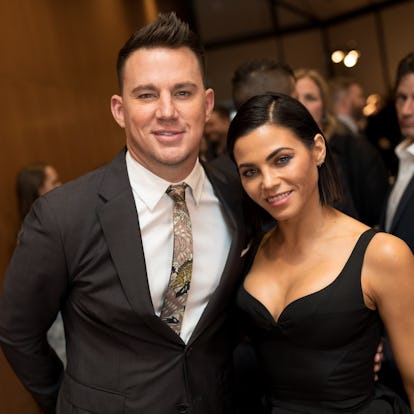 Greg Doherty/Getty Images
Late on Monday night, Channing Tatum and Jenna Dewan sent the Internet into a frenzy by announcing that, after nearly nine years of marriage, they've "lovingly chosen to separate as a couple," sparking a variety of cries of despair that love is dead.
At the same time, though, quite a few reacted to the news by saying that it was a long time coming—which certainly seems to be true. That all started back in January, when Dewan showed up to the Vanity Fair Oscars afterparty solo, telling reporters that her husband was at home with their 4-year-old daughter Everly, whom she also took to L.A.'s Wizarding World of Harry Potter by herself a few days later. (Meanwhile, around the same time, Tatum was spotted dining out with a crew that did not include Dewan.)
Usually, a mom posting a video of her kid at a theme park that didn't feature her husband, and her husband's lack of posts about it, wouldn't be cause for speculation, but Dewan and Tatum have long gushed over each other on social media, leading to the perception that they were one of Hollywood's happiest couples. Dewan, on the other hand, has been open about how that's not the case: In February, she told Health that "when people say you guys have such a perfect life, I want to scream and tell them no one's perfect," in an interview that mostly made headlines at the time for suggesting that she and Tatum scheduled sex. ("We have not yet scheduled sex, but we do schedule time together, so maybe that is sort of scheduling sex," she said, adding that some of her friends do, so it "might actually be a good idea.")
Now, though, there are rumors that even at that point, the pair were separated; according to People, multiple sources have said that the pair have actually been separated for months. That would line up with the fact that they made their last public appearance together back in November, at the L.A. premiere of Tatum's film War Dog: A Soldier's Best Friend, though Dewan did bring their daughter to the Kids' Choice Awards just a few days ago to see her dad onstage, marking her first public event.
It was also back in November that Dewan seems to have last Instagrammed Tatum, posting a photo of herself and him in their Halloween costumes, with the caption, "When your daughter asks for Sally and Jack, you give her Sally and Jack. Happy Halloween everyone." Tatum, for his part, posted an aw-inducing birthday tribute to Dewan, whom he called "my love," in December.
Other than that, though, he's refrained from his usual fawning posts about his wife, save for a photo of the pair of them together just a couple of weeks ago, when the rumors were starting to amp up, of themselves showcasing their daughter's skills at face paint.
Meanwhile, People is now reporting that Tatum has moved out of their family home, and there's no denying that there's been a shift in his posting. In early 2016, his followers were guaranteed a loving photo of Dewan pretty much every month, which are now getting comments mourning their separation:
According to their notably lighthearted statement regarding their separation, though, there seems to be no hard feelings between the pair: "Absolutely nothing has changed about how much we love one another, but love is a beautiful adventure that is taking us on different paths for now," they wrote, adding that there were "no secrets nor salacious events at the root of [their] decision—just two best-friends realizing it's time to take some space and help each other live the most joyous, fulfilled lives as possible." They also took care to stress their dedication to their daughter and insisted that they are "still a family"; indeed, just hours before they made their announcement, Dewan, whose name on Instagram is still Jenna Dewan Tatum, was photographed still wearing her wedding ring.
Indeed, there was no mention of the word "divorce" in their statement, but it seems rather optimistic to think they'll be getting back together any time soon. If you'd like to pretend otherwise, though, simply unfollow both of them and keep on rewatching Step Up.
Related: In Memoriam of 2018's Most Devastating Celebrity Breakups, So Far
Jonah Hill. Photo by Dave Allocca/Starpix.
Channing Tatum. Photo by Dave Allocca/Starpix.
Amber Stevens. Photo by Dave Allocca/Starpix.
Christopher Miller and Phil Lord. Photo by Dave Allocca/Starpix.
Nolan Gerard Funk. Photo by Dave Allocca/Starpix.
Kenny and Keith Lucas. Photo by Dave Allocca/Starpix.
Rachel Dratch. Photo by Dave Allocca/Starpix.
Ice Cube. Photo by Dave Allocca/Starpix.
AndrewAndrew. Photo by Dave Allocca/Starpix.
Lily Lane. Photo by Dave Allocca/Starpix.