Channing Tatum Seemingly Confirmed His Relationship With Jessie J on Instagram
An Instagram post is worth a thousand words.
---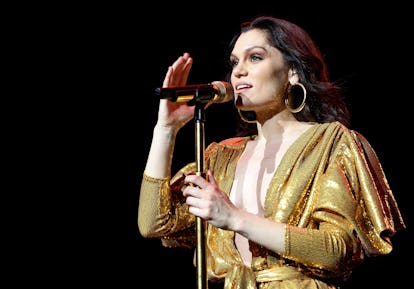 Gus Stewart/Getty Images
These days, most celebrity relationships start with a frustratingly rumor-driven period of are they/aren't they that can last anywhere from a few weeks to more than a year before the lovebirds deign to let slip a subtle confirmation of their romance. Jessie J and Channing Tatum, however, seem to have made the bold choice to put speculators out of their misery fairly early: On Tuesday, only one month after the pair were first rumored to be dating, Tatum attended the singer's London concert and posted about it on Instagram, which many are taking as a flat-out confirmation of their relationship.
The post shows Jessie (née Jessica Cornish) onstage at the Royal Albert Hall, in her hometown of London, wearing a bright red sequined top and matching pants, serenading a rapt audience while a massive rose (as in her most recent album, R.O.S.E.) flashes on the jumbotron behind her. "This woman just poured her heart out on stage at the Royal Albert Hall. Whoever was there got to witness something special. Wow," Tatum wrote. A little bit later, he went even further by posting in his Instagram Story a video of Jessie leading the crowd in waving their arms back and forth in unison. "She went off tonight!" he captioned the high-energy shot.
Tatum has reportedly attended several of Jessie's R.O.S.E. tour dates in recent weeks, including shows in both Seattle and Salt Lake City, but, until Tuesday, had yet to document those quasi-date nights on any public-facing form of social media. Though we can't be sure of the exact reason why the London concert inspired him to come clean about his probably girlfriend, it could be because Jessie, too, opened up to her fans on Tuesday night. According to Metro, before performing "Four Letter Word" off her new album, the 30-year-old paused for an emotional chat with the audience. "I was told four years ago that I can't ever have children," she said. "I don't tell you guys for sympathy, because I'm one of millions of women and men that have gone through this and will go through this."
She continued, "It can't be something that defines us. But I wanted to write this song for myself in my moment of pain and sadness, but also to give myself joy, to give other people something that they can listen to in that moment when it gets really hard. So if you've ever experienced anything with this or have seen somebody else go through it or have lost a child, then please know you're not alone in your pain, and I'm thinking of you when I sing this song."