Charli XCX Teases Mixtape With Carly Rae Jepsen, Tove Lo, MØ, and Every Other Artist You Love
From Carly Rae Jepsen to MØ.
---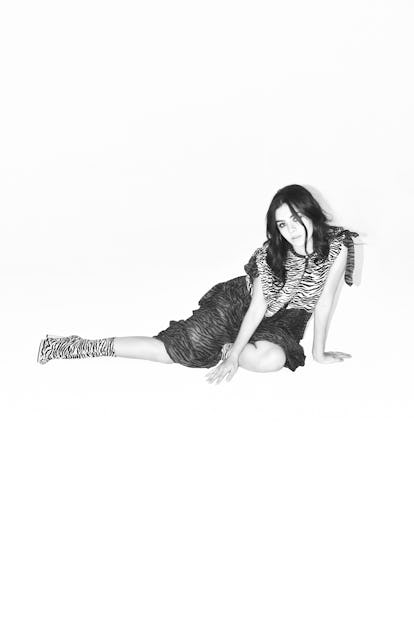 Photo by Alex Hodor-Lee.
Ever since Charli XCX's noir-pop breakthrough in 2012, the UK artist has been ushering in a new era of Girl Power. Most recently that included putting a handful of male pop cultural figures on a shelf for ogling in her "Boys" video, from Joe Jonas to Diplo, Mac DeMarco, Riz Ahmed, and Will.I.Am, to name just a few. Clearly, Charli XCX has a gift for bringing people together, which is useful since she just teased a future mixtape consisting of her dream lineup.
Apparently, that consists of Carly Rae Jepsen, MØ, Tove Lo, Mykki Blanco, Grimes cohort and art rapper Brook Candy, Chairlift frontwoman Caroline Polacheck, the Finnish singer Alma, rapper Cupcakke, Pabllo Vittar, Jay Park, Kim Petras, Dorian Electra, Tommy Cash, and A.G. Cook. Charli XCX tweeted those names with the words, "Imagine if I did another mixtape with… that would be pretty cool right..?? ?✨" The tweet has since amassed 13,000 likes and over 1,200 comments from fans pleading for it to happen, among other things.
If Charli XCX's mixtape is officially in the works that would be truly exciting. The mixtape seems to be the best medium for her music (especially in the eyes of those who still place her first two, 2012's Heartbreaks and Earthquakes and Super Ultra at the top of her discography). Plus, "Boys" hailed from this year's mixtape Number 1 Angel.
Another thing strengthening the promise of Charli XCX's dream mixtape is that she already has a working relationship with many of the artists she mentioned. Her recent mixtape featured MØ on "3 AM (Pull Up)" and Cupcakke on "Lipgloss." Plus, it was produced by A.G. Cook. Meanwhile Brooke Candy worked with Charli on "Cloud Aura" from her debut album, 2013's True Romance.
Adding mystery to Charli's elusive tweet is the fact that this past spring a photo emerged of her and Carly Rae Jepsen in the studio. Producer Justin Raisen shared the photo of the trio. Could that session have been for this mixtape? Or was it for Charli XCX's awaited studio full-length followup to 2014's Sucker? Only time will tell, until then we have her Twitter and Instagram.
Related: What Your Favorite Boy in Charli XCX's "Boys" Video Says About You