Charlotte Tilbury Explains What It's Like to Be a Celebrity Makeup Artist for the Oscars
The day starts at 7 a.m., with scrambled eggs at the Chateau Marmont.
---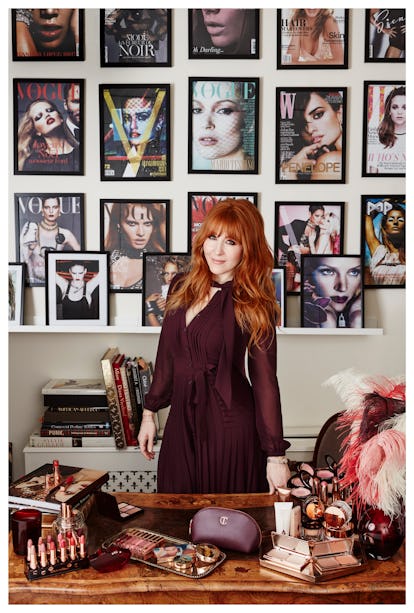 Photo courtesy of Charlotte Tilbury.
Throughout her career, makeup artist Charlotte Tilbury has worked with some of the biggest stars in Hollywood, like Nicole Kidman, Penelope Cruz, Salma Hayek and Sienna Miller. So, it goes without saying that she's a pro when it comes to Oscars glamour. Here, Tilbury speaks candidly about what it's like to be a makeup artist during the Academy Awards, her favorite red carpet techniques, and more.
Oscar season is upon us once again. Is there a certain look for this awards season that you are particularly veering towards? Whenever I am approaching red carpet makeup, there are a few things that remain the same–the first port of call is a glowy base, with a flawless filter to it. Then, contouring, which is simple Hollywood make-up 101: cheeks, jaw, temples, eyes, and now nose contouring has more recently become a thing–all the celebrities want it. Precision highlighting and powdering will give you the most amazing facial structure of a Hollywood star. And when it comes to lips, of course, the classic will never die –the red carpet isn't called red for nothing!–and red carpet red lips will remain iconic. So, too, for eyeliner. There will always be times when it will feel relevant to do a powerful feline flick, but I will continue to deconstruct make-up in ways that makes timeless looks feel modern, like dark, smudgy liner underneath the lash lines, or a flash of white in the water line to highlight eyes and make them appear bigger and brighter. What is a typical Oscars day for you? 7 a.m.: My day starts with breakfast at Chateau Marmont. I always stay there when I'm in Los Angeles. I'll always stay at the Chateau Marmont: I adore its romantic history–it's like stepping into a dream world of old Hollywood glamour. L.A. simply wouldn't be the same without it. [For breakfast] I have gluten-free toast, scrambled eggs, mushrooms, avocado and mozzarella on the side with an earl grey tea and lemon.
8:30 a.m.: After checking my emails and my diary to see my plans, I get myself ready, do my makeup and have my hair done.
10:30 a.m.: I'll make my way to my first interview of the day, usually TV, to talk about the night ahead and what magical makeup looks we can expect to see. Of course I never reveal too much–that's for the big reveal later. Every woman wants their red carpet moment so I can't give away any of my secrets until after!
2:30 p.m.: I usually do the makeup looks for one or two celebrities for the big day. My clients are always my number one priority, especially for events such as the Oscars. The red carpet is a time for full-on glamour and I always make sure I allow enough time to make sure clients all look and feel their most beautiful!
7:00 p.m.: I'll head to another TV appearance to discuss the gorgeous makeup looks as we see them on the red carpet, what key trends we can spot, and share my backstage tips and tricks on how every woman can re-create the looks themselves.
8:00 p.m.: Once all the glamorous, mesmerizing makeup looks have been seen on the red carpet, I'll amp up my daytime Dolce Vita eye, add lashings of mascara for full fat lashes then head to one of the Oscars parties to catch-up with friends and dance all night! How do you make sure that your clients' makeup lasts from when you first do it until they hit the red carpet? When my starlets walk the red carpet, it begins in daylight and ends in high definition. It's so unforgiving. It's a megapixel, mega-pore, mega-nightmare situation and shows things you can't even see with the naked eye. Primer is the key to elongating any makeup look. Makeup primers even out your skin tone, veil pores, protect your skin from pollution and ultimately make sure your makeup stays put for longer. It's worth investing in, as the best ones ensure real staying power. Don't forget to choose one that is skin-type appropriate, as your skin has to wear it every day so consider one that tackles your problem areas too. My award-winning Airbrush Flawless Finish powder is the ONE product everyone uses on the red carpet! As a make-up artist, I've always been wary of talc-heavy powders that create a "cakey-skin" finish that makes women look old before their time. This powder is not like any other powders, but a micro-powder that is like the most finely-milled, highest thread-count cashmere. Airbrush Flawless Finish doesn't sit in lines but optically blurs them away, giving the skin an ultra-luxe luminosity for a high definition result. For long-lasting lipstick power, I always use my Lip Cheat lip liners as a stencil over the lips. The wax and oil rich formula works beautifully ensuring lip color lasts all day without feathering. I also seal in the lipstick by using the Lip Cheat liner after lipstick to lock in color and tidy up the edges. What are your must-have products you almost always use on all of your celebrity clients? It all depending on their individual needs, but here are a few of my must-haves. My Magic Cream is my secret weapon for dream skin! I never do makeup without applying it. It floods the skin with moisture and protects the complexion all day. Wonderglow primer adds instant radiance, and is a cult product for a natural healthy glow. The Fluorescent Core ingredient redirects the sun to more flattering natural angles of the face. I call it "Gisele-in-a-jar," as it soft-focuses pores and lines and makes you look lit from within. Magic Foundation is the perfect demi-matte makeup that literally gives you flawless, HD camera-ready skin in seconds. The demi-matte finish is important as it minimises shine in the right places, mattifying the T-zone and giving your cheeks a healthy, youth-boosted glow. My incredible Hollywood Contour Wand gives you instant Filmstar Killer cheekbones, brings out your facial framework, narrows your forehead, lifts your jawline, and makes you look younger, slimmer in seconds. Brows are the pillars of the face – they define your beauty. Eyebrows are actually the key to facial identity, they're what makes us recognizable. My new Sculpt & Shade Gel, Legendary Brows, glides on like a dream and has a first of its kind Micro-Fine Precision Brush that coats, shades and grooms every single hair, "growing" them for flawlessly defined brows in an instant. Finally, mascara. I am a mascara obsessive! I use lashings and lashings of my Full Fat Lashes – it's the perfect 5-in-1: it curls, lengthens, separates and adds volume and drama.
What advice do you have for your clients when they're on their own? Do you recommend a daily routine? Skincare is so important. Skin should always look youthful, glowing and radiant! Hydrating the skin is an essential step for getting a healthy complexion in an instant. I always say: You can't have a beautiful painting without a beautiful canvas! The first thing I do to get that gorgeous instant glow is to cleanse with my Multi-Miracle Glow Balm. Then, for the best complexion of my life, I use my Instant Magic Facial Dry Sheet Mask – it's the mask of the future! Before makeup, I always prep the skin with my miracle-working Magic Cream, and I finish by tapping my Magic Eye Rescue underneath the eyes – it has peptides that renew the skin.
What are some easy makeup tricks you share with your clients? Cheat fuller, wider lips with my Lip Cheat lip liners. They are every woman's best friend when it comes to fuller, wider lips with a flawless finish! They have a waterproof, velvety texture that glides over any skin texture at any age. The wax and oil rich formula works beautifully as a stencil, ensuring lip color lasts all day without feathering. By tracing the natural outline of your lips, you can completely re-shape and re-size the cupid's bow, as well as any asymmetrical unevenness in an instant! I'm obsessed with my Lip Cheat Lip Liner in Pillow Talk – it mimics and enhances the natural hue of the lips, so you can cheat a perfect, pillow-y pout in seconds. My trick of the trade is how to create beautifully contoured features. I apply the sculpting Contour Wand to my cheekbones, temples, forehead and down the sides of my nose for the ultimate facelift in a flash. Carve out cheekbones by applying contour along the hollow of the cheeks, buff into the skin using the large end of the complexion brush. Apply contour wand to the sides of the forehead and jawline, buffing towards the hairline using the large end of the brush. Apply contour wand down the sides and end of the nose. Use the small end of the complexion brush to buff in.
What products do you always have in your purse? My bag is like a Mary Poppins bag; it's packed full of makeup, creams (I always a Magic Cream, and new formulations that I'm currently testing), My Dolce Vita palette (I wear it every day), my Pillowtalk lipstick for a perfect pillow-y pout, my phone, my diary, Dior sunglasses, a Mason Pearson hairbrush and Sam Mcknight's Cool Girl texturizing spray to give me that '60s Brigitte Bardot volume. I also have a picture of my husband and I from the launch of my brand. We took it together in a photobooth and he made it into a polaroid and wrote "I love you"on it – I carry it everywhere. What are your best drugstore buys? Pointed Q-tips are my must-have beauty bag essentials – they are great for cleaning up any little makeup mistakes. Dipped in a little of my Magic Cream they are your best friend for correcting the perfect feline flick. Also, Vitamin C to boost my immune system and keep energy levels high.
Related: How Emma Stone, Karlie Kloss and More Got Ready for the 2017 Oscars