Cher Releases "Gimme! Gimme! Gimme!" Ahead of Her ABBA Covers Album Dancing Queen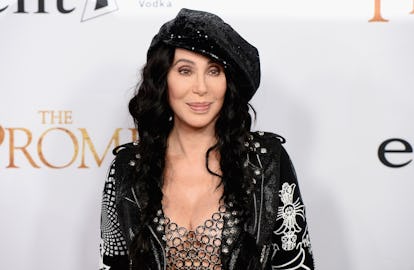 Tara Ziemba/Getty Images
Cher may be five decades into her career, but she's as relevant as ever. As of right now, the pop icon is in theaters in Mamma Mia! Here We Go Again, on Broadway in The Cher Show, and somewhere in your Twitter feed, where she's become one of the most entertaining follows out there. Soon, she may be reentering the charts, as she's gearing up to release an album of ABBA covers named after the Swedish pop group's biggest hit, "Dancing Queen." Today, Cher released the first taste of it: her take on "Gimme! Gimme! Gimme!"
Madonna fans will recognize the song's chords as those from her 2005 Confessions on a Dance Floor highlight "Hung Up." Cher gives them a new life, though, with her deep vocals and the song's glossy production. It's the perfect weekday pick-me-up, and a seductive preview of the album, which drops September 28.
Elsewhere on the LP, Cher will be putting her own spin on ABBA's "Waterloo," "SOS," and, of course, "Dancing Queen." It was "Fernando," though, that inspired her to lay down an album's worth of covers. "After I did 'Fernando,' I thought it would really be fun to do an album of ABBA songs, so I did!," she recently told the Today host Kathie Lee Gifford. "It's not what you think of when you think of ABBA, 'cause I did it in a different way."
It was also the movie that moved her to record more ABBA covers. "I've always liked ABBA and saw the original Mamma Mia! musical on Broadway three times," she said in a press release. "After filming Mamma Mia! Here We Go Again, I was reminded again of what great and timeless songs they wrote and started thinking, 'Why not do an album of their music?' The songs were harder to sing than I imagined but I'm so happy with how the music came out. I'm really excited for people to hear it. It's a perfect time."
That's for sure. Cher's cultural stock has arguably never been higher, thanks in part to her brutal honesty, whether it's calling out the president or calling out herself.