Cher Tells the Full Story of The Time She and Meryl Streep Saved a Woman From Being Sexually Assaulted
"Meryl starts screaming and I start screaming and we run towards this gigantic man."
---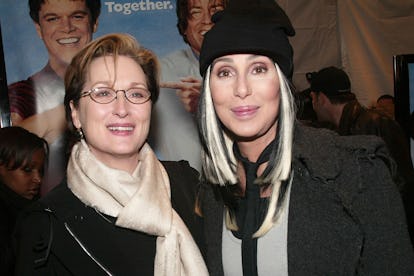 Evan Agostini/Getty Images
Last fall, when discussing sexual assault, Meryl Streep revealed that she and Cher once saved a woman from a sexual predator. "Someone else was being abused and I just went completely nuts and went after this man," she told People when discussing sexual assault in the wake of the #MeToo movement. "Ask Cher — she was there. And the thug ran away, it was a miracle." Now, Cher has told her side of the story, elaborating on what exactly happened.
While stopping by The Late Late Show to promote the upcoming Mamma Mia! Here We Go Again, in which Cher plays Streep's mother, Cher recalled the event 30 years ago. "You once saved someone's life in New York," Corden tells her, before asking, "What happened?"
"We were downtown in her apartment," Cher began, "and she said, 'I want some ice cream.' I said, 'Okay, but is it dangerous down here?' She said, 'Oh no, it's Little Italy on one side and Chinatown on the other side and we'll be as safe as two peas in a pod.' So we walk out and the first thing we see is some guy hitting cars with a brick. Then we walk down a street and we hear screaming. We come around the corner and this gigantic man is ripping the clothes off this girl."
In that moment, the two women charged at the "gigantic man" to chase him away from the woman he was sexually assaulting.
"Meryl starts screaming and I start screaming and we run towards this gigantic man and he turns and starts running towards us," Cher said. "We split and he ran through us, and we ran up to the girl and all of her clothes were torn and she was clutching her bag. So we're putting her together, trying to get her to look a little bit like she hasn't just been ravished, and she looks at us and goes, 'Oh my God, I was saved by Meryl Streep and Cher. I'm an actress and I work in a café where we sing and all my friends are going to be so jealous.'"
Related: Kim Kardashian Continues To Be the Ultimate Cher Fangirl At the Singer's Las Vegas Concert