Chris Evans Defends Daniel Craig's Masculinity From Internet Troll Piers Morgan
After Piers Morgan insisted that a man carrying a baby in a papoose was somehow emasculating, Chris Evans had to put him in his place.
---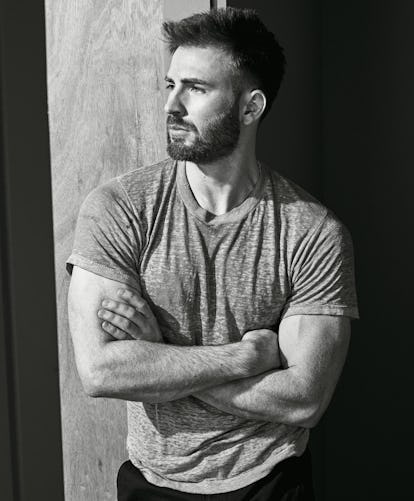 MARIO SORRENTI
There are times when one may think that Chris Evans could not be more of a perfect creature, but then he does something else. This time, Evans publicly expressed his (and our collective) frustration with Piers Morgan, the prince of picking pointless fights online, after the talk show host decided to comment on what he saw was the "emasculating" nature of a father carrying his child on his chest in a carrier called a "papoose."
It all started with a photograph of Daniel Craig, who was spotted holding his newborn baby girl in a papoose with wife Rachel Weisz while walking down the street. Morgan got ahold of this picture and tweeted it to his 6 million followers along with some unsavory commentary, saying, "Oh 007.. not you as well?!!! #papoose #emasculatedBond."
Well, Captain America did not take too kindly to that sort of remark from the Good Morning Britain host and rushed to James Bond's defense. Evans replied to Morgan on Twitter, saying, "You really have to be so uncertain of your own masculinity to concern yourself with how another man carries his child. Any man who wastes time quantifying masculinity is terrified on the inside."
After Morgan hit back at Evans with a tweet that said, "Captain America wouldn't wear a papoose," more Twitter users jumped to his and Craig's defense, and Evans was not the only actor to address Morgan's disparaging commentary about Craig as a father. Comedian Chris D'Elia stepped in and tweeted, "Hey man James Bond is a movie. Movies are fake. That's Daniel Craig. A father. James Bond and Daniel Craig are both very, very cool." A Twitter Moment was also spawned, with many users sharing their own experiences with carrying their children in carriers on their chests to demonstrate that there is nothing wrong with a man supporting a child by carrying one in a papoose.
In what has turned out to be the most insufferable Three Men and a Baby reboot there ever could be, Morgan has managed to remain out of touch with the reality that many men carry their children on their chests for the sake of both safety and convenience, and Evans has once again prevailed as one of Hollywood's most socially conscious actors (and gained a few more points in the Hollywood Chris rankings). Meanwhile, Daniel Craig remains unfazed, dutifully carrying his daughter where he goes, however he pleases.