Chris Evans Can't Stop Tweeting About James Comey's Hearing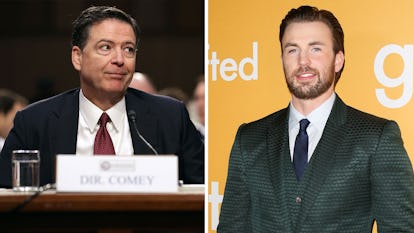 Composite. Getty Images
The United States came to a near standstill on Thursday morning when James Comey, the former director of the FBI, testified before the Senate Select Committee on Intelligence on topics ranging from his own interactions with President Donald Trump to investigations into Russia, proving that C-SPAN could be just as entertaining as Bravo under the right, juicy circumstances. And it can only get better when Chris Evans, literally Captain America but whom we prefer to think of as Jenny Slate's ex, was so riveted by what was unfolding in our nation's capital that he decided he just had to live-tweet the entire event.
"This. Is. Crazy!! Watching history unfold," he sent out as his first tweet, before firing off a few retweets that were highly critical of Trump. "I need 'Lordy, I hope there are tapes' on a t-shirt." Shortly thereafter, he followed up with: "I've never wanted Trump to tweet so badly in my entire life. Pick your phone up! Do it!! DO IT!!!! … Tweet, Donald….Tweet." GIFs were even involved, so you know this is some serious business.
Even when the hearing was over, Captain America couldn't resist a few more burns. "Phew….that was a lot" indeed.
Evans has been an outspoken critic of President Trump over the past year on social media, which, although commendable, is an uncommon practice for a movie star of his status to be engaging in. He acknowledged this in a recent interview with Esquire, admitting that various "advisers" have told him that being too political could be detrimental to his career. But—surprise—he doesn't seem to care at all.
"Look, I'm in a business where you've got to sell tickets," he said. "But, my God, I would not be able to look at myself in the mirror if I felt strongly about something and didn't speak up. I think it's about how you speak up. We're allowed to disagree. If I state my case and people don't want to go see my movies as a result, I'm OK with that."
If that doesn't epitomize Captain America, then we don't know what does.
Chris Evans on his favorite birthday: