Americans Find James Comey Testimony a Good Excuse To Pack Bars Before Noon
The hottest place to watch James Comey's Senate testimony? Your local bar. Americans from coast-to-coast joined in.
---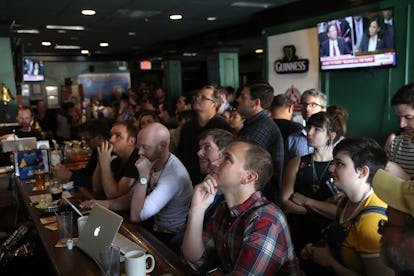 Win McNamee
It seems like everyone in America stopped what they were doing, or skipped out on work, this morning to watch former F.B.I. Director James Comey's testimony before the Senate Intelligence Committee, hoping for a bombshell or smoking gun that might finally bring down the Trump administration. The New York Times even reported this morning that many may have taken half days or whole days off.
Comey, you may recall, was by the president's own admission, fired because of his investigation into Russia's meddling in last year's election and ties to Donald Trump and his cohort. Comey is a career-long prosecutor and was fiercely dedicated to the F.B.I. and this investigation, so he walked into this meeting, with receipts in hand, ready to tell his side of the story. The political equivalent of the rumble in the jungle! Only with facts and rhetoric instead of punches. And it's not in the jungle, it's just a Senate office building.
It's quite a thing to see people piling into the Building on Bond bar in Brooklyn early in the morning. As writer Jason Gay put it "so many sunday styles pitches."
It's much earlier in Los Angeles of course, however, so the drinking was accompanied by some healthy yoga:
In Washington D.C., this is the Oscars and the Super Bowl rolled into one. Buzzfeed assembled those sorts of photos here, and take a look at this line around the block:
It's honestly hard to know whether or not the below Tweet is satire, at this point.
If you work for a cool office like Betabrand in San Fransico your office may even be showing it
But if you're stuck in an uncool office you should probably tap into Super Deluxe's "live remix" LSD feed which features things like '"The Sound Of Silence' over zooms into Comey's tired eyes," which offers some effective virtual substance abuse.
Related: Sen. Kamala Harris Told to Be "Courteous" In The Middle of Hearing About Russian Hacking
See What's Trending in W Video: