It's Time to Take Notice of the Red Carpet Style of Chinese Pop Star Chris Lee
The dark horse of the Cannes Film Festival red carpet has positioned herself for an avant-garde win.
---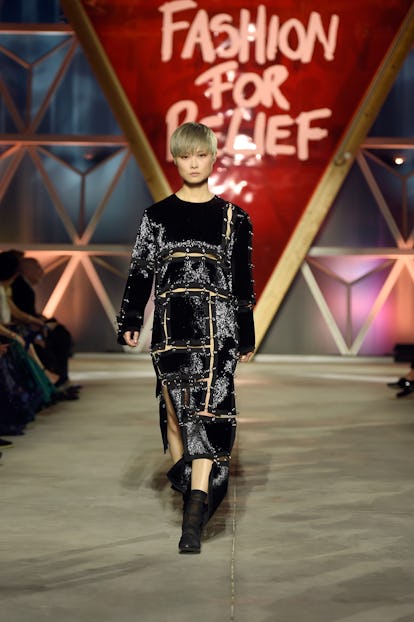 Antony Jones/Getty Images
Chris Lee, the Chinese pop superstar, is no stranger to the front row. For years, she has recruited top designers like Jean Paul Gaultier, Alessandro Michele of Gucci, Riccardo Tisci of Givenchy, and, most recently, Alexander Wang to design costumes for her globetrotting tours. She has appeared front-row at Gucci, Givenchy, and Chanel, and fronted campaigns for Tiffany & Co., L'Oréal, and Versace.
Yet it's only recently that audiences abroad have started to take note of Lee's cutting-edge, avant-garde taste; she often selects pieces from labels including Maison Margiela and Comme Des Garçons for her red carpet appearances, cutting a sharper, weirder silhouette than many of her peers thanks to her sartorial taste and her close-cropped grey hair.
This eclectic eye has come into focus at Cannes, where Lee, like actress Marion Cotillard, has demonstrated a playfulness and willingness to experiment that is sadly at a dearth at the French film festival. Cannes has become synonymous with an ostentatious, over-the-top brand of glamour, filled with mermaid dresses, starlets and socialites dripping with diamonds, and plunging necklines and thigh-high slits.
But Lee has opted for quirky suiting and offbeat accessories just as frequently as she's appeared in floor-length dresses.
For the festival's opening night screening of Ismael's Ghosts, starring Cotillard and Charlotte Gainsbourg, Lee wore a Maison Margiela Artisanal suit—a double-breasted wool jacket with tiny shorts, a white button-down shirt that had been cut away till it was nothing more than seams and a collar, over-the-knee platform slouch boots, a pink bowler hat, and a single pearl earring. The look, pulled almost verbatim from John Galliano's widely lauded Spring 2017 couture collection, was bold and adventurous, commanding attention the way those princess dresses aspire to, but rarely achieve.
"I found its concept very close to what I have been doing lately, this idea of peeling away the shell to expose the real you, and questioning the role of social media and this idea of how obsessing about 'likes' can inhibit your freedom," Lee told WWD of her first response to the Margiela show from which the look was pulled. "I don't want to play the safe card; I like to challenge myself and try new things."
Suiting is having a moment on the red carpet—everyone from Aymeline Valade to Lily-Rose Depp has been spotted in sharply tailored suits that would make Yves Saint Laurent proud—but even here, Lee is at an advantage, for her suiting even breaks the mold of the genre. After she walked the carpet for Ismael's Ghosts in Margiela, Lee appeared at the gala dinner celebrating the opening of the festival in a pinstriped Ellery suit—complete with cascades of ruffles descending from her sleeves and wide, bell-shaped trousers.
At the same event, there also appeared Jessica Chastain in McQueen, Uma Thurman in Atelier Versace, Charlotte Gainsbourg and Robin Wright both in excellent Saint Laurent minidresses—yet even the best looks among them were still classic Hollywood, chic and elegant and prototypically feminine.
Lee, too, was chic and elegant in her Ellery, but with a flair for high drama that recalled Irish musician Róisín Murphy, art-pop pioneer, more than any old Hollywood starlet. The exaggerated sleeves and legs of the suit offer sharp contrast to, and subvert the expectations of, menswear-inspired suiting; who ever said office attire can't be playful?
When musicians bring fashion into alignment with their sound, the result is more immersive art, a more complete experience. Murphy, for her part, has cultivated a distinct look to accompany her successive album releases—for Overpowered, her seminal 2007 record, she toured in a variety of almost absurdist pieces she had collected through the years; for her most recent effort, Take Her Up to Monto, she has paid homage to the blue-collar workers behind London's towering construction projects with jumpsuits and helmets.
Since her first foray into fashion with her Gaultier tour costumes, Lee has worked with different designers to create a new stage image, though her experimentation isn't limited to the concert arena.
From time to time, Lee does opt for floor-length dresses, like her Gucci look on the red carpet at the premiere of Tilda Swinton's new film Okja—one of two Gucci looks she wore while at the festival, the second being a plaid suit. The dress was nevertheless quite the statement, adorned with images of giant tiger faces peering out from its bodice and skirt and with a silhouette borrowed from the traditional Chinese cheongsam.
Bold, experimental, and ostentatious—Chris Lee's style, both on the red carpet and on stage, has marked her as one to watch. And hear.
Tilda Swinton dishes on who she thinks is a god: