The Entire Internet Is Hot For Olympics Luger Chris Mazdzer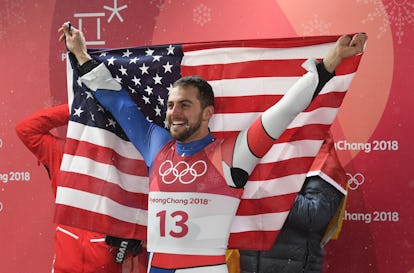 MARK RALSTON/AFP/Getty Images
Step aside Timothee Chalamet, clear the way Oscar Isaac, the internet has a new boyfriend: American luge athlete Chris Mazdzer, who just won the silver medal in the Men's Single Luge competition in PyeongChang, in the process becoming the first U.S. men's singles luge medaler ever and stealing a number of hearts on the internet. Because while I'm not entirely clear on what luge is (single-person sledding, right?) and I still don't know how to pronounce this guy's last name, one thing is abundantly clear: Chris Mazdzer is hot. He might even be as hot as Gus Kenworthy. Can they both win gold in this particular competition?
According to Wikipedia, he's 29, 6'1″, and resides in New York State. Actually, the contact page on his website lists a phone number and email address, even though he definitely already has a girlfriend).
He looks great shirtless (as Olympic athletes tend to). (Quick poll: Is luge body the new swimmer's body? In or out?). More importantly, though, Mazdzer loves animals.
How much does Twitter love this guy? He started trending, and I don't think it's because people care about lug. Consensus is, America is crushing on Chris, hard. Here find for your perusal a few of our favorite thirsty Chris Mazdzer tweets:
But for the full Chris Mazdzer Stan experience, we refer,of course, to the most important voice in the Olympic games, Leslie Jones. Yesteraday, Jones, who is actually doing commentary for NBC in Pyeongchang in case you haven't heard, posted two videos of her thoughts on Chris' medal-winning luge and pretty much summed up what everyone was already thinking:
So can we get a Chris Mazdzer biopic in development already? (I, Chris, perhaps?) Aaron Taylor-Johnson, your next part is already waiting.
Related: Olympic Skiier Gus Kenworthy Is Preparing For the 2018 Pyeongchang Games By Watching I, Tonya
The Tate demands a visit any time you're in the Queen's city, but to get your artistic Olympics fill, stop by the museum for the exhibition of 12 specially commissioned posters and prints made in celebration of the Games. Preview them here.

Stylist: Edward Enninful
While everyone will undoubtedly be tuning in to see if Michael Phelps can come close to his record-shattering performance at the 2008 Olympics, we'll be watching American superstar and fashion plate Ryan Lochte. Read more about him, and his rhinestone-covered high-tops here. Swimming events kick off on July 28 in the Zaha Hadid-designed Aquatics Centre.

Stylist: Edward Enninful
Hope Solo, the longtime goalie for the US Women's team, is just as compelling off the field—spilling that after the team won the gold in 2008, they went on an "all-night bender" with actor Vince Vaughn, appearing on Dancing with the Stars—as she is on, having represented her country at the Women's World Cup and Olympics for more than a decade. Read more about the "bad girl" of U.S. soccer, and tune in when the soccer matches kick off on the 25th.

Stylist: Edward Enninful
Designers are turning out a stylish mix of Olympic-themed goods. Here are some of our favorites. From left: Gap's Olympic Vintage T, $29.95, gap.com; logo for Karl Lagerfeld's "Team Karl" Olympic-themed capsule collection available exclusively at Selfridges, selfridges.com ; Stella McCartney's Olympic Villagewear for Adidas, adidas.com.

Stylist: Edward Enninful
If you want a break from the athletics, maybe it's time to exercise the credit card a bit at some of London's top shopping destinations.

Opening Ceremony is popping up on July 19 in a 3,000 square-foot store on Covent Garden's King Street. Look out for exclusive pieces from Band of Outsiders (like this tote, left) and Harding-Lane.

Rag & Bone is opening their first European flagship in London's Sloane Square later this month. 13/14 Sloane Square.

H&M is opening up two sportswear-only boutiques in Covent Garden and Westfield Stratford for the occasion.

Rumored to be a favorite of Kate Moss, Alfie's Antique Market touts themselves as "London's largest indoor market for antiques, vintage, collectables and 20th Century design." 13-25 Church St, alfieantiques.com.

The Shop at Bluebird feels like a neighborhood store, but stocks an ever-changing array of design-focused fashion, beauty, and home goods; theshopatbluebird.com.

Stylist: Edward Enninful
Watching all of those athletes might cause you to work up quite an appetite. Try these top spots.

Try The Wolseley (left) for a grand dinner in an even grander setting—a high-ceilinged old-world café space—or stop by for a decadent breakfast to start the day; thewolseley.com.

Ottolenghi Prepared Food has a few locations around the city and turns out fantastically fresh, delicious food, for less than more traditional sit-down establishments; ottolenghi.co.uk.

Housed in an old Hydraulic Power Station, The Wapping Project serves up fresh, seasonal food in the Engine and Turbine Houses, while the remaining rooms house exhibition and performance spaces; thewappingproject.com.

Stylist: Edward Enninful
Try to snap up some last-minute rooms at these hot spots.

If you're seduced by beautiful architecture, The St. Pancras Renaissance Hotel's dazzling spaces have been used in both Harry Potter and Batman movies; stpancrasrenaissance.com.

Dorset Square Hotel, the new boutique property from Tim and Kit Kemp (their Firmdale group also opened the Crosby Street Hotel in New York) has only 38 rooms and is located in a quiet Marylebone square; firmdalehotels.com.

Bulgari Hotel London opened this year and boasts a private holistic spa, swimming pool, a lounge, bar, and screening room; bulgarihotels.com.

Stylist: Edward Enninful
Tune in starting August 29th for the Paralympic Games in London and sprinter Oscar Pistorius, who is also making history as the first athlete with a prosthetic device to take part in the Olympic Games: running for South Africa in the individual 400 and 4×400 relay. Read more about Pistorius.

Stylist: Edward Enninful