Olympic Skiier Gus Kenworthy Is Preparing For the 2018 Pyeongchang Games By Watching I, Tonya
Plus, why he was disappointed that the Olympic Village wasn't a "huge hookup party."
---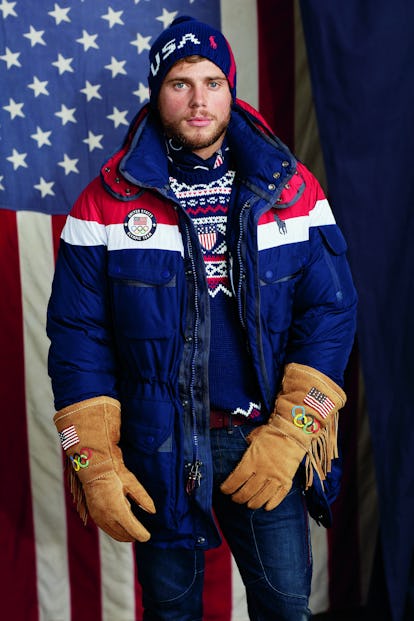 Every now and again, an athlete comes along that is not only great, but represents the mood of their generation—and right now, there is no better example than Gus Kenworthy. Born in the United Kingdom, but raised in Colorado, Kenworthy has been an exceptional competitive freeskier for years, even taking home a silver medal for freeskiing at the Sochi 2014 games. But it wasn't until he came out as gay on the cover of ESPN Magazine in 2015 that his career began to skyrocket. Today, Kenworthy is not only a force on the slopes, but also a force for change. At the Pyeongchang 2018 games next month, Kenworthy will join figure skater Adam Rippon as the first openly gay athletes to represent the United States in Winter Olympic competition. (He's also picked up endorsement deals with Samsung, Head & Shoulders and United Airlines, to name a few.) Here, just a few weeks from the opening ceremony, Kentworthy talks about representing Team USA, preparing for Korea, and what he really thinks of the team's uniforms.
Team USA just announced their official roster a few days ago, and the Pyeongchang 2018 Opening Ceremonies are in two weeks. What's your schedule like right now?
It's been absolutely crazy. The U.S. has their qualifying process right up to the 11th hour, so our team was just announced last weekend. I'm currently at the X-Games in Aspen, and then I have like six days before I have to head to Korea.
Are you feeling ready for the Olympics?
I am! There's been so much pressure to make the team and it's been such a sole focus for me lately. It hasn't really hit me that I've made the team. But I don't think it's going to be until I'm really packing my bag for the trip and heading to the airport that it will sink in. There's been so much external pressure—there's been all these Olympic sponsors, and all this promo, and I kept thinking, "What if I'm in all these NBC ads and I don't end up making the team?" Until I have the Olympic gear and the other athletes and me are all in matching everything that's when it's going to really hit.
Just the other day you debuted the Ralph Lauren uniforms on Instagram, and on your Instagram story you posted a joke about how the gloves look exactly like the ones Jim Carrey wore in Dumb & Dumber.
Honestly, they're kind of the same. It's interesting. People either love or hate the gloves. I got so many comments like, "I need those gloves in my life." And I'm actually kind of obsessed with them. I'm excited to wear the whole getup, even though it's quite a process to put on. The gloves have fringe, and they're beaded, and they're like real cowboy gloves.
This will be your second Olympics. What is the Olympic Village really like?
Honestly, last time around it was a total letdown. They told everyone it would be like this huge hookup party. Everyone talked about it, all the press asked us about it, because supposedly at London 2012 that's what it was. In the summer games every team, every country, every athlete stays in the same village and you get to interact with people you wouldn't normally meet, and that leads to whatever, but in the Winter Olympics, all the athletes are spread out across multiple venues and villages. So in Korea, as it was in Sochi, the village is the teams you travel with all year round. It's always exciting to be in the Olympic Village, but we aren't getting to have the same experience as the Summer Olympics because it's basically the same people we always see.
Are there any Olympic events that you're looking forward to watching?
There are so many but I'm really excited to watch figure skating. I've made friends with Adam Rippon and I'm excited to cheer him on and watch it live. Figure skating, especially the longer performances are such a feat. It requires so much stamina and is so beautiful.
Did you see I, Tonya?
Oh my God, I saw it two nights ago. It was so beautiful. The style they shot it in was amazing. All the performances were insane, and Allison Janney was incredible. But the story was so sad. I knew about Tonya [Harding] and Nancy [Kerrigan] but I didn't really know her backstory. It hit home—I didn't sleep after I saw I, Tonya. When she was working in a diner after winning fourth at the Olympics and says, "Winning fourth doesn't get you endorsement deals." She's working this crummy job in a small town and it made me realize, there are so many athletes who work so hard that don't make it to the Olympics, or maybe they make it and then don't perform there, then it's just back to normal life. I realize how fortunate I am to have been able to make a life and career out of skiing. I feel so lucky to have gotten silver in the last Olympics, and to have the opportunity to fight for gold in this one.
You mentioned Adam Rippon. Obviously the two of you are having a moment being the first out LGBT athletes to represent the U.S. in the Winter Olympics. Are you two friends?
We haven't even met in person! I started following him during his qualification process and he was following me. After he was named to the team I sent him a message congratulating him, and he was like, "I'm rooting for you! Good luck!" And we've just been messaging back and forth. We're excited to hang out and meet in Korea. I'm his number one fan right now.
Are you two are going to have a kiki in Korea?
That's literally the message that was sent, "Can't wait to kiki in Korea."
What's your training schedule like in these final weeks leading up to the games?
I'm at X-Games right now. It's the best training you can have; there's pressure, nervousness, stress, and it gives you the opportunity to go through that one last time before Korea. It also gives you a good chance to figure out what the judges are looking for. A lot of the judges at this event will be judging in Korea. This will be helpful to see whether or not the run you're doing is something they're rewarding, or if you need to switch up your routine. After this I have only a week before I head to Korea. So I'll be in the gym, spinning on the bike trying to flush out any lactic acid buildup in my body, then just trying to get strong and stay healthy. After all the qualifying events and X-Games your body can be a bit run down, so I'm just trying to rest up before Korea.
You travel so much between training and competition. How do you deal with jetlag, and with staying fit on the road?
Jet lag is tough to be honest. For me, it's much easier to force yourself to stay awake. Like when you land in Europe early morning and you have to stay up until bedtime, that's not that hard. It's hard when it's the middle of the night and you're trying to sleep but you're wide awake. And in terms of fitness routines, it's tough when you're traveling. Sometimes you're in hotel gyms, sometimes you're in gyms in Europe and they're not well-equipped—you just have to get creative, whether it's air squats, or lunges, or just a bodyweight workout. When I'm on the road it's never the best workout. But even a half-ass workout in a mediocre gym is better than nothing.
Have you been to Korea before?
I never have! They did a test event last year but I couldn't make it because it coincided with another event I had to be at. But everyone who went to the test event said that the course they built was incredible, the lounge was nice, and there's karaoke everywhere. I'm expecting a lot of kimchi, which I'm not the biggest fan of. I love Kim Chi the drag queen from RuPaul's Drag Race, but I'm not sure about the food.
Related: Michelle Kwan Wanted to Return to Figure Skating Before She Turned 40, and She's Now Doing Double Axels Again
Gabby Douglas, Allyson Felix, and More Olympians Tackle Queen's "We Are the Champions"