Chris Pratt Addresses Ellen Page's Assertion That His Church Is Anti-LGBTQ
Celeb megachurch Hillsong has a spotty track record when it comes to acceptance.
---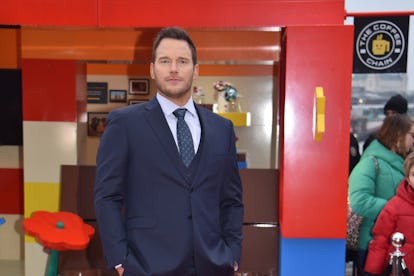 David M. Benett
Chris Pratt has hit back at Ellen Page's assertion that Hillsong, the growing, celebrity-beloved, and aesthetically hip megachurch to which Pratt belongs, is not, as Page claimed by way of an Instagram Story slide with a lengthy amount of text pasted atop a picture of sheep, "infamously anti-LGBT." Page, who came out in 2014 and married her wife, Emma Portner, last year, brought up the long-simmering issues of Hillsong's exact position on the LGBT community after Pratt went on The Late Show With Stephen Colbert to talk about a biblically informed fast he had maintained.
"Oh. K. Um. But his church is infamously anti lgbtq so maybe address that too?" she tweeted.
Address it Pratt did—oddly, though, by equating the struggles of the LGBTQ community with that of straight people who have gone through divorce.
"It has recently been suggested that i belong to a church which 'hates people' and is 'infamously anti-LGBTQ.' Nothing could be further from the truth. I go to a church that opens their doors to absolutely everyone," wrote Pratt.
"Despite what the Bible says about divorce my church community was there for me every step of the way, never judging, just gracefully accompanying me on my walk. They helped me tremendously offering love and support. It is what I have seen them do for others on countless occasions regardless of sexual orientation, race or gender."
"My faith is important to me but no church defines me or my life, and I am not a spokesman for any church or group of people," he continued. "My values define who I am. We need less hate in this world, not more. I am a man who believes that everyone is entitled to love who they want free from the judgement of their fellow man."
Hillsong is perhaps the most prominent of a growing number of churches that have attempted to connect to millennials with everything from Helvetica-font-driven graphic design to looser notions of traditional church membership, clergy who show up to church like they shop in the Urban Outfitters sales section, and, especially in Hillsong's case, a number of celebrity devotees, such as Pratt, Justin and Hailey Bieber, Selena Gomez, and various Kardashian-Jenners.
This doesn't necessarily mean that Hillsong's sociopolitical views make it one of the more liberal Christian churches. A Unitarian Universalist situation this is not.
In fact, Hillsong, founded in Australia, referred members to harmful gay conversion therapy until 2011 and has stated numerous times that it believes the biblical definition of marriage is a union between a man and a woman (most loudly during Australia's 2015 public referendum on gay marriage). It also has a history of firing pastors who have come out as gay, and distancing itself from other gay members.
Carl Lentz, the head of the American branch of the church and frequent Bieber companion, has claimed that Hillsong is "gay welcoming" while still maintaining the church's traditional stances on marriage and "sexual morality." He's also tried to position Hillsong's stance favorably to churches who wouldn't even let an openly LGBTQ person in the door in the first place (a low bar, to be frank).
Which is to say, sure, there are Christian churches that have a worse track record when it comes to LGBTQ rights, but there are also plenty of churches out there that, unlike Hillsong, recognize gay marriage and have gay leadership in their ranks.
It's easy to see how Hillsong's odd positioning on the matter would lead an openly gay person like Page to characterize it as anti-LGBTQ, while allowing for someone like Pratt to believe the church "opens their doors to absolutely everyone."
So while it's great that Pratt says he personally "believes that everyone is entitled to love who they want," in spite of the church's position, it's not so great that he seems to be dismissing Page's concerns in the first place.
At least he's actually publicly addressed the matter, unlike almost all of the church's other noted celebrity members.
Related: Justin Bieber and Hailey Baldwin Waited Until Marriage to Have Sex