Ellen Page Scrolls Through Her Wife's Instagram When She Misses Her
The actress talks married life with Emma Portner, plus her new horror film "The Cured."
---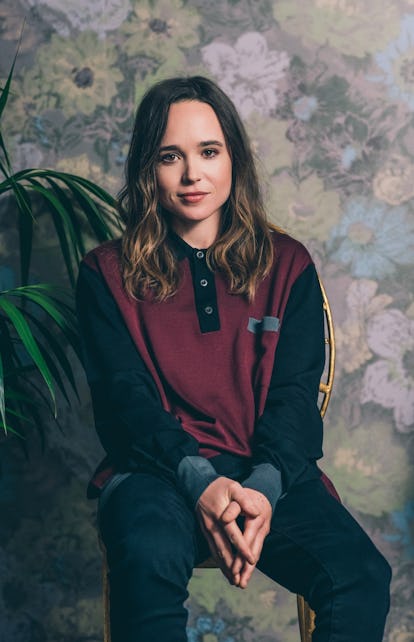 Caitlin Cronenberg
Ellen Page started 2018 on a definite high note: She and her wife Emma Portner, a dancer from Ottawa, announced their marriage on Instagram, and have continued adorably posting about each other ever since. All that, of course, hasn't kept Page's life from getting dark on-screen: Her new movie out this weekend, The Cured, stars Page as a widow who welcomes her brother-in-law, played by Sam Keeley, back into her life—even though not too long ago, he'd turned to a zombie-like cannibal, having contracted a worldwide virus that claimed her husband as a victim. (He's now has supposedly been cured—the keyword here, of course, being "supposedly.")
Back home from shooting in Dublin, Page talked about how the film is really much deeper than a zombie movie, and how outside of filming, she spends her time watching movies like Jurassic Park with Portner in her culture diet.
Was there any point during filming when you got truly freaked out? Without being too spoiler-y, yes, there were a couple moments where I was legit freaked out. [Laughs.] We kept having to stop shooting, because we'd be doing these sequences with infected people in little Dublin neighborhoods, but then the kids in the neighborhood would start coming home from school.
Are you generally into horror and zombie movies? Yeah, I remember loving seeing 28 Days Later in high school—I was just blown away. In terms of horror, I was obsessed with The Shining when I was a kid, and lately there's been so many great films, like The Babadook.
Related: Kristen Wiig and Jane Fonda as Hannibal Lecter will Chill Your Bones:
Your costar Sam Keeley has said he hopes people realize The Cured is more than a zombie movie, and how the discrimination and hostility the so-called "cured" face mirrors what so many others, especially during immigration crises, experience today. Have you felt the same way about the film, particularly since you've lately been speaking out about, for example, the abuse and harassment women often face? When I read the script, yes, I realized all these different ideas and themes were infused in the film, which happens a lot in this genre—the films tend to parallel contemporary situations. For me, exploiting people's fear and anger to gain power is a big component in the film. All these ideas about how much fear can take over our lives and cause a lot of moral and ethical problems were compelling to me.
On a lighter note, getting into the culture questions, what's the last movie that you saw? I've been sort of showing my wife the movies she's never seen that are my favorites, which is really fun. We watched Rust and Bone, which utterly shatters me and just makes me weep. We saw this amazing Canadian film Last Night from the late '90s directed by Don McKellar. Sandra Oh is in it and it's so amazing—it's such a good movie, but I think it's one that a lot of people in the States wouldn't have seen. So that's sort of what we've been doing—we also watched Jurassic Park.
Did she like it? Yeah! It's such a good movie.
What TV show has been keeping you up at night? We watched The Keepers, the documentary series [about the murder of Cathy Cesnik], which is extremely difficult and painful to watch.
What's the first thing you normally read in the morning? Oh goodness, probably Twitter. Or an article. You know, modern times!
How do you get your news? In different ways, depending. There are different publications that I like or what have you—in general, I like the Atlantic, the Guardian, and Mother Jones.
What books are on your bedside table right now? I just finished Grief Is the Thing with Feathers by Max Porter, which is really unique. It's written in prose on some level but it does have a narrative—these boys' mother dies, so it's from the perspective of the father of the boys and from the Crow. It's a really interesting read.
What's the last song that you had on repeat? Lately, I've just been listening to this record called Charcoal by the Brambles. It's just so stunning, so beautiful—I've been listening to it kind of nonstop.
What's the last concert you went to? I haven't been to one in a while, which is too bad. Probably Sylvan Esso.
I was surprised to learn that Gerard Way was behind Umbrella Academy, the new Netflix show you're in with Mary J. Blige. Were you ever a fan of his band, My Chemical Romance? Um… yeah. I saw him briefly at the beginning and I'm sure he'll come back for when we do the big read-through. It was really great to have him there. He's a lovely guy.
What are your favorite social media accounts to follow? Oh lord. I really don't know, sorry.
What about your wife's dance videos on Instagram? The first time you saw her was in one dancing to Sylvan Esso. Do you still watch them? Oh my god, yeah. I always watch her videos, and if I really miss her I scroll back to them. I'm just blown away by her talent, her ideas. I'm like, addicted to her work. I just love it.
Last thing: What's the last thing you do before you go to bed? Funny question. Um, I guess I brush my teeth.
Related: Ellen Page Announces Her Marriage to Emma Portner on Instagram