Chrissy Teigen Offers to Pay McKayla Maroney's NDA Fine So She Can Speak About Sexual Abuse
"The entire principle of this should be fought."
---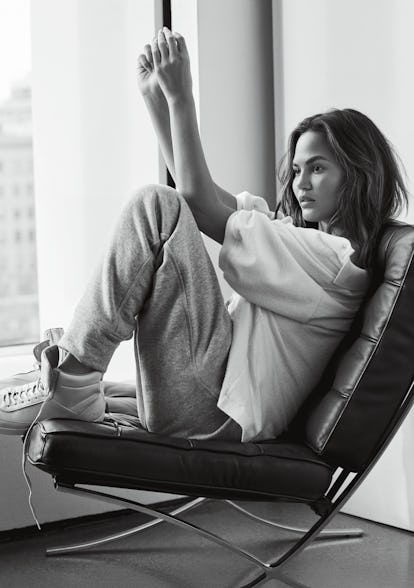 MIGUEL REVERIEGO
Few celebrities have as good of a grasp on Twitter as Chrissy Teigen. She's used the social media platform to do everything from live-tweet events and movies to deliver witty one-liners and political critiques. This time, though, her feed is a source of inspiration for another reason: Teigen is furthering the #MeToo movement in a unique way, by offering to pay a potential $100,000 fine for Olympic gymnast McKayla Maroney breaking an NDA, after speaking out about the systematic sexual abuse of USA Gymnastics team doctor Larry Nassar back in October. At the time, Maroney revealed her harrowing experience with the alleged serial abuser who has been accused of sexual assault by over 140 women according to The Washington Post.
"I was molested by Dr. Larry Nassar, the team doctor for the US Women's National Gymnastics Team. Dr. Nassar told me that I was receiving 'medically necessary treatment that he had been performing on patients for over 30 years,'" Maroney tweeted, in a post which has since been deleted, as reported by Deadspin. "It started when I was 13 years old, at one of my first National Team training camps, in Texas, and it didn't end until I left the sport." Maroney's mother Erin later elaborated about the abuse to ESPN, saying, "I … learned a few weeks ago from my daughter that at the world championships in Tokyo, [Nassar] drugged her, made her lay nude on a treatment table, straddled her and digitally penetrated her while rubbing his erect penis against her. She was only 15 years old. She said to me, 'Mom I thought I was going to die.'"
Maroney, who hired Gloria Allred to represent her, ended up settling with USA Gymnastics in December of 2016 for a $1.25 million settlement that came with a non-disclosure agreement, preventing her from later speaking out about the incident with a possible penalty of a $100,000 fine, as The Daily Mail reports. However, Maroney is currently suing USA Gymnastics claiming that her NDA is unlawful. It was after seeing a headline for this report that Teigen posted a screenshot to Twitter and offered to pay Maroney's potential fine to encourage her to speak at Nassar's sentencing, which begins today and continues through Friday, according to The Daily Mail.
"The entire principle of this should be fought – an NDA to stay quiet about this serial monster with over 140 accusers, but I would be absolutely honored to pay this fine for you, McKayla," Teigen tweeted, which has currently amassed nearly 150,000 likes and over 30,000 retweets. (Maroney has yet to respond.)
This isn't the first time Teigen has spoken out in the wake of the #MeToo and Time's Up movement. Last week when first daughter Ivanka Trump praised Oprah's Golden Globes speech, Teigen quipped back, "ew go away."
Related: Chrissy Teigen Had to School Ivanka Trump About What 'Otherwise' Means