Chrissy Teigen Opens Up About Body Image and How She's Over Tracking Her Weight
"I'm getting down on myself!"
---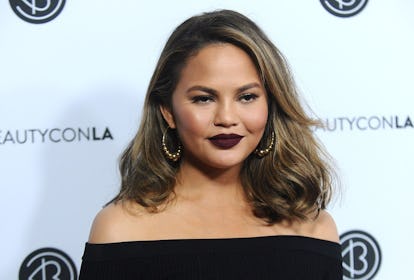 Jason LaVeris/FilmMagic
In an age where some of the people setting the beauty standards aren't even people—hi, Lil Miquela—it can feel like there's a disconnect between what's celebrated and what's real. Chrissy Teigen feels this too. The model turned Lip Sync Battle host is just as bummed out about our current distortion of beauty as the rest of us noncelebrities.
Teigen shined a light on photoshop and Facetune culture in a new interview, telling Women's Health of some of her peers, "I know they're Facetuning, Photoshopping—and even I'm getting down on myself!"
At the same time, Teigen has grown to have a lot less worry about how other people perceive her. When talking about her current body image, Teigen said, "Honestly, I don't ever have to be in a swimsuit again. Since I was 20 years old, I had this weight in my mind that I am, or that I'm supposed to be. I've been so used to that number for 10 years now. And then I started realizing it was a swimsuit-model weight. There's a very big difference between wanting to be that kind of fit and wanting to be happy-fit."
She also talked about how having two kids—two-year-old Luna and three-month-old Miles—has changed her. "With your second, you just, like, pop 'em on," Teigen said. "I look at my boobs and I'm like, 'What the heck happened?' They face outwards now. They're like giant disks. I don't even know how to hide them. I forget that people are still like, 'Whoa!' And I don't mean to shove my boob in their faces."
Teigen got real when talking about motherhood, adding that she turned to alcohol to cope with postpartum depression. "After Luna, I was drinking too much," she said, "I wasn't eating as much because I was full from drinking. I wasn't being good to my body. I remember being so bruised from nothing."
The whole candid conversation is one more reason that Teigen is so relatable, despite living a very publicly monitored life. She's also acknowledged her own privilege in motherhood. Two years ago, after the birth of Luna, she told The Today Show that "anyone in the public eye, we have all the help we could ever need to be able to shed everything. We have nutritionists, we have dietitians, we have trainers, we have our own schedules, we have nannies. We have people who make it possible for us to get back into shape. But nobody should feel like that's normal, or like that's realistic." Thanks to Teigen, it's much easier to keep that perspective in mind.