Christie Brinkley Recalls the Time Donald Trump Tried to Woo Her Even Though He Was Married
"I've always found him smarmy, as in, 'Watch out, part the waves, the rich people are coming.'"
---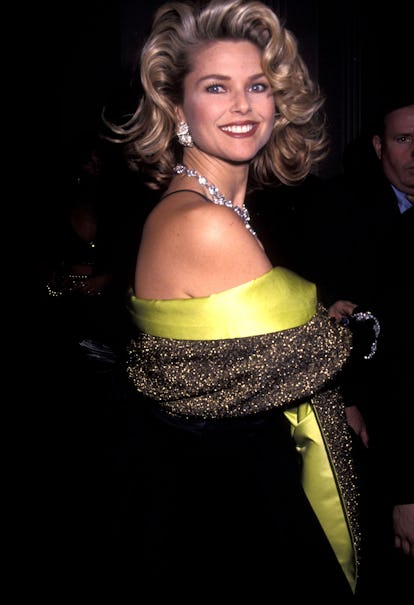 Ron Galella, Ltd.
Add Christie Brinkley's name to the list of famous women who have claimed that President Donald Trump once tried to clumsily seduce them. Similar to other stars' stories, the incident occurred despite the fact that both Brinkley and Trump were already in relationships at the time.
The legendary Sports Illustrated Swimsuit Issue cover star and longtime Cover Girl spokesmodel claims that the incident happened back in the '80s when, both Trump and Brinkley were heading to that most '80s of hotspots: Aspen, Colorado. Somehow, Trump had gotten word that Brinkley was on her way, so he phoned her up while she was staying at the Plaza Hotel and offered a ride to Colorado on his private jet. Brinkley, of course, was already in a high profile relationship with musician Billy Joel at the time.
"I reply, 'Thank you, but I have already arranged my flights.' 'So cancel them!' was his response and I say, 'No, thank you. I'm going with friends,'" she told Porter magazine.
Trump, of course, spent all of the '80s married to first wife Ivana Trump. "I knew he was married, and there he was asking me to go on this plane, he was kind of flirty about it. He was out chasing skirts," said Brinkley.
Despite the fact this is the President of the United States we're talking about here, none of this is particularly surprising. Salma Hayek and Brooke Shields have claimed that Trump also tried to woo them despite the fact that they already had boyfriends. More infamously, in that Access Hollywood tape, Trump himself admitted to the fact that he tried to "move on" Nancy O'Dell in Palm Beach despite the fact that she was married at the time.
Trump would eventually find success wooing at least one woman in Aspen—it's where his affair with Marla Maples started. That episode ended his marriage to Ivana; and, for a brief time in the '90s, Maples was the second Mrs. Trump.
It's probably obvious from her tone that Brinkley has no regrets. She's not particularly impressed by the President or his taste in interior design. "I'm done being discreet," she said. "I've had dinner with him. I've always found him smarmy, as in, 'Watch out, part the waves, the rich people are coming, everything is gold, solid 24-carat gold, the best, the greatest, nobody else has more gold on anything in their house than me. Did you bring a brush? Let's gold-leaf it!"
It really does remain a mystery why he didn't accept the Guggenheim's generous offer of a solid gold toilet. Everyone can see it's very Trump.
Related: Natalie Portman Revisited Her Jackie Kennedy Impression For Saturday Night Live