All of the Celebrities Who Rejected Donald Trump's Advances
Brooke Shields, Emma Thompson, Candice Bergen...
---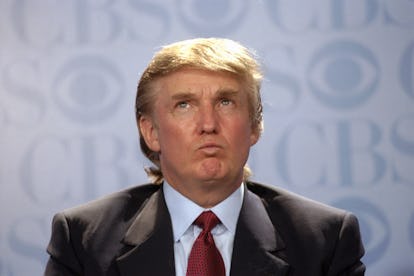 New York Daily News Archive
Noted respecter of veterans Donald Trump once called dating and sleeping around "my personal Vietnam." Describing himself as " a great and very brave solider," our current President has recounted with great pride his dating "war" stories. Though, it would appear that he lost far more battles than he won. The number of female celebrities who said they were hit on or otherwise propositioned by Donald Trump is absolutely staggering, with Brooke Shields being just the latest to share her story.
Here, a rundown of all the famous women we know for sure have rejected Trump.
Brooke Shields
The former model dropped by Andy Cohen's Watch What Happens Live earlier this week, and ended up sharing a cringe-worthy story about Trump's advances. Shields says that back in the late '90s, when Trump was divorcing second wife Marla Maples, he called her up with a proposition: "I really think we should date because you're America's sweetheart and I'm America's richest man and the people would love it," Shields claims Trump said. (As a member of "the people," we can confirm that no one would have loved it.) Shields says she politely turned him down by pointing out that she had a boyfriend at the time.
Candice Bergen
Bergen, also a former model, also recently dropped by Cohen's show and said that she was set up on a blind date with Trump back in the 70's. "He was wearing a three-piece burgundy suit and burgundy patent leather loafers in a burgundy limousine," she said while, incidentally, wearing a "Free Melania" sweater. Bergen was quick to clarify that there was no canoodling and that she ended up going home quite early. "He was a good-looking guy, and a douche," she concluded.
Salma Hayek
Hayek, one of Mexico's most famous daughters, dropped by The Daily Show earlier this summer and recounted the time that she met Trump while out with a then-boyfriend at the time. She claims Trump chatted up her boyfriend, invited the pair to stay at one of his resorts, and got their numbers. Trump never called the boyfriend, but did ring up Hayek and asked her out. When the actress pointed out she had a boyfriend—indeed they'd all met—Trump allegedly responded, "He's not good enough for you. He's not important, he's not big enough for you. You have to go out with me."
Hayek had also earlier revealed that in response Trump or someone close to him planted an item in The National Enquirer stating that he had rejected her because she was too short. He then called her up pretending to be outraged. "He thought that I would try to go out with him so people wouldn't think that's why he wouldn't go out with me." In any event, Hayek eventually wound up marrying Francois Pinault, who, according to estimates, is worth anywhere from eight to 10 times more than Trump.
Emma Thompson
Let's cut to the weird part of the Trump-Thompson moment. It happened while Thompson was filming Primary Colors, a movie in which she played a thinly veiled fictional version of Hillary Clinton. Yes, Trump hit on someone who was basically playing Hillary Clinton.
The year was 1998. Thompson has just gotten divorced from Kenneth Branagh, and Trump was separating from Maples. Recounting the story on a Swedish talkshow, Thompson says Trump, who she had never met before, called her up and asked her to stay at one of his buildings. "Yeah, I just wondered if I could offer you some accommodation in one of my Trump Towers," Thompson recalls Trump saying. "They're really comfortable." When she asked what exactly he meant, Thompson said Trump replied, "Well, I think we would get along very well—maybe have dinner sometime." Stunned, Thompson promised to call back, but never did. Though, Thompson kind of wished she had. "Think of the stories!" she told the host.
Nancy O'Dell
This one, quite infamously, comes from Trump himself. In the Access Hollywood tape in which our current President bragged about he could grab women by their genitals because he was so famous, he also admitted to Billy Bush that he struck out with his then-co-host Nancy O'Dell.
"I moved on her, actually," Trump said. "You know, she was down on Palm Beach. I moved on her, and I failed. I'll admit it… I did try and f—her. She was married."
"I moved on her very heavily. In fact, I took her out furniture shopping. She wanted to get some furniture. I said, 'I'll show you where they have some nice furniture.' I took her out furniture—I moved on her like a bitch. But I couldn't get there. And she was married."
Hitting on women despite the fact they have a husband or boyfriend? Check.
Awkwardly flaunting his wealth as seduction technique? Check.
Being, as Candice Bergen would term it, a "douchebag?" Check.
Not that there was any reason to doubt the women who have come forward with their awkward encounters with Trump, but everything they say checks out with Trump's own words.
Sadly, we suspect that we will eventually have to update this list with more names.
Related: Ivanka Trump Really Wants Someone—Anyone—to Rent Her Cursed New York Apartment
A Pictorial Guide To The Well-Connected Kennedy Family Tree: