Candice Bergen Says a Young Donald Trump Picked Her Up for a Date in a Three-piece Burgundy Suit
And in a burgundy limousine.
---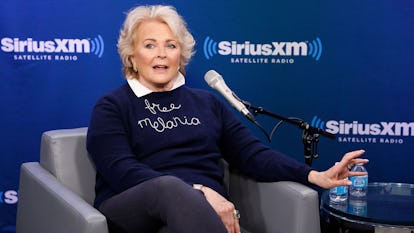 Taylor Hill/Getty Images
Let this be a lesson for all late-night hosts out there: Have Hollywood's elite older women appear on your shows more often. Because boy, do they have stories. Also, by now, they just DGAF.
Candice Bergen has become the latest unbearably cool and hip septuagenarian to do the late-night circuit thanks to Bravo's Watch What Happens Live, where she sported a "Free Melania" sweater and happily played along with Andy Cohen's popular "Candidly" segment.
The game is simple: Bergen was there with her Home Again costar Reese Witherspoon, and Witherspoon had to surmise if a statement about Bergen was true or false. As lovely as it was to learn about the actress's close ties to Elizabeth Taylor and the Reagan family, there was one question that Cohen couldn't wait to get an answer to: Is it true that Bergen went on a date with a "young, strapping" Donald Trump when she was a college student? Oh yeah, you know what the answer is going to be.
"Yes," the former model admitted with some giggles before diving into Cohen's Love Connection-esque follow-up questions. Did he pick her up? "Yes, he did. He was wearing a three-piece burgundy suit and burgundy patent leather loafers in a burgundy limousine." Was there any chemistry? "No, I was home very early." Was there… any canoodling? "No, there was no physical contact whatsoever." And finally, what was her overall impression of the future president? "He was a good-looking guy, and a douche."
Incidentally, Trump isn't the first controversial Republican politician Bergen has admitted to going on a date with Henry Kissinger. Though, as a young woman, Candice could be more often spotted hanging out with those more on the left wing of the spectrum. She counted Black Panther Party co-founder Huey Newton and once helped activist Abbie Hoffman temporarily shut down the floor of the New York Stock Exchange.
Though, for those who are now just experiencing the joys of Bergen, but not in the mood to stream her fantastic Murphy Brown or Boston Legal series, you'll be pleased to know that she, Jane Fonda, and Diane Keaton will be starring in an upcoming film about a bougie women's book club that decides to read 50 Shades of Grey. It might be the best thing to happen in 2017—you know, aside from this big, douche-y reveal.