Having Conquered Walking on Water, the Artist Christo Is Now Floating a 650-Ton Sculpture in London
The work is apparently just a preview for one around eight times its size that he plans to place in the desert of Abu Dhabi.
---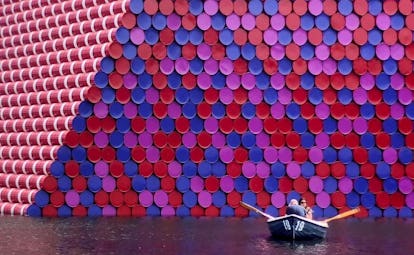 Courtesy of @thomascorrie
Last year, the landscape artist Christo suddenly turned his attention away from the 6.7-mile-long project he'd been planning since 1992. In case you were questioning whether his reluctance to work with the Trump administration was simply a cover for the fact that such an undertaking might simply be too much for the artist, not only without his longtime partner, Jean-Claude, but also because he's 83, he now has serious proof to show you otherwise—650 tons of it, to be precise.
Those thousands of pounds can now be found in the form of 7,506 red, blue, and pink oil barrels, which in fact hearken back to his very first project with Jean-Claude in the late '50s, which saw them almost get arrested for blocking off a street in the center of Paris with 89 oil drums. Clearly, that was only the start of the pair's signature flair for scale. Christo has maxed out their artistic ambition with his 2018 version of the project, stacking them atop each other to form a trapezoidal structure that's as tall as Egypt's famed Great Sphinx, and transporting it—to the artificial lake at the center of London's Hyde Park, where it can now be found floating until September.
All things considered, such an ambitious work as The London Mastaba, Christo's most significant ever publicly in Britain, was the only natural progression after his 2016 achievement of allowing hundreds of thousands of people to walk on water. If all goes according to plan, though, Christo's latest will soon look relatively puny; it's in fact just a trial run for the real Mastaba, which he plans to blow up to about eight times its British size before plunking it down in the desert of Abu Dhabi. For the time being, though, Instagrammers seem more than happy with its current 650-ton state.
Related: Thanks to Christo, Instagrammers Are Literally Walking on Water