Christophe Robin Is Anything But a Big Fat Snob
Even though with clients like Catherine Deneuve and Tilda Swinton, he could be. Instead, the celebrity hair colorist hates pretension.
---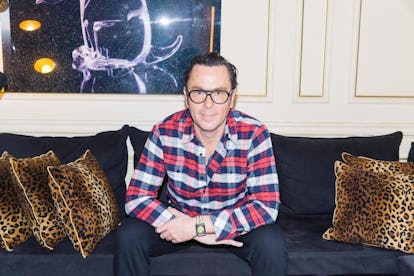 Catherine Deneuve is one of Christophe Robin's best friends. She is also his client, as are Tilda Swinton and Inès de la Fressange. With that kind of CV, the Paris-based hair colorist has every right to be a big fat snob. Alas, Robin, 45, is anything but. He hates pretension, black-tie events, and is at his happiest hiding away in his country home on the coast of Brittany. Weeks away from opening his new salon in the Quartier Montorgueil – complete with a boutique and a café – he confesses his obsession with germs, how he deals with his own hair, and the celebrity he'd do practically anything to treat.
How long have you been working in salons? I started when I was 14.
I don't know if I knew that. How did you get into the business? Since I grew up on a farm, I was supposed to be a farmer. I escaped at 14 to a city close to my town. I was gay and in a village of 160 people, it was either that or dying, because 30 years ago, they were mean. Mean! So mean, if you were different. I wasn't queen-y, but they threw stones at you and things like that. There were so many young farm boys who were gay and committed suicide. So I left and ran away when I was 14. My poor mother couldn't help, you know? And I arrived at the salon. I loved being at the salon, seeing my mother on Sundays getting her color with her friends, and watching the transformation. I loved that world. So I ran to the salon, I said, "I want to work." And they said, "How old are you? You're just a kid." I said, "I'm 14." She took me as an apprentice, and I cherish her now because she was a colorist from the '60s.
When did you come to Paris? I arrived in Paris at 17. I lied to Jean Louis David, telling them I was 18. I became a trainer and I created all the hair coloring techniques for the group.
Because you'd been coloring since you were 14? Yeah, and because I was good. Jean-Louis David had a very good studio team at the time: Julien D'Ys and Odile Gilbert. One of them called me for a shoot for L'Oréal with Stephanie Seymour. They said, we can't make her hair shine, do a little color, do something to make it shine. Stephanie didn't want to color her hair, but I convinced her to.
So that was your big break? Yeah. I was 17, I had just arrived from my farm. I had no idea who Peter Lindbergh was or who Stephanie [Seymour] was, but, as usual, the biggest ones were the nicest ones.
Nice. They were so nice. They saw that I was this country boy who had just arrived, totally lost, and they were so kind to me. All the models… Claudia Schiffer and Elle Macpherson. And the best was Kristen McMenamy.
Why? Because she saw that I was starving and that I had potential. She always helped me a lot.
Did you live with any of them? No. I was happy in my little maid's room. It was a crazy time.
When did you open your first salon? I was 24. I'd been at Jean-Louis David, but I left because he was furious that I was doing so much studio work and for other companies while I was working for him. So, I left and I'd do people's hair at home.
Do you ever cut, too? I am a very bad cutter.
Good to know! So you were 24… I opened up the first salon in 1994 only for color. It was inside of a courtyard.
Tell us about your new space. Well, there will be a café. And there will be a boutique with two chairs where people can come and get their hair washed to try the products, all for free. Then, in the adjoining salon, there will be six basins and six chairs.
Which clients' hair are you most proud of? Catherine [Deneuve], she's a legend for blondes, that's for sure. I'm proud of that. I'm proud of Léa Seydoux, too.
What about Tilda? Yeah, but Tilda? It's not the hair that's going to change it, because she's always something already, you know? You don't see too much of her hair, you see TILDA. But I love her, so I am very happy to take care of her. Eva Green, also. She's Swedish so she's blonde, actually.
Which celeb that's not a client has the best hair? Julia Roberts always has beautiful hair.
And men? The salt and pepper of George Clooney is something I like, too. Ryan Gosling, he looks like he's got good hair.
Who's the one person who's hair you're dying to color? The one I would kill to take care of is Meryl Streep. I believe I could roll myself in shit to take care of her hair.
Let's get back to you. Describe your grooming routine. Oh, this is going to sound very gay.
Can I say that? Oui. I wash my face with Joelle Ciocco Creme Emulsionnante. I really like it. In the morning, just cold water. For shaving, there's only one thing that works on me because my beard is very thick: it's a very old shaving cream from Palmolive.
Like the dishwashing liquid? Oui. It costs two euros, you get it at the grocery store, like Monoprix. My razor is Wilkinson Sword because I break all the others! An electric razor can't work. Touch my beard. It's very thick.
Ouch. What is in your shower? Only soaps, I never wash with gel. Right now, I have a sea salt soap that I adore that I buy called Sea Salt Soap. I wash my hair only with my [Christophe Robin] Salt Scrub. I need something rich like this because I put a lot of my balm in my hair. If I didn't, it would be out-of-control curly. After the shower, I spray my vinegar spray with sage, then my Intense Regenerating Balm. Only on wet hair.
What do you moisturize with? On my body, the only one I like is Eucerin PH5 Cream. On my face, it's Joelle Ciocco Regulateur Actif day cream.
Do you get facials from her regularly? Yes. I've known her for 25 years. I was paid to do an audit at a salon to find out who was good and who wasn't. I was 18 years old, and afterwards, I said, "You have to get rid of everybody except that facialist, who is so good." It was Joelle.
No! You were 18 years old and they trusted you to audit a salon? Oui.
Do you wear cologne? I change a lot. Right now, it's Gypsy Water from Byredo and there's another one I adore, called Bois D'Ascese. The art on the bottle is made by a guy in Australia. It is divine. It's very sexy, that smell. I don't know why the guy doesn't put his name on it.
That's kind of sexy that he doesn't [put his name on it]. What was your very first fragrance? Pour Homme de Caron. It's their lavender one.
What is your very first grooming memory? Seeing my mother do her hair and face at home. When you grow up on a farm, there was no grooming.
Is there a women's fragrance that you like? Ah, oui, but it's becoming very rare because you can't find it. It's called First by Van Cleef and Arpels. If I smell a women wearing it, I will run after her! Seriously.
And what will you say to her? That she smells divine. It's very out of trend for perfume, and I don't know what it does to me, but it really moves me. It's very feminine, very reassuring. I love that perfume.
What did your mother wear? When I started to make money, I bought her Trésor from Lancôme.
When you travel, what is in your dopp kit? So much!
Why? Because you need it all or because are you testing things? You know what I do? I mix day cream with Dr. Hauschka Emulsion Teintee to give myself a little tan.
Nice! It's better than getting a suntan. You only do it when you travel? No, every day!
You didn't tell me that. You've been holding back! Ok, so Hauschka tanner with your day cream. It's tinted, like a bronzer, but it's very liquid, so if you're a man it's nice. There's no powder or anything. Sometimes I use the Hauschka bronzer on my jawline for a contour or to conceal my double chin.
You contour! What is the one product you can't live without? That day cream from Joelle. Each time I try a different one, it never works. I've tried everything else, but I always go back.
Is there a product of yours that you can't live without? I have to wash my hands with my salt scrub. Oh, and my vinegar sprays. I take them everywhere with me because I clean the toilets with them.
What? When I arrive at the hotel, I spray the toilet with them. If I walk too much, I spray my tennis shoes with them so they don't smell. I clean the remote control because it's got so much bacteria. And if something stinks, I spray it with my sage one. If you can't clean your hands, just spray them.
Do you use them on airplanes, too? Yeah. It's very girly.
No, it's great. I never thought of using them for that. What women's product or treatment do you envy? Eyebrow gel, because when you get old, your brows go in every direction! And you have to cut them! I need to buy that transparent mascara, because I do my brows now with the balm and an old toothbrush, but it never works.
But you have a lot of eyebrow hair. You're lucky. I cut them! Oh, when you get old, hair comes out everywhere.
Like Santa Claus. What's in your medicine cabinet? I use a toothpaste that's very good for the gums. It's called Athrodont. It heals the gums in two seconds. I never go out without support socks because I stand all day. My good friend, who was my neighbor in my first salon, is the daughter of the biggest, oldest medical sock family in France. It's called Maniac. It's on Rue Saint Honoré. They're the champions of socks.
Which other fragrances do you like? I like Pour le Matin by Francis Kurkdjian, the morning one. I love Santa Maria Novella Melograno. It's what I mostly wear.
Does what you wear depend on the day or what you're doing? No, only mood. The Melagrano works all year long. That Bois Desces one works maybe better during winter, but I don't care.
What if you have a big meeting? Which makes you feel the most confident? That's funny, because if I have to meet with somebody, I don't want a strong perfume. I want something fresh like Pour le Matin or Melagrano, but I'm not going to wear Bois Desces, which is stronger. I'll wear that to please myself, and could be only by myself in Brittany.
What about if you're going to a black tie event? A tuxedo and a strong perfume is too much. I hate to wear black tie, I hate it. In Cannes or at the movie awards, I hate it! But I'm lucky to have ones that Alber Elbaz and John Galliano did specially for me years ago, and they're still the best.
In the Mood for… Hair of Every Color