Supermodels Are Cuckoo For Coconuts
Rosewater is out; coconut is in. For one week, we tried every product we could find made with fashion's new favorite ingredient.
---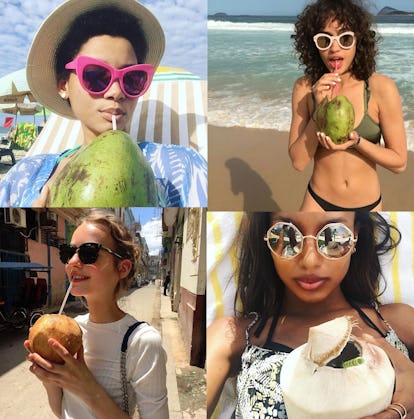 Rosewater is out; coconut is in.
Lately, there's been a significant shift in W's "Beauty Notes" questionnaire: In the past, rosewater and rose quartz were a favorite of models like Aymeline Valade, Meghan Collison, and Miranda Kerr, who infused it in all her products because she believed it gave off "love vibrations." But in the past year or so, everyone is listing coconut as their go-to natural ingredient. Beauties Irina Shayk, Lily Aldridge, Caroline Trentini, and Maria Borges all claim to use it in every aspect of their lives, from skin to hair to cooking. And no one is going to argue with the results.
According to health nuts on the Internet, there are hundreds of uses for coconut oil — far beyond the model diet. Diehards wake up and put a scoop of coco butter in their coffee, then condition with it in the shower before lathering it all over their bodies. You can apparently use it as makeup remover, chapstick, and deodorant (not recommended); and allegedly (though not doctor-approved) as a sunburn and allergy remedy, insect repellant, tanning oil, plus as a cure for stretch marks, UTI's and eczema. If you're really into coconut, it can also be used as lube…
To investigate, I took a trip to Whole Foods and bought every all-natural coconut-infused product I could find. I put coconut flakes in my Cheerios in the morning, and a spoonful of coconut nectar in my tea at night. I ate salty coconut "crackers" and chocolate-covered coconut flakes as a desk snack, plus chocolate coconut spread as a healthier alternative to Nutella. Because of coconut's sweet taste, I felt as satisfied as if I had eaten chips or candy, but I'd consumed half the calories.
The most effective coconut product I tried by far was also the most straightforward: coconut water. I used to hate the taste, but after drinking liters of it for a week straight, I got used to it and maybe even liked it. I scoffed at claims that coconut can enhance "brain power," but by the afternoon I couldn't sit still because of all the glucose I had consumed. I didn't realize what was happening until a friend commented on how hyper I was acting. (I think I texted him seven times in a minute.) Cuckoo for coconut, indeed.
While eating and drinking coconut can enhance beauty from the "inside out," coconut oil is also a cheap and natural moisturizer — although be warned it can get on your clothes if you don't dab it with a towel. The resulting shine is something other, creamier moisturizers don't have, which I like. Thanks to a tip from model Alanna Arrington, I also use DevaCurl SuperCream Coconut Curl Styler in my hair to add both hold and conditioner, without any oiliness. Pharmacy finds of a similar variety have the same effect — if it's coconut-based, you're cooking. Male model Trè Samuels can attest to this as well.
At the end of the day, it comes down to whether or not you enjoy the taste and smell of coconut. Although I didn't find it hard to get used to, some of my W magazine co-workers couldn't help but turn up their noses.
And of course, there's a catch: I don't have central air-conditioning in my apartment, so last week when I was ready and excited to try all my new coconut products, I woke up to find that they'd all completely melted. Ah, there's the rub.