Cole Sprouse and Lili Reinhart Share Their First Impressions of Each Other
Tell each other how you really feel.
---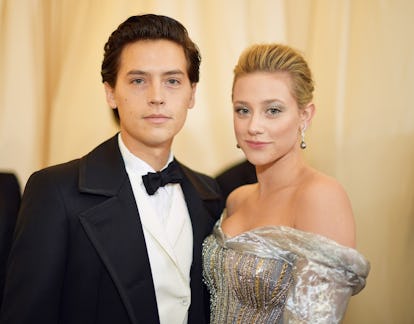 Matt Winkelmeyer/MG18/Getty Images for The Met Museum/Vogue
Love at first sight may be a real phenomenon for some couples, but for Cole Sprouse and Lili Reinhart, the now-confirmed romance between the two took more than a first impression to take hold.
As part of Glamour's "Friendship Test" video, the cast of Riverdale participated in exercises to test their friendship. Along with fellow cast members Casey Cott, Madelaine Petsch, and Vanessa Morgan, Reinhart and Sprouse revealed their first impressions of each other for the camera.
These two have officially shared the next phase of their relationship with the public—being honest about what they thought of each other the first time they met. Sprouse admitted that he felt Reinhart "was a tough egg to crack" who didn't exactly open up to her cast mates right away. "She's very shy at first, and reserved. I think it was about halfway into the first season she started letting people in, truly," the actor said. As for Reinhart's impression of Sprouse, her initial thoughts on the actor were a little more superficial. "I thought his voice was annoying," she said. "I was like, That guy's got an annoying voice. And now it's grown on me, I guess," she added, laughing.
After months of dodging the relationship questions and keeping their love lives private, Sprouse and Reinhart confirmed their romance with a joint red-carpet appearance at the Met Gala, followed by some revealing snaps on Instagram over the summer. Even though those first impressions between the couple might have been a little bit rocky, they appear to have grown past that, telling Glamour that they have the utmost respect for each other as friends. "Cole is…the smartest person that I'm friends with. He's incredibly passionate about art, about photography, about acting, and I really admire that," Reinhart said.
Sprouse followed up with some kind words of his own for his girlfriend. "She's one of those people that consistently pushes me to be better at the arts that I'm pursuing, and that's just the kind of person she is. She inspires excellence out of everybody she works with," Sprouse said.
The remainder of the video's friendship exercises includes hugging for prolonged periods of time, giving each other compliments, and participating in trust falls. Of course, Sprouse and Reinhart succeeded at all three.
Related: Cole Sprouse Wished Lili Reinhart a Happy Birthday by Sharing a Topless Photo of Her