Colin Farrell Opens Up About His Longterm "Mystery Woman" Girlfriend
The actor is apparently a very good secret keeper.
---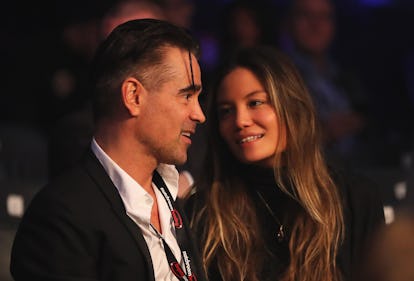 Richard Heathcote
The tabloids can be up in celebrity's business more than the Senate Judiciary Committee is up into Trump's, but sometimes celebs do manage to keep a secret. Ask Colin Farrell, who has been dating a woman for about two years now. They've been spotted out together multiple times all across the globe since January 2016, but the gossip press only knows her as "mystery woman," "mystery lady," or "mysterious brunette." In photo captions, she's merely been listed as the usually dreaded "and guest." It seems as though Farrell and "mystery lady" aren't quite eager to put it all out there in public yet.
It's all quite a change for an actor whose personal life used to be once watched like a hawk, and whose dating history allegedly includes Angelina Jolie, Britney Spears, and Lindsay Lohan. In fact, as we all probably remember, Farrell used to have something of a reputation as a womanizer before claiming to take a break from all that. In a 2015 interview with The Sunday Times, he claimed that he hadn't dated anyone at that point for four years. "It's just not happening, what with the work, the kids and my life," he said. "I know it's not what people expect to hear, but that's the honest truth."
Though, less than a year after that he was spotted having a lunch date in West Hollywood with said "mystery woman." In March 2016, Farrell and "mystery woman" popped up at an Adele concert in Ireland. By May, they were spotted back in California, sharing a kiss while waiting for burgers from In-n-Out. They've kept up the routine of randomly popping up here and there across the globe since then, and most recently were seen at a boxing match in Cardiff, Wales. Yet, even though the two-year anniversary of their first public spotting is on the horizon, the press still continues to refer to his lady friend as simply a brunette mystery.
In fact, Farrell hadn't even talked publically about the relationship before. Enter Ellen Degeneres, who has a gift for gently coaxing secrets out of celebes. Farrell appeared on her show today to promote The Killing of a Sacred Dear, and the host managed to ask him if it was hard to keep up a relationship with his busy schedule.
"My girlfriend she travels a lot as well with work so often times we're two ships passing in the night but we make sure to find a port that we can, you know, rendezvous at," he replied.
Degeneres then asked if she was in the "business."
"No, but she travels a lot in her work and works very hard," he said. "It's been quite awhile now."
Yet, "mystery woman" remains still a mystery. The only new information we've really gleaned is that she doesn't work in show business.
Hmm, what other lines of work would require someone to travel a lot and keep their identity hidden form a public. Hey, "Is Colin Farrell dating an international super spy?" may be a silly question to ask, but at this point it remains a valid one.
In any event, congratulations to Colin Farrell for not only finding what seems to be a true love, but for officially making the jump from action star bad boy whose business was always all up in the gossip sheets to respected indie actor who keeps his personally life low key. It's quite a feat.
Related: Revelation: Colin Farrell Should Never Have Been An Action Star
A Photographic Guide To Everyone Colin Farrell Has Dated
Farrell married actress Amelia Warner in a non-legally binding ceremony in 2001 during a vacation to Tahiti.

Getty
The duo, who appeared on many red carpets together, split less than a year later.

Getty
Warner would go on to date Fifty Shade of Grey star Jamie Dornan.

Getty
Farrell met actress Michelle Rodriguez on the set of 2003's S.W.A.T., and were rumored to be party mates for a time.

Getty
Farrell dated model Kim Bordenave, on left, for nearly two years, during which the two welcomed a son.

Getty
It was rumored that Angelina Jolie approached Farrell during the filming of their 2004 movie Alexander.

Getty
Farrell arrived at the premiere of 2003's The Recruit with Britney Spears, but claimed the two were only friends.

Getty
Farrell and Lindsay were often spotted together around 2004, even appearing on Saturday Night Live to spoof the rumors.

Getty
Farrell moved on from Spears and Lohan to Carmen Electra briefly in 2006.

Getty
After Electra, Farrell was spotted out with Lake Bell while filming Pride and Glory in 2006.

Getty
The two quickly became red carpet official, including an event supporting ASPCA in New York in 2007.

Getty
The pair were all smiles at the premiere of Pride and Glory.

Getty
By 2010, Farrell had moved on to Polish actress Alicja Bachleda, his co-star in the film Ondine.

Getty
The pair stayed together for nearly two years, before breaking up in 2010.

Getty
Emma Stone Was Surprised with a "Clue" Murder Mystery Birthday Party: