Conrad Hilton's Release From Jail Is the Latest Update in a Wild Week of Rich Boy Legal Drama
Conrad Hilton gets out of jail, two Brants deal with their arrests, and a Douglas finally hopes to put his meth-dealing days behind him.
---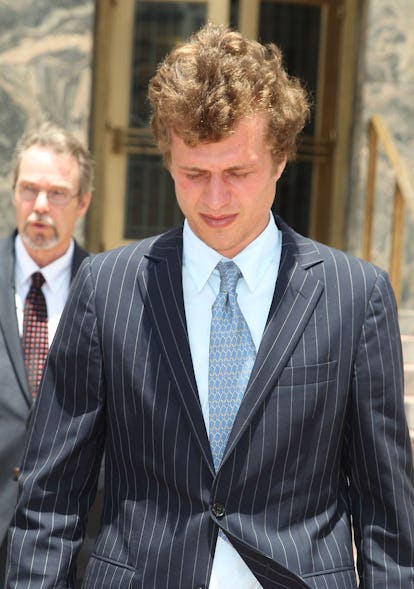 Getty Images
Making light of an arrest, a plea deal, and two walks of freedom after hard time served. It's been quite a week in the particular world of poor little rich boy legal drama.
It started with billionaire heir Harry Brant taking to Instagram to meme-ify his recent Connecticut arrest for failing to pay a taxi fair and narcotics possession. The 20-year-old son of industrialist Peter M. Brant and his supermodel wife Stephanie Seymour grabbed from law-and-order-themed photoshoots featuring the likes of Paris Hilton and Naomi Campbell. He cast the altercation as merely a glamorous right of passage for the young and privileged. Giving the news that would follow in the next few days, he may be right, unfortunately.
Brant's brother Peter Brant II had his own issue with the law this week. Back in March, the elder Brant brother was cuffed in the world's least enviable bracelets after cold clocking a Port Authority cop at JFK airport. According to Page Six, his defense attorney Alex Spiro managed to strike a deal. Brant had his charges downgraded, and his punishment includes issuing an apology to law enforcement and 25 days worth of community service.
Like his brother, we imagine Brant hopes his community service will be something like that of Naomi Campbell's infamous punishment-turned-photo-shoot.
If he fails to meet the terms of the deal, Brant could still face up to a year in jail. Though, perhaps he'll get the word from fellow troubled male celebutante Conrad Hilton that jail isn't quite the hotspot. Besides, how is one supposed to keep a unisex makeup line afloat from behind bars?
News broke yesterday that Hilton, the brother of Paris, was released from jail after a two month stint earlier in August. The youngest member of the Hilton clan's legal drama stems from a July 2014 outburst on a plane during which he shouted at both staff and fellow travelers key phrases like "I am going to fucking kill you!" He originally received parole, but was sentenced to two months after admitting in June that he had indulged in drugs like marijuana, synthetic cannabinoids and cocaine.
Three male scions facing the repercussions from transit shenanigans in the same week. It's practically an epidemic in that rarified world.
At least Barron Hilton, Conrad's brother, has kept himself out of a precinct since his own 2008 arrest. His reported interest in entering the hotel business and his notable foodie Instagram venture seem to be keeping him out of trouble.
Apparently Derek Blasberg is right. All you need is a positive attitude and a well curated Instagram to make it in this world.
The boys should find a way to keep themselves out of trouble lest they follow the path of Cameron Douglas. Sure he's more of a heir to a celebrity than a celebrity heir if the distinction matters, but Douglas also ended a chapter of major legal drama this week as well. The son of actor Michael Douglas was released from a halfway home in The Bronx just recently. That followed a seven-year federal prison sentence. Douglas was originally arrested at the Hotel Gansevoort back in 2007 for dealing meth.
The Los Angeles-raised Douglas once had dreams of making it on the NYC party circuit before he broke bag. He moved to Manhattan in 1999 to follow his dream of becoming a DJ (almost a full decade before the idea of rich kids wanting to become DJs became a total cliché). Though, his routine soon dwindled to heavy use of hard drugs while living off of his trust fund. He eventually got involved with a Mexican drug dealer, and the meth deal that ended up putting him away. According to The New York Post, his time in the clinker wasn't easy either. He faced many a beatings, and even had his legs broken.
Now that Douglas is finally out, he hopes to turn his life around by adding muscles to his frame, ink to his body, and credits to his IMDB page (he's hired an acting coach).
Unfortunately for Conrad Hilton and the rest of the names mentioned here, Douglas's terms of release does not include starting a "scared straight" program for other wayward heirs.