Prince Harry's Ex Cressida Bonas Wrote a Diary About the Royal Wedding
She spilled tea on the attire.
---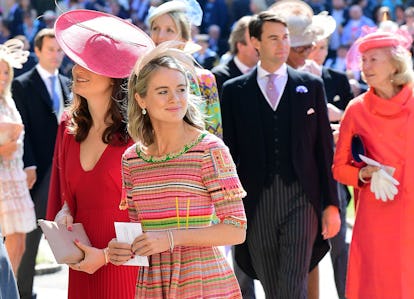 Ian West/Getty Images
Cressida Bonas, who once a little thing Prince Harry between 2012 and 2014, was one of two of Harry's ex-girlfriends who was in attendance at his not so little royal wedding to Meghan Markle last Saturday, and she had one or two things to say about the ceremony in a public diary for The Spectator, published on Friday.
Prince Harry and Bonas split amicably, and the 29-year-old dancer and Tulip Fever actress didn't say anything that would jeopardize her friendship with the royal family. Instead, she politely stuck to safe topics of conversation, namely headwear. "Friends are starting to get married," she wrote, "which means the dilemma of British wedding attire. Hats. Why do I find hats so tricky? Tricky to wear, tricky to look at, and extremely tricky for the poor soul sitting in the pew behind." She then threw in, "Last weekend I attended the royal wedding. The invitation clearly stated that guests must wear hats. Yikes. I opted for a minimal feathered number — and can only hope I got it right."
The British tradition of hats and fascinators has always been seen as a must at formal events, but Bonas noted that, when possible, she forgoes hats altogether. "Most of the time I avoid headgear," she wrote, adding that "this can prompt disapproving looks from the older generations."
Bonas may have been one of many wearing a headpiece at the royal wedding, but she also wasn't the only ex of Prince Harry's to make the news following the royal wedding. Chelsy Davy, whom the prince dated between 2004 and 2011, became a bit of a meme when her wide-eyed facial expression at the wedding caught the attention of Twitter.
Related: Meghan Markle's Wedding Makeup Artist Breaks Down the Products She Used on Her Big Day
Royal Wedding 2018: See the 10 Best Dressed Guests, From Amal Clooney to Troian Bellisario
Oprah Winfrey in Stella McCartney arrives at St George's Chapel at Windsor Castle before the wedding of Prince Harry to Meghan Markle on May 19, 2018 in Windsor, England.

WPA Pool/Getty Images
Sofia Wellesley arrives for the wedding ceremony of Britain's Prince Harry, Duke of Sussex and US actress Meghan Markle at St George's Chapel, Windsor Castle, in Windsor, on May 19, 2018.

CHRIS RADBURN
Carey Mulligan in Erdem arrives at St George's Chapel at Windsor Castle before the wedding of Prince Harry to Meghan Markle on May 19, 2018 in Windsor, England.

WPA Pool
Lady Kitty Spencer arrives at St George's Chapel at Windsor Castle before the wedding of Prince Harry to Meghan Markle on May 19, 2018 in Windsor, England. (Photo by Ian West – WPA Pool/Getty Images)

WPA Pool
Victoria Beckham arrives for the wedding ceremony of Britain's Prince Harry and US actress Meghan Markle at St George's Chapel, Windsor Castle on May 19, 2018 in Windsor, England.

WPA Pool
Troian Bellisario arrives at St George's Chapel at Windsor Castle before the wedding of Prince Harry to Meghan Markle on May 19, 2018 in Windsor, England.

WPA Pool
Amal Clooney arrive at St George's Chapel at Windsor Castle before the wedding of Prince Harry to Meghan Markle on May 19, 2018 in Windsor, England.

WPA Pool
Abigail Spencer and Priyanka Chopra arrive at the wedding of Prince Harry to Ms Meghan Markle at St George's Chapel, Windsor Castle on May 19, 2018 in Windsor, England.

Chris Jackson
Serena Williams, in Versace, arrives at St George's Chapel at Windsor Castle before the wedding of Prince Harry to Meghan Markle on May 19, 2018 in Windsor, England.

WPA Pool