Meghan Markle's Wedding Makeup Artist Breaks Down the Products She Used on Her Big Day
She only used two products throughout her wedding day.
---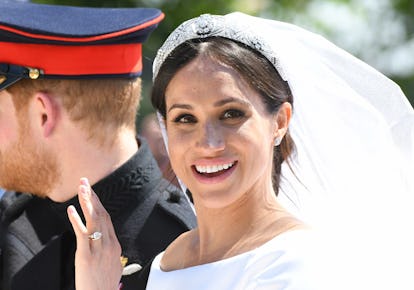 Karwai Tang/WireImage
The more stories that come in about Meghan Markle's official transformation into a royal, the more relatable she seems. Her wedding makeup artist, Daniel Martin, previously revealed that the actress turned Duchess of Sussex told him moments before she took the altar that "I'm always going to be Meg," as People noted. Now, Martin has revealed more about their exchanges on her wedding day and, as he confirmed, Markle was an "extremely chill" bride.
In the hours leading up until her historical wedding, Markle was doing the same thing everyone else was on Saturday morning: eating and chilling. "We laughed, had breakfast together, and then we started hair and makeup," Martin told Elle. "Very easy morning!"
As it turns out, Markle's beauty routine throughout her wedding day was just as relaxed. After Martin did her makeup, as well as her mother Doria Ragland's beauty look, he equipped Markle with only two products that she used for touch-ups: "blot papers and lipstick!" It's no wonder Priyanka Chopra has called Markle "a princess for the people."
Outside of using products on her royal wedding day that anyone could buy at a drugstore, Markle also kept her makeup look accessible. She wore only a slight smoky eye with a natural pink lipstick, which were as minimal as her gorgeous Givenchy and Stella McCartney gowns. Markle, who broke royal protocol by delivering her own speech during her wedding reception, was unsurprisingly just as independent when it came to her makeup. "Her makeup look was very collaborative," as Martin said. "She's extremely decisive and I know exactly what she wants. She's very open and loves makeup, so it's always been fun playing dress-up with her!"
As for why she went with a low-key look that showcased her natural beauty, freckles and all, Martin said it had a lot to do with her dress. "If Meghan had much more makeup on, her face would have been the focus and not the gracefulness of her dress," he said. "It would have been distracting, and that's what you don't want when the dress is the main attraction. Makeup should be the finishing touch to the dress, never the other way around…especially on your wedding day!" Clearly, she made the right call.