Cynthia Nixon Announces Run For Governor of New York with Campaign Video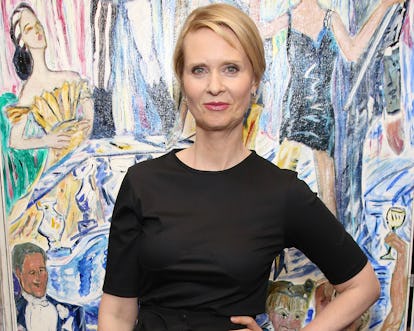 Walter McBride/WireImage/Getty Images
After a nearly yearlong "will she or won't she" period, actress Cynthia Nixon announced her candidacy for governor of New York on Monday, challenging incumbent Andrew Cuomo in this year's Democratic primary election.
"New York is my home. I've never lived anywhere else," Nixon's voiceover begins in a campaign video to announce the run. "I'm a proud public school graduate and a prouder public school parent," the actress says over clips of her 7-year-old son, Max Ellington Nixon-Marinoni. She also discusses poverty, mass transit, health care, and mass incarceration in the two-minute video, and throws in a dig at the current representatives. "We are sick of politicians who care more about headlines and power than they do about us," she says.
In a survey published in The New York Times before Nixon officially launched her campaign, Cuomo led Nixon among Democratic voters 66 to 19%, and beat her by a wide margin in every demographic grouping, including among men and women, moderates and liberals, different races, and residents from both New York City and other parts of New York state. Though most who do know Nixon will recognize her as sensible yet neurotic lawyer Miranda Hobbes from the beloved HBO series Sex and the City, according to the survey 60 percent of voters had no opinion of her. Cuomo currently enjoys a 52 percent approval rating, which is reportedly unchanged from previous months.
Nixon has been teasing fans with hints that she may step into the political fray for quite a while. She campaigned for New York City Mayor Bill de Blasio in 2013, has been an outspoken opponent of Governor Cuomo, and been an education activist for nearly two decades. Earlier this month, when rumors began swirling that Nixon would indeed throw her hat in the ring for governor, Nixon's publicist issued a statement saying that her many supporters were begging her to pull the trigger.
Here's to hoping they serve cosmopolitans at the campaign launch party. Watch the full video, below.
Related: As Cynthia Nixon Weighs Run for Governor; Here Are a Few Celebrities We'd Also Like to See in Office