Cynthia Nixon Says She Will "Continue to Explore" the Possibility of Running for New York Governor
The talk of her running for New York governor has ramping up.
---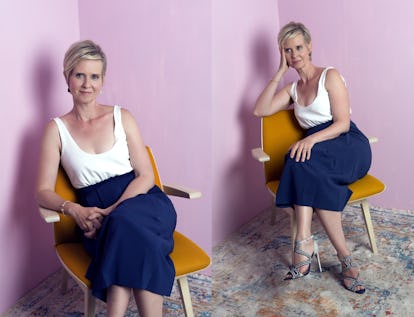 Photo by Caitlin Cronenberg. Produced by Arthouse Agency. Photo Editor: Biel Parklee.
Sex and the City 3 hopefuls might want to relinquish some of their optimism. Cynthia Nixon, who has been rumored to be mulling over a run for New York governor for quite some time, may have other plans.
This morning, rumors swirled once again that Nixon was gearing up for an election race against current New York governor Andrew Cuomo after NY1 reported that the actress was already assembling her team. According to the publication, Nixon has tapped two people who formerly worked on Mayor Bill de Blasio's first campaign: Rebecca Katz and Bill Hyers.
After those details circulated, however, Nixon's publicist issued a statement saying that her campaign for governor wasn't official—at least yet. "Many concerned New Yorkers have been encouraging Cynthia to run for office, and as she has said previously, she will continue to explore it," the statement reads, neither confirming or denying that Nixon has already began recruiting a campaign team. "If and when such a decision is made, Cynthia will be sure to make her plans public."
While Nixon still hasn't officially confirmed her campaign for governor, the threat of one is enough to rattle Governor Cuomo. Unlike some celebrities who have pivoted to politics, Nixon has a history of public service and activism. She even helped mayor de Blasio get elected back in 2013; as he told The New York Times then, "There are weeks where four or five days in a row, I'm doing something with Cynthia. She's that fully involved with the campaign." Outside of immersing herself in the election experience, Nixon has rallied for marriage equality, women's rights, and LGBT rights. She's also pushed for education reform in New York City alongside her spouse Christine Marinoni, who was previously the New York director of the Alliance for Quality Education. No doubt, the fact that she starred on one of the beloved local shows set in New York certainly helps her chances as well.
While Nixon hasn't commented on the ongoing drama between her Sex and the City co-stars Sarah Jessica Parker and Kim Cattrall, it seems unlikely that she would be on board for another installment, especially in the aftermath of her political awakening. "I remember when we screened the first movie in London, when Mr. Big shows Carrie that closet he's built for her and the entire audience clapped," she told The New York Times in 2013. "I found that devastating. Maybe that's a strong word, but I was disheartened. Because I thought: 'Is this what these women in the audience think true love is? A man who has enough money to buy you a walk-in closet?'"
If she does announce her run for governor, Nixon will have the opportunities and platform to fine-tune SATC's brand of feminism and help make a reality where women, through equal pay and equal opportunities, can erect their own walk-in closets.