As Cynthia Nixon Weighs Run for Governor, Here's a Few Celebrities We'd Also Like to See In Office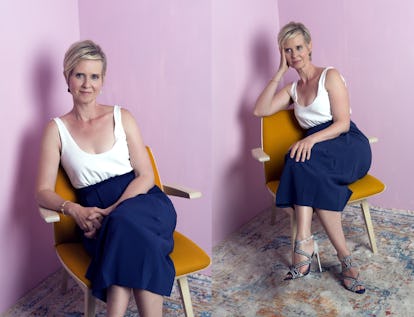 There's a reality television star in the White House; GQ's summer comedy issue positioned Dwayne "The Rock" Johnson as a viable candidate for presidency; and even Michael Moore thinks America's most trusted voice in politics Tom Hanks should run for office. So it's not implausible, as the Wall Street Journal recently proposed, that one-time Sex and the City star Cynthia Nixon should also face off against sitting New York governor Andrew Cuomo when he comes up for re-election during next year's midterms.
Nixon campaigned for New York City mayor Bill de Blasio in 2013, soliciting endorsements on the then-candidate's behalf from Alec Baldwin, Susan Sarandon, and Sarah Jessica Parker; at the time, the New York Times referred to her as "one of the more prominent celebrity activists on the left." She's been an outspoken opponent of Governor Cuomo, particularly regarding his education policies, an area with which Nixon has been particularly concerned since she began venturing into activism nearly 20 years ago. And while, in the past, Nixon has denied rumors she is considering running for office, this time, the Wall Street Journal reports "she is now considering it." She's one of three potential candidates who could usurp Cuomo from the left—in the same story, the Journal also cited Stephanie Miner, the mayor of Syracuse, and Terry Gipsen, a former state legislator, as potential candidates.
All these celebrities with Washington, D.C. ambitions have got us thinking about the actors and celebrities we'd genuinely like to see run for office. We're down with Cynthia Nixon for governor, but what about Martha Stewart for secretary of the interior? Beyoncé for United Nations ambassador? Gloria Steinem as the next Supreme Court nominee? Here, we propose a dream government.
Viola Davis for President It would take nothing less than the force of nature behind Annalise Keating to reroute the course Donald Trump has set in the past six months.
Tom Hanks for Vice President What better person to back up President Davis than the country's most trusted man? Plus, he's already declined a 2020 presidential run—but would he say no to a veep offer?
Meryl Streep for Speaker of the House An outspoken advocate for women's health and equality and global human rights, and an outspoken opponent of sitting president Donald Trump, Streep is on the right side of the issues—and that icy Miranda Priestly stare would bring any dissidents on either side of the aisle into alignment.
Martha Stewart for Secretary of the Interior For the best-trimmed interiors in the world.
Mark Ruffalo for Secretary of State Because, you know, the Hulk.
Shonda Rhimes for Secretary of Education Rhimes, and all her heroines, could run the country on their own—but Rhimes has also been setting an example for on-screen representation of diverse actors for more than a decade, a talent she could lend to school curricula.
Allison Janney for Press Secretary I mean, obviously. But it's not just because of The West Wing: Janney appeared on Samantha Bee's Not the White House Correspondents Dinner earlier this year, reprising the part of C.J. Cregg—and naturally, it's got us wishing for a comeback.
Oscar Isaac for Chief of Staff I don't know, this just seems like a job an Internet Boyfriend could do.
Leonardo DiCaprio for Secretary of Energy Fewer private jets, more renewable energy sources.
Beyoncé for United Nations Ambassador She and Jay-Z might already be our unofficial first family, but we can't imagine a person better positioned to bring about world peace.
Gloria Steinem for Supreme Court Justice After all, she and Ruth Bader Ginsberg already lunch together.
Chris Hemsworth thinks Charlize Theron should be the new James Bond: