Leave Cynthia Nixon Out of This Increasingly Depressing Kim Cattrall-Sarah Jessica Parker Saga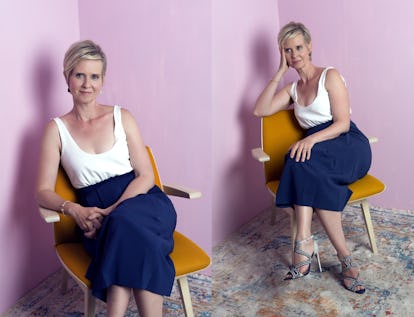 Photo by Caitlin Cronenberg. Produced by Arthouse Agency. Photo Editor: Biel Parklee.
In a more just world, what Cynthia Nixon would need right now is a dress to attend the Oscars as a nominee for her critically adored but shamefully overlooked turn as poet Emily Dickinson in A Quiet Place. What Cynthia Nixon does not need right now in this or any other world is to be dragged in as a tabloid pawn to the headline-grabbing and yet deeply personal and deeply upsetting feud between her former Sex and the City cast mates Sarah Jessica Parker and Kim Cattrall.
Yet, as we are reminded of all too often lately, we are stuck in this garbage version of the world, and half the celebrity gossip or adjacent internet lit up this morning after Nixon posted a rather innocuous picture with Parker after a chance meeting. The headlines ranged from "Did Cynthia Nixon Secretly Chose Sides? We Don't Know, We're Honestly, Just Asking, But We Found 9 Random People Who Left Instagram Comments Who Seem To Think They Know, So Now We're Going to Show Them to You as a Journalistic Service!" to "The No-Nonsense Redhead Has Spoken The Truth of Her Allegiences!"
To recap, the allegedly long-simmering conflict between Parker and Cattrall was reignited last year upon news that Cattrall decided to sit out a third SatC movie (as was her rightful choice) and, likely, bringing an end to the beloved franchise (or, because we know how Hollywood does, the original iteration of it). Valid juicy industry news for sure, but then things took a darker and more personal turn that was unfortunately broadcast to the public when Cattrall's brother died and the actress lashed out on social media at Parker for what she deemed obtrusive behavior.
Cattrall did have more kind words (via Instagram comment) for Nixon, who just won her second Tony last year for her wonderful work in Little Foxes, at the time, but mostly Nixon had managed to stay out the narrative. Until today, that is, when she posted the following gram and wrote, "Old friends ran into each other at a @tmagazine shoot today…miss you @sarahjessicaparker."
Somehow this was enough to strike up a mini-news cycle about the rivalry between a woman still clearly going through some stuff while dealing with the loss of a loved one and the star of HBO's Divorce.
And, honestly, Cynthia Nixon, two-time Emmy winner, deserves more than being a presumed pawn in all of this. What was she supposed to do? She ran into Parker by chance, posted a pic, and went on her way. Has anyone out there ever experienced two friends, let alone two former co-workers, in a fight? Do we not all know by now that sometimes the best thing is to just go about our own business like nothing's wrong? Nixon, also Grammy award-winning audio book narrator, is not a school girl playing games while caught in between a situation where one of her friends asked another friend's crush to the 8th grade social. She is, if you've been keeping track, a woman who is just an Oscar away from an EGOT. She's someone people are actually talking about as a credible potential Gubernatorial nominee. She's a breast cancer survivor and advocate, an activist committed to the cause of public schools, a celebrity supporter of the resistance, the third place entrant on the Village Voice film poll's best lead performances of 2017, and a wife and mother of three.
Unfortunately, this world loves any chance we get to pit two women against each other, and drag in other women along the way, but she literally just posted a picture on Instagram with someone she worked on television with for six years. It's not that deep. It's not an excuse to bring up a feud involving a woman who, and apparently this does need to be stressed more, just attended a memorial service for her sibling this weekend.
Given the nature of the feud in the first place, maybe we all need to take a cue from Chris Noth, roll up our windows, and drive away to our own business. Unless the producers decid to recast a fourth friend with the likes of, hmm, Cardi B or Joanna Lumley, Sex and the City is done for know. Let's let it be. And let's let Cattrall continue to mourn her brother in peace. And let's worry less about where Nixon stands in all of this by deciphering her Instagram habits, and worry more about when she's going to get her damn Oscar nomination, as we should be.
Related: Cynthia Nixon Finally Joined Instagram and It Was Her Real-Life Sex and the City BFF Kristin Davis Who Convinced Her