Kim Cattrall Has No Use For Sarah Jessica Parker's Condolences After Brother's Death
"So I'm writing to tell you one last time to stop exploiting our tragedy in order to restore your 'nice girl' persona."
---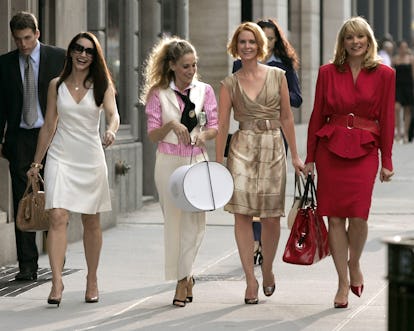 Brian Ach
It looks like Sex And The City Three: The Girls Drink Cosmos On the Moon or Whatever is definitely not happening, but the feud between stars Kim Cattrall and Sarah Jessica Parker is far from over. Cattrall posted an Instagram on Saturday morning imploring Parker to "stop exploiting our tragedy in order to restore your 'nice girl' persona," and calling her a "hypocrite" whom even Cattrall's mother was sick of.
The tragedy is the recent untimely death of Cattrall's brother Chris; Parker reportedly reached out to Cattrall despite their chilly relationship to offer her condolences, but in this Instagram, Cattrall specifically posted, "I don't need your love or support at this tragic time @sarahjessicaparker." She wrote (to Parker) that "Your continuous reaching out is a painful reminder of how cruel you really were then and now. Let me make this VERY clear. (If I haven't already) You are not my family. You are not my friend." She told followers to copy and paste a link to a New York Post article that blames the on-set rift, essentially, on Cattrall being left out of the clique headed by Parker.
Cattrall had previously used Instagram to thank her SATC colleagues for their "outpouring of support," but it seems that Parker's offer of condolence was less welcome than others'.
From a brief perusal of their Instagram accounts, it looks like co-stars Kristin Davis and Cynthia Nixon are staying far away from the feud, focusing on work with the UN and against Trump, respectively. And they still hang out and like each other! This past November, Nixon hung out with both Davis and Parker:
Since there almost certainly won't be a SATC threequel (unless they kill off or replace Samantha…Sharon Stone, you interested?), we can at least console ourselves with these brief reunions, the six excellent seasons, the one good movie, and the one bad movie.
Related: Sarah Jessica Parker Is 'Heartbroken' Over the 'Sex and the City' Drama With Kim Cattrall