Cynthia Nixon Is Celebrating Sex and the City's 20th Anniversary with Merch for Her Gubernatorial Campaign
"I'm a Miranda and I'm voting for Cynthia," says one of the shirts on Nixon's campaign store website.
---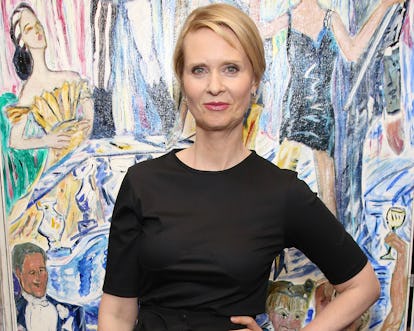 Walter McBride/WireImage/Getty Images
The 20th anniversary of Sex and the City is a celebration worth acknowledging, whether you identify as a Carrie, a Samantha, a Charlotte, or a Miranda—but this year the Mirandas of New York state, especially, are in for a treat.
In March, Cynthia Nixon, the actress who played lawyer Miranda Hobbes on the HBO series, announced her run for governor of New York. Now, the actress and activist is uniting her past and present by designing a limited "SATC 20th Anniversary Collection" in partnership with @everyoutfitonsatc, the Instagram account dedicated to documenting every outfit worn by the characters of the iconic television series, which gives a nod to the inimitable Miranda Hobbes while supporting her gubernatorial campaign.
The shirts, stickers, hats, and tote bags sold on Nixon's campaign site are not just any standard campaign merchandise—they specifically reference the slogans and mottos coined by Nixon and Sex and the City fans ever since she announced her intention to take on New York's current governor, Andrew Cuomo, in the state's Democratic primary elections. "I'm a Miranda and I'm voting for Cynthia," reads one of the shirts and tote bags being sold on the campaign store website, alongside a statement tee that says "Unqualified Lesbian" and another complete with the hashtag "#FixOurSubway," in an attempt to call out Cuomo for not fixing New York City's mass transit system.
As a gubernatorial candidate, Nixon's list of issues she hopes to tackle includes adjusting the performance of the New York City subway, legalizing marijuana, and stabilizing New York City rent—all of which are priorities that her Sex and the City alter ego would likely take to heart.
Related: What Would a Miranda Hobbes Administration Look Like?