What Would a Miranda Hobbes Administration Look Like?
As Cynthia Nixon announces her run for governor of New York, here's an outline for the hypothetical platform her Sex and the City character would take during a political term of office.
---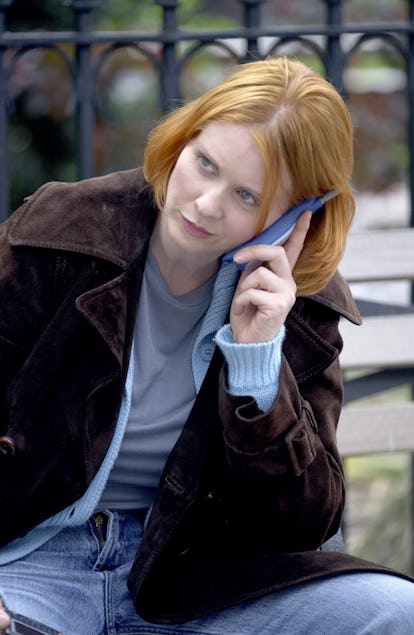 Tom Kingston/Getty Images
After much speculation, actress Cynthia Nixon has officially announced that she will challenge Governor Andrew Cuomo in the Democratic primary election.
Celebrity status aside, Nixon has been actively involved in New York City municipal politics and activism for decades, but what could be said of her fictional alter ego, Miranda Hobbes? Miranda Hobbes is reasonable, hardworking, authentic, and—let's be honest with ourselves—the real protagonist of the iconic HBO series. She's talked her best friends off many a ledge, made plenty of bold style choices that would be lauded if presented to audiences today, and maintained a sensible outlook on life through everyone else's up and downs. Besides, Miranda is the one member of the cast to rightfully be idolized on Instagram, as demonstrated by the clever Sex and the City account @everyoutfitonsatc and their "Miranda Solidarity" merch. If any of the Sex and the City foursome is suited for politics it would be the cynical Miranda Hobbes.
What would Miranda Hobbes, Esq. campaign for if she were to announce her run for governor of New York? Who would be her number one advocacy group? Would any of her principles line up with the IRL Cynthia Nixon's? We've outlined her (fictional, hypothetical) political platform below.
Equal Pay
A graduate of Harvard Law and occupying a position as an attorney, there's no doubt that Miranda would be a supporter of pay equity amongst the genders at her New York law firm. She's the voice of reason, and her real life counterpart has campaigned for equal pay alongside Nancy Pelosi and Lily Ledbetter in the past.
Reproductive Health Rights and Research
Sex and the City tackled the discussion of abortion and reproductive rights in season four, when Miranda announces her pregnancy to her friends. You can bet she would list reproductive health rights and research as a goal on her gubernatorial campaign, as her decision to give birth to Brady was a complicated one, but the show ultimately reflected a general support of her individual right to make the choice.
Single Moms
Being a single working mother, Miranda would likely campaign for funding for after school and daycare programs. You can bet she'd advocate for single mothers everywhere, no matter what their employment status may be. Nixon's real-life support of public education funding and paid sick leave would also likely fall in line with Miranda's platform.
Choking Safety
Who wouldn't want a governor that implements a system for checking in on single neighbors you haven't heard from in a while? Anyone who lives alone has likely had that frightening moment where they come way too close to choking on a morsel of food while alone in their apartment, and Miranda has been there too—in a season two episode, she has a near death experience after eating too fast in her new apartment, with no one around to check on her.
Fixing the Subway
Now this is where art and reality would actually converge—Nixon has already pledged to "immediately make the emergency rescue of our transit system a top priority of her administration," citing Governor Cuomo's addition of WiFi to MTA subway stations and LED displays as unnecessary cosmetic makeovers for a transportation system that, many New Yorkers will tell you, needs a serious revamp of its infrastructure. Miranda was the first of her friends to move to Brooklyn (much to the dismay of Carrie and Samantha), so you know she'd do anything in her power to make the bridge-and-tunnel lifestyle easier for herself and her fellow New Yorkers who commute between boroughs every day.
Related: Cynthia Nixon Announces Run For Governor of New York with Campaign Video