The Grisly Murders in Dakota Fanning's New Serial Killer Show Made Even Her "Squeamish"
And she's a veteran scary movie actor.
---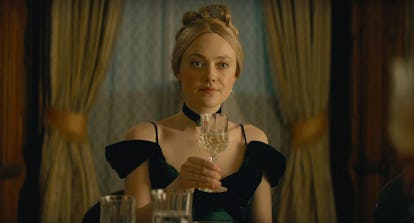 Courtesy of TNT's The Alienist
The last time Dakota Fanning starred in a TV show was all the way back in 2002, even before Uptown Girls, when the young actress played a human-alien in Steven Spielberg's Sci-Fi Channel miniseries Taken. Now, 16 years later, Fanning is back with another miniseries that, at least on the surface, also seems to be extraterrestrial: The Alienist, which comes out on January 22 on TNT and premiered on Tuesday night at the iPic Theater in New York.
Except the series, which is co-executive produced by Cary Fukunaga, is actually about a serial killer who targets young male prostitutes, leaving them dismembered all over late 19th-century New York. "As an actor, you get so jaded, like, It's fake, it's fake, it's fake," Fanning said at the premiere. Still, even though she's said that she "couldn't wait" to do the darkest scenes in films like American Pastoral, which saw her play a tormented cult member, filming The Alienist managed to rattle Fanning: "This one pushed that a little bit, because some of the crime scenes were so realistic—which on the one hand you're happy about, because it makes it a better show, but it also takes a minute used to being there."
In fact, according to Daniel Brühl, who plays Dr. Laszlo Kreizler—aka the titular "alienist," an old term to describe those who studied the mentally ill, who were then thought to be "alienated" from their own nature—"each department, and especially the makeup department, did their job almost too well. It's obviously a very dark show, but it was shocking how eerie it was. We actually had goosebumps when we saw the corpses."
It was enough for Fanning to admit that she "can see the blood already spilled, but seeing how it gets spilled is what I get squeamish about." Her character Sara Howard, on the other hand, jumps right into the thick of things: She takes matters into her own hands after becoming an oft-teased secretary—her reward for becoming the first-ever woman to ever work at the New York Police Department—by joining Kreizler and his sidekick John Moore, an illustrator played by Luke Evans, in their quest to find the serial killer.
In fact, it's John Moore's illustration of the corpse of a boy wearing a white dress with his eyes gouged out, hand and genitalia cut off, and organs splayed at his feet that compelled Sara join their team. And if that sounds a bit nauseating, the show might not be for you: the grotesqueries become more and more common as the killer claims more and more victims. It might even be why, after six months of filming them, the three lead actors became inseparable off-screen. Attempting to recover from the grisliness, they spent every weekend off together, catching acts like the Chainsmokers, Wiz Khalifa, and PJ Harvey at the local Sziget Festival. (They filmed in Budapest, since it ended up being the best environmental match the crew could find for Gilded Age New York.)
Like her character in the show, Fanning has been taking charge of her own projects as of late; she's taken on a producer role for the first time ever for The Bell Jar, Kirsten Dunst's adaptation of Sylvia Plath's novel that Fanning stars in, and she's also taken her first-ever stab at directing, following in Chloë Sevigny's footsteps in creating the next short film for Miu Miu's series Women's Tales. The connection between the show and her career as of late hasn't escaped her: "It's been so exciting to branch out and do different things and push myself in a different way, to have new challenges, which directing certainly was," Fanning said. "I definitely hope to do more."
The details on her short film and what else is next for Fanning still remain to be seen, but one thing's for certain: Asked whether she'd like have company in the form of more women directors, Fanning immediately threw up her hands and said, "Of course!"
Related: The 2018 Golden Globes List of Director Nominees Includes Zero Women
Dakota Fanning's Style Evolution from Young Starlet to Fashion Darling
Dakota Fanning has been making waves on the red carpet since the early 2000's. Here she is at the premiere of The Santa Clause 2, wearing floral embroidered denim and a sweet white top with peter pan collar. 2002.

Getty Images
Dakota Fanning was pretty in pastel wearing an adorable tea length dress to the premiere of her first major film Uptown Girls. 2003.

Getty Images
Fanning was all dressed up and tied with a bow at the 2003 Annual Emmy Awards. The look was finished with a pair of black Mary Janes that spoke to the star's youthful energy. 2003.

Getty Images
Dakota Fanning looked sophisticated as she stepped away from girly dresses at the premiere of Dreamer: Inspired by a True Story with a black and white skirt and shirt. 2005.

Getty Images
At the Broadcast Film Critics Association's 12th Annual Critic's Choice Awards, Fanning had a moment in gold lace, again finishing the look with a pair of Mary Janes. 2007.

Getty Images
Skipping any awkward phases altogether, Fanning emerged as a stylish teen at the premiere of The Twilight Saga: New Moon wearing a black, lace mini dress and sky-high heels. 2009.

Getty Images
Fanning stepped out with the fashion crowd at the 2010 CFDA Fashion Awards in a flirty white lace dress. 2010.

Getty Images
Fanning wows in another lace mini dress, and pumps by Christian Louboutin, at the Los Angeles premiere of The Twilight Saga: Eclipse. 2010.

Getty Images
The young actress changed pace at the 19th Annual BAFTA Los Angeles Britannia, wearing a major floor-length, drop waist gown. Fanning looked glamorous and understated, setting the tone for more chic looks in years to come. 2010.

Getty Images
Fanning was the definition of an ethereal beauty on the red carpet at the 'Alexander McQueen: Savage Beauty' Met Gala . 2011.

Getty Images
Fanning looked all grown up sitting front row at Marc Jacobs Spring 2012 runway collection show, wearing a youthful and playful daisy print mini dress. 2011.

Getty Images
Fanning was a metallic goddess on the red carpet for the London premiere of All is Good wearing a stunning, embellished gown by Stella McCartney and a Lanvin clutch. 2012.

Getty Images
Fanning showed off her dark side on the red carpet at a screening of The Twilight Saga: Breaking Dawn Part 2 wearing a gown straight off of Valentino's Spring 2013 runway. 2012.

Getty Images
Fanning kicked her look up a notch at the Toronto International Film Festival premiere of Night Moves wearing a sparkly black and turquoise mesh two-piece look from the Atelier Versace Fall 2013 collection. 2013.

Getty Images
Fanning continued her streak of dark glamour wearing a long, sheer gown to the Louis Vuitton Spring 2014 runway show. 2013.

Getty Images
Fanning changed up the pace in a pale pink at the 2013 Americans for the Arts event wearing a goddess-esque gown by Vionnet. 2013.

Getty Images
Fanning looked chic and elegant in a little black dress at the Christian Dior Spring 2015 runway collection show. 2014.

Getty Images
Lady in red. Fanning matched her lipstick to her fringed Valentino dress at the world premiere of Effie Gray. 2014.

Getty Images
Fanning looked chic and sporty wearing a dress from the collection with a part of peep toe booties at the Alexander Wang X H&M launch event. 2014.

Getty Images
Fanning attended the 2nd Annual Save the Children Illumination Gala wearing a strapless navy dress by Zac Posen paired with nude sandals by Christian Louboutin. 2014.

Getty Images
Fanning opted for another strapless dress, by Max Mara, to the Whitney Museum of American Art opening dinner. 2015.

Getty Images
Later that year, the actress wore a slinky little black dress with black peep toe pumps to a BCBG Young Hollywood event. 2015.

Getty Images
Sitting front row at Dior's Cruise 2016 runway show, Fanning wore a playful, elegant strapless dress from the designer's collection. 2015.

Getty Images
The fashion darling wore an embellished mini-dress to the Valentino Fall runway show at Paris Fashion Week. 2016.

Getty Images
Fanning landed on W's Best Dressed list when she attended Valentino's Spring 2017 show in Paris wearing a black lace midi dress from the designer's previous season with black high waited knickers and bra by Eres. 2016.

Getty Images
Dakota Fanning surprised us with a pop of color at the premiere of American Pastoral wearing an orange cut-out dress by David Koma and Tamara Mellon silver sandals. 2016.

Getty Images
Dakota Fanning channeled classic Hollywood Glamour wearing a form fitting black gown by Dolce and Gabbana with Tiffany jewelry, at the screening of American Pastoral at the Modern Museum of Art. 2016.

Getty Images
Later that year, the actress showed off her playful side as she continued to promote her latest film, American Pastoral. The multi-colored , ruffled dress by Alexander McQueen was a different look for Fanning, but stayed true to her love of a high fashion mini-dress. 2016.

Getty Images
Seeing stars. Fanning stood out on the red carpet at the 4th Annual Save the Children Illumination event wearing an Elie Saab sheer star-embellished dress with belt from the designer's spring collection. 2016.

Getty Images
At the Through Her Lens: The Tribeca Chanel Women's Filmmaker program, Fanning paired a tweed mini-dress with chunky Chanel pearl buttoned, gold heeled boots showing off both her affection for edgy flair and lady like style. 2016.

Getty Images