Luke Evans and Mark Wahlberg Really Like Updating Us on Their Shirtless Fitness Journeys
Luke Evans and Mark Wahlberg are thirsty for #gains.
---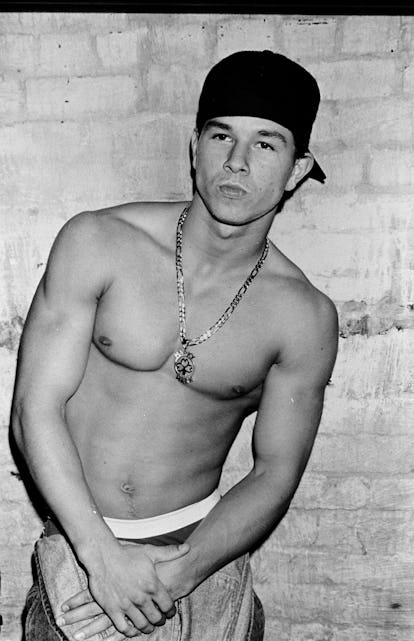 So you're a Hollywood bro whose job demands you stay swole, but now also dictates you maintain an approachable social media presence. How to deal? Well, if you're Luke Evans and Mark Wahlberg, you kill two birds with one stone by suppling your millions of Instagram followers with regular shirtless updates on how you're achieving your fitness goal. Yes, over the past few months both actors have really taken a shine to posting shirtless post-workout selfies and actual exercise videos as they prepare for their next roles (Wahlberg is currently filming Mile 22, in which he plays a CIA officer; Evans is filming Valerian director Luc Besson's next action flick Alice).
In a world where action hunks usually save their fitness tips for the inevitable Men's Health cover, this is something of a step towards radical Hollywood fitness transparency… and apparently an growing trend. In fact, we only offer this update to you because we feel a duty to keep you abreast of the latest trends affecting the social media habits of the rich and famous, and, perhaps, as a bit of motivation as we all prepare to put our New Year's resolutions into action.
Evans, for one, started broadcasting his fitness journey to the world back in November when he was posted a video of his very intense back workout using a lat machine.
A few days later he had moved on to dumbell presses and was either celebrating lifting 200 pounds or hitting 200 pounds in weight. We're not sure, but still we feel very inspired and motivated.
[#instagram :https://www.instagram.com/p/BcAmCHTjV_O/?hl=en&taken-by=thereallukeevans]
After a few more updated here and there, today Evans declared his fitness goals met by, naturally, posting a topless selfie.
"4 months of bloody hard work," he wrote. "Nothing comes easy, but its satisfying to finally see the results, oh! And an amazing gym buddy helps too, you know who you are."
He included a few emojis and choice hashtags like #hardwork, #gains, #stayfit, and #inspiration. Indeed, it's very inspiring that the guy who played proto-lunkhead Gaston in Beauty & The Beast earlier this year can get in even better shape.
Meanwhile, Wahlberg has been on Instagram for years and never once let the world in on his training secrets until recently (although he did star in Pain & Gain, which is basically a workout video-cum-heist comedy). Now shirtless gym updates are delivered multiple times a month. Like Evans, he really started in on the regular updates in early November with a full-on training montage of an Instagram video.
Of course, Wahlberg's fitness updates also serve to help promote Performance Inspires, the line of nutrition supplements he co-founded with Justin Bieber manager Scooter Braun and others. Social media is, at the end of the day, about self-promotion for us all.
Bonus: Wahlberg seems to be enjoying the fruits of his latest fitness journey so much that he was even shirtless in his family's Christmas card.
In any event, celebrities: they're just like us that guy you went to college with who was just kind of average but is now really, really into CrossFit.