Dakota Johnson Wears Hedi Slimane's Celine at Suspiria Premiere
The actress wore one of the very few colorful pieces from Celine's Spring 2019 collection, which Hedi Slimane debuted at Paris Fashion Week.
---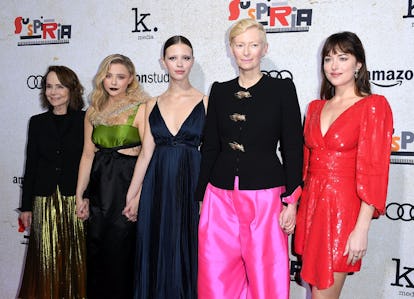 Steve Granitz
Dakota Johnson and the rest of the Suspiria cast just bewitched fans with a red-carpet moment at the premiere of the movie about a mysterious dance company that may or may not be under the tutelage of a coven of witches.
Chloė Grace Moretz in a green-and-black satin cutout dress with a fluffy over-the-shoulder piece at the Arclight in Los Angeles to promote Luca Guadagnino's ambitious remake of the cult classic. Her glamorous red-carpet look on Wednesday night was a far cry from the grungy style worn by her character Patricia, a dancer who seeks help from a Freudian psychoanalyst in the film. Moretz was joined by Mia Goth, who plays Sara, a wide-eyed ballet student who begins to suspect that the dance company is run by a coven, as she wore a navy Dior gown from the Fall 2018 haute couture collection, and Tilda Swinton, who donned some bright-pink wide-leg trousers and a black sweater with creepy little hand clasps as buttons. Jessica Harper, who played the protagonist of Dario Argento's original version of Suspiria in 1977, joined the rest of the cast as well.
But all eyes fell on Dakota Johnson, who plays the unassuming but talented dancer named Suzy Bannion, who moves to Berlin from Ohio seemingly out of the blue. On the carpet, Johnson was draped in a shiny and sequined bright-red dress, which matched the splashes of red that color the film (mostly with actual blood, as things do get fairly gory and grimy throughout the movie), but the most notable aspect of the dress is that Johnson's appearance in it qualifies as Celine's first red-carpet moment since the label was taken over by Hedi Slimane.
Slimane's Celine gave Johnson one of just a few colorful looks from the collection debuted during Paris Fashion Week this September, which infamously featured nearly all-black ensembles. It is curious that Johnson might not spring for a piece from Phoebe Philo's Celine, which is reportedly doing better than ever after the house was taken over by Slimane. One might even wonder how Johnson managed to score one of the few pieces that heavily utilized color in Celine's Spring 2019 collection and why she was not wearing Gucci, the label with which the actress has a strong working relationship (she recently starred in Gucci's "Bloom" campaign alongside Hari Nef), but according to a Celine press release, the label is just "very pleased" that the actress gave the Slimane-directed couture house its red-carpet debut.
Related: Dakota Johnson on the Nightmarish Making of Suspiria: "It's a Crazy, Crazy Film"