Dakota Johnson on the Nightmarish Making of Suspiria: "It's a Crazy, Crazy Film"
Dakota Johnson, the star of Luca Guadagnino's upcoming Suspiria, bewitches in haute couture.
---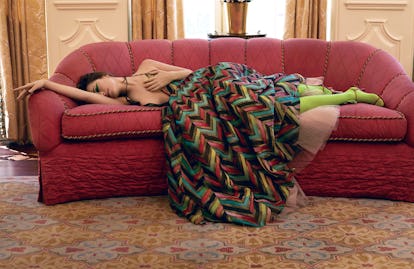 Photograph by Luca Guadagnino; Styled by Sara Moonves.
There is a scene in Suspiria, Luca Guadagnino's stylish homage to Dario Argento's 1977 cult classic, where Dakota Johnson, who stars as an American ballet student enrolled in a Berlin dance company run by a witch coven led by Tilda Swinton, is controlling the body of another woman, by dancing. You watch, hands half covering your eyes, as the woman is tossed supernaturally around the studio, her body torn and twisted, spewing all sorts of fluids. Needless to say, the film, which is in theaters October 26, is deeply disturbing and, at times, rather nauseating. And according to Johnson, the only thing more difficult than watching it was filming it. Here, the actress discusses the pain—and pleasure—of making the movie, as well as her reluctance as a model and her current passion project.
This movie is…crazy. But then, I don't watch a lot of horrors. What's your take on it?
I have an interesting relationship with it because we had such an intense time filming it. We all felt so wild and passionate about it; now to see it in final form is really a feeling of accomplishment. But it is crazy! It's a crazy, crazy film, totally unsettling, and it's amazing how uncomfortable it makes you feel. If I hadn't seen a lot of horror films, I'd think it's a total mindfuck.
Your grandmother Tippi Hedren was a Hitchcock muse, so horror films are sort of in your blood.
I'm a fan of horrors. I'm really fascinated with mind-bending stories, and Luca, especially, creates such an intricate aesthetic where the smallest detail will make you have the biggest feeling. But it's a bit different with my grandmother and Hitchcock, whose films were more psychological. Suspiria is total horror psycho mania.
How did you get involved with it?
Luca asked me if I would be interested while we were filming A Bigger Splash. Then I saw the original one. I was obviously really invested—really invested in Luca as a person, collaborator, artist…You just want to go on any adventure with him.
Your dance scenes are amazing. You must have trained hard for them.
I danced ballet when I was young; I stopped when I was 14. A year prior to the shoot, I started to slowly work on my body with strength trainers, trying to work my body to a place where it looked like I had been a dancer for a long time. Then, four to five months before filming, I began working with a choreographer. I was doing the final installment of 50 Shades at the time. Two to three months before, I went to Italy to work with a different choreographer and train with the dancers. I continued training on the press tour and was looking at videos. I was doing it in hotel rooms across the world, like guerrilla training.
The dancing seemed very sensual, at least to me. Has doing 50 Shades made you more comfortable with being sexual on camera.
Dance is sex for Suzy, my character. It's beyond sex. It's the most connected you can be to yourself, your soul. Suzy feels an unearthly pull from the center of her body. It's sexual in an animalistic way. Sexual in an aggressive, exploratory way. But it's not sexual to be sexy. Unlike 50 Shades, there's nothing sexy about the film. I didn't feel like I was exposing myself with this character.
You filmed in an abandoned hotel in the Italian Alps. Was it as creepy as it looked?
I was having nightmares, crazy nightmares. It's not like the set was cursed. But it was not an easy, breezy shoot. It was cold and dark, and people were getting injured. I got injured. My character, Suzy, has three to four dance numbers—well, she's in all the dance numbers, really. Then she has audition pieces—it was a lot of physical activity, on top of acting. We'd shoot all day, then spend a couple of hours training in this cold, dank hotel. I hurt my back, then my muscle spasm got to a point where I couldn't move. And there's a language barrier, so it was difficult explaining my pain. Our first AD broke his leg—he fell onto one of the sets. It was a dangerous set. There were things like that that happened all the time.
Yikes. Hopefully being surrounded by an amazing cast—Tilda Swinton, Mia Goth, Ingrid Caven, and more—helped allay the doom.
That was so much fun, working with these beautiful artists. Ingrid Caven is a true work of art. She had crazy stories about [the director Rainer Werner] Fassbinder, whom she was married to. His films were very much an inspiration for the aesthetic of this movie.
Yes, that 1970s German look. Giulia Piersanti, who was a Céline knitwear designer, did an amazing job with the wardrobe.
The costume department was so extraordinary—but that's the way with all of Luca's films. They had amazing vintage clothes and handmade pieces. There were some fabrics that I loved that I wanted to re-cover chairs in.
You teamed up again with Luca for this fashion shoot.
Luca and I have made so many plans to do funny things. Like this fashion shoot, which is a funny little activity. It was great. But for me, fashion shoots are difficult. I don't really thrive in them. I love clothes, I love fashion. But modeling—that's not my bag. I'm just not the most comfortable. This shoot was different, though, because it was very much a character. We were shooting in this incredible house on the Upper West Side—it was crazy magnificent—and we created this story of a trapped housewife who completely loses her mind. I was also wearing couture, and the makeup was insane, so it was fun to do something wild like that.
What other projects are you working on?
I'm developing my production company. Now that I finally have time to make things, I've been putting energy and time toward developing certain projects. We're working on a movie called Imbeciles, based on Adam Cohen's book [Imbeciles: The Supreme Court, American Eugenics, and the Sterilization of Carrie Buck], which was on the New York Times best-seller list. It's about eugenics, and the American practice in the 1920s of sterilizing mentally incompetent people. I like projects that are a little bit off the beaten path.
Dakota Johnson Goes Totally Mad as a Deranged Housewife in Haute Couture
Dakota wears a Chanel Haute Couture jacket; Atelier Swarovski Fine Jewelry bracelet.

Photograph by Luca Guadagnino; Styled by Sara Moonves.
Dakota Johnson wears a Dior Haute Couture dress; necklaces (from top): Johnson's own, Pebble London, Patricia von Musulin; Wolford fishnets; Johnson's own earrings (throughout). Beauty note: Reinvent the evening eye. NYX Professional Makeup Vivid Brights Liner in Vivid Envy delivers an emerald pop with precision.

Photograph by Luca Guadagnino; Styled by Sara Moonves.
Dakota wears a Valentino Haute Couture cape, shirt, blouse, and pants.

Photograph by Luca Guadagnino; Styled by Sara Moonves.
Dakota wears a Dior Haute Couture dress; Cara Croninger necklace; Falke tights; the Row sandals.

Photograph by Luca Guadagnino; Styled by Sara Moonves.
Dakota wears a Redemption dress; David Webb necklace and brooch (worn as pendant).

Photograph by Luca Guadagnino; Styled by Sara Moonves.
Dakota wears an Armani Privé jacket and pants; Falke socks; the Row sandals.

Photograph by Luca Guadagnino; Styled by Sara Moonves.
Dakota wears a Givenchy Haute Couture cape and jumpsuit.

Photograph by Luca Guadagnino; Styled by Sara Moonves.
Dakota wears a Fendi Couture dress and underlay.

Photograph by Luca Guadagnino; Styled by Sara Moonves. Hair by Cyndia Harvey at Streeters; Makeup by Diane Kendal for Marc Jacobs Beauty at Julian Watson Agency; Manicure by Rieko Okusa for Chanel at Susan Price NYC. Set design by Bette Adams at MHS Artists. Produced by PRODn at Art and Commerce; Retouching by Allison Richman at Chroma New York; Digital Technician: Matthew Kanbergs; Photography Assistants: Stefano Ortega, Wil Pierce, Payal Parikh; Set Design Assistant: Montana Pugh; Fashion Assistants: Allia Alliata, Lucy Gaston, Sara Taffel; Tailor: Leah Huntsinger at Christy Rilling Studio; Special Thanks to Rackson Mansion.