Tilda Swinton Insisted on a "Weighty Set of Genitalia" to Play an Old Man in Suspiria
The actress has finally come clean about playing 82-year-old Dr. Josef Klemperer.
---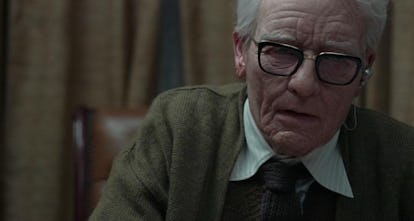 Courtesy of Amazon Studios/IMDb
Tilda Swinton has long been billed as Madame Blanc, the headmistress of the prestigious Berlin-based dance company at the center of the Call Me by Your Name director Luca Guadagnino's highly anticipated remake of the horror classic Suspiria. For seemingly just as long, though, rumors have circulated that she also plays an 82-year-old man by the name of Dr. Josef Klemperer, who spends the film investigating the supernatural, supergory goings-on at the company.
Those rumors, according to Guadganino just this past February, were "fake news"; instead, the director maintained that he'd cast a first-time actor by the name of Lutz Ebersdorf—an assertion that Swinton has also spent months firmly standing by, even reading a statement she said was on Ebersdorf's behalf at the film's press conference during the Venice Film Festival. It was only recently, though, that someone thought to ask Swinton the question she'd considered "curiously" neglected—not simply if she was playing Klemperer, but if she was playing Ebersdorf. As for her answer, which appeared in The New York Times on Wednesday? "An equivocal yes."
The 57-year-old actress was just as direct in her response to the question of why she was doing so: "Undeniably, I would have to say, for the sheer sake of fun above all," Swinton said. "As my grandmother would have it—a motto to live and die by—'dull not to.'" And fun Swinton definitely did have: She even wrote a biography for Ebersdorf on IMDb, identifying him as a retired psychoanalyst from Berlin who planned for Suspiria to be his first and only acting experience, which likely served as a reference for the many extras and crew members who were reportedly looking him up on the site, having no idea whom they were actually working with.
Guadagnino, for his part, said that he'd always conceived of the film as being about female identity. (Its stars are Chloë Grace Moretz, Mia Goth, and Dakota Johnson—the latter of whom recently made a point, in an entirely unrelated interview about her favorite beauty products, to say that the film "no lie, f—ed me up so much that I had to go to therapy.") To him, having Swinton play the man at the center of the film made perfect sense.
Aside from some rare real answers from Swinton, the Times also got some details about how and she and the rest of the crew managed to pull off the ruse, which included a reunion between Swinton and the Oscar-winning makeup artist Mark Coulier, who had transformed Swinton into an octogenarian for 2014's The Grand Budapest Hotel. This time around, he worked around her "very feminine bone structure" by spending four hours a day covering it up with prosthetics, which served to build out her jaw and thicken her neck. (Oh, and he also followed through with Swinton's request for a temporary mustache, worn while she took a faux headshot for her IMDb pet project.)
Coulier didn't do all of the work; Swinton was just as key to the success of her transformation, calling for a crucial detail the others had somehow managed to neglect. "She did have us make a penis and balls," Coulier said. "She had this nice, weighty set of genitalia so that she could feel it dangling between her legs, and she managed to get it out on set on a couple of occasions." (Their current whereabouts remain unknown—according to Coulier, "probably in a box somewhere!"—though knowing Swinton and her antics, we may soon see her toting them on the red carpet à la Jaden Smith and his dreads.)
Swinton, in fact, also plays a third, "more monstrous" character in the film, who's only revealed at the very end. Since that role is a spoiler, however, you'll just have to wait to see it for yourself when the movie fully rolls out, on November 2.
Related: The First Full-Length Suspiria Trailer Pushes Dakota Johnson (and Viewers) to the Limit
See Hollywood's Biggest Onscreen Physical Transformations, From Nicole Kidman to Mariah Carey
Christian Bale is no stranger to shape-shifting for a role. He famously transformed himself from an underweight wisp for his role in The Mechanist into superhero shape for Batman Begins in a matter of months (thanks to Hollywood trainers and muscle memory, no doubt). For his latest transformation, he's turned himself into an older man to play Dick Cheney in the upcoming Vice.

Photo
A poster child for modern Hollywood glamour, Charlize Theron gained weight and did away with every ounce of glamour in her body to play her gritty role in Monster (2003), for which she won an Oscar.

Photos courtesy of Getty and Everett Collection.
Having already used prosthetics to age herself for The Grand Budapest Hotel, Tilda Swinton wears prosthetics again and switches gender in the upcoming Suspiria. Or, at least, that's what everyone assumes. The part is actually being credited to the name "Lutz Ebersdorf."

Photo courtesy of Getty and IMDB.
Matt Damon ran 13 miles a day and ate only chicken breast to lose weight for his role in Courage Under Fire, which proved to be his first major breakthrough role as an actor before Good Will Hunting.

Photos courtesy of Getty Images and Everett Collection.
Mariah Carey, the portrait of pop diva glamour, allowed herself to go through a drastic make-under for her critically acclaimed role as a social worker in Precious.

Photos courtesy of Getty and Everett.
Halle Berry wore prosthetics for her multiple roles in the Wachowski sisters' 2012 film, Cloud Atlas. Here, she plays a 1930s English socialite.

Photos courtesy of Getty and Everett Collection.
Dramatic transformations are far more common in comedy (and, looking back, often problematically so), but Tom Cruise's transformation into the power hungry agent Les Grossman in Tropic Thunder is still a standout in his long career 10 years later.

Photo courtesy of Getty and IMDB.
Already lithe, Natalie Portman lost weight and got herself into dancer shape in preparation for her Oscar-winning role as a psychologically tortured ballerina in Black Swan.

Photos courtesy of Getty and Everett Collection.
In the role that perhaps started all those jokes that all an actress needs to do to win an Oscar is "uglify" herself, Nicole Kidman wore a prosthetic nose to play the poet Virginia Woolf in The Hours. Sixteen years later, we think we can all agree that it was Kidman's acting skills that won her the accolades, and not the nose.

Photos courtesy of Getty and Everett.
Having been in beefcake shape just a few years before for Prince of Persia, Jake Gyllenhaal lost 20 pounds for his role as an unethical freelance photographer in Nightcrawler.

Photos courtesy of Getty and IMDB.
A decorated multi-sport child athlete (she once competed in the Junior Olympics), Hilary Swank still had to gain 20 pounds of muscle for her role in Million Dollar Baby (2004).

Photos courtesy of Getty and Everett Collection.
Once regarded as just a Hollywood beefcake, Matthew McConaughey lost 47 pounds for his role in Dallas Buyers Club and ultimately won an Oscar for the performance.

Photos courtesy of Getty and Everett Collection.
Everyone remembers that the album art for 50 Cent's major label debut record, Get Rich or Die Tryin', could have doubled as a Men's Health cover, but the rapper dropped 50 pounds for his role in All Things Fall Apart.

Photos courtesy of Getty and IMDB.
Renée Zellweger gained weight, added padding, and even mastered a British accent for her role as a depressed everywoman in Bridget Jones's Diary (in the sequels, she relied more on the padding rather than going through the full transformation again).

Photos courtesy of Getty and Everett.
Tom Hanks lost major weight and grew his beard and hair out for his role as a man stuck on a deserted island in Cast Away.

Photos courtesy of Getty and Everett.