Twiggy is Made a Dame by Prince Charles: "About Time You Got This"
The '60s model, singer, and actress received the honor from Prince Charles this week.
---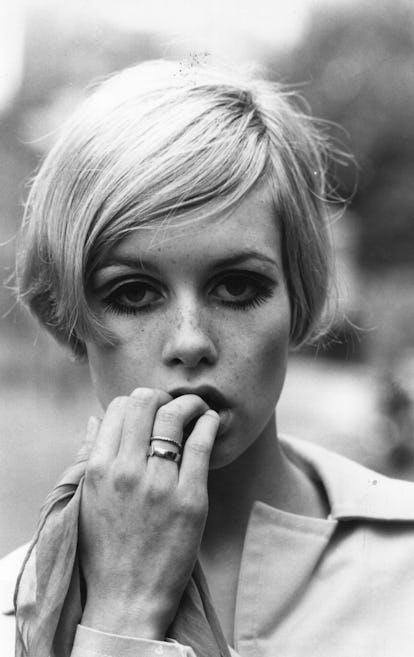 Getty.
Among the many accolades conferred on Twiggy, née Lesley Hornby, the model, actress, and singer who rose to prominence in the '60s for her trademark look (and eyelashes) are: two Golden Globes; a Tony nomination; and the unofficial "face of 1966" granted by The Daily Telegraph. And on Thursday, Twiggy added one more title to her resume: Dame Commander of the British Empire, for "her services to fashion, the arts, and charity," per the Daily Mail. Twiggy is a dame. Long live Dame Twiggy.
"Brilliant day at #BuckinghamPalace getting Damed!" the model captioned a photo posted to her Twitter. "Thanks for all my lovely messages #stellamccartney#investiture#twiggy#london." In the image, Charles, Prince of Wales, leans down to pin the medal on her suit, which, as the hashtags point out, is a custom three-piece suit in white and ivory by Stella McCartney, which Twiggy paired with white Oxford shoes and a beige fascinator. "I've known her all my life," Twiggy said, according to ITV. "She texted me when she heard about the award and said, 'Can I dress you?' and I said, 'Yes.'" (That makes quite a few months for McCartney, who was also responsible for one of Meghan Markle's wedding looks.)
Though she's probably still most associated with the image of her younger self, Twiggy said 16-year-old her would likely "giggle" at the thought of receiving such an honor, according to the same ITV interview.
"About time you got this," Prince Charles reportedly told the newly minted dame. She had met him previously, she said; he's "really nice" and told her that "we're all thrilled" that she finally received the honor. (The "we" in that statement, one would presume, is the palace at large.) And while her official title is Dame Lesley Lawson, DBE, she said she prefers the sound of "Dame Twiggy." Which, yes.
A Celebration of Twiggy's Most Iconic Hairstyles of All Time
British model Lesley Hornby, professionally know as "Twiggy," wore her cropped golden blonde pixie side swept with a dark smoky eye.

Getty.
Twiggy wears her famous spider-like lashes with a sleek, side-parted pixie.

William Vanderson
Twiggy wears her shoulder length golden locks with two simple braids and an exaggerated lavender smokey eye in 1968.

Getty.
In 1971, Twiggy wore her hair in a wavy, middle-parted bob with a multi-colored purple and blue smoky eyeshadow.

Getty.
Twiggy left her hair in natural waves during an outing in Los Angeles in 1973.

Getty.
Attending her own book signing in 1975, Twiggy wore her hair in a romantic half do with soft, polished waves embellished with a chic headband.

Getty.
In 1975, Twiggy proves that crimped, tousled waves and a dark navy blue smoky eye go hand in hand.

Getty.
Never afraid to play with color, Twiggy paired her metallic lavender eye with a hint of blush on the cheekbones and a natural glossy lip.

Getty.
At the 34th Annual Director's Guild of America Awards, Twiggy matched her frosted magenta eyeshadow with a pink ensemble.

Getty.
Posing with actress Shirley MacLaine at the Fourth Annual Women in Film Festival in 1988, Twiggy paired her blunt, tousled bangs with long waves.

Getty.
At the premiere of Hook in 1991, Twiggy paired her feathered bangs with shoulder-length locks and a sun-kissed skin.

Getty.
At the fall fashion launch of "TWIGGY" Autumn 2004 in Tokyo, Twiggy paired her flipped out bob with a pair of translucent aviators.

Getty.
At the 2008 Elle Style Awards, Twiggy opted for loose, tousled waves with a hint of blush on the cheekbones.

Getty.
Twiggy kept her look casual, yet chic while paring her royal blue beret with natural waves at the Stella McCartney Fall/Winter 2013 show during Paris Fashion Week.

Getty.
Twiggy sported a playful, tousled high pony with a golden eye at the 2016 Fashion Awards in London.

Getty.
At the Royal Academy Summer Exhibition in London, Twiggy looked playful in an all pink ensemble and big sunglasses.

Getty.