Damien Hirst's 60-Foot-Tall Headless Demon Has Taken Over Instagram
The monstrosity's homecoming has taken over Instagram.
---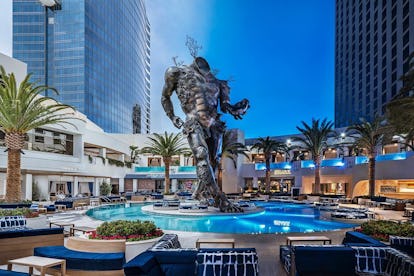 Courtesy of @kaosvegas
Going all out in Las Vegas is hardly ever of note, and yet Damien Hirst, arguably the art world's poster child of going big or going home, had absolutely no trouble making waves there this week, even without making it to the city himself. He most certainly did, however, send someone else in his stead: a 60-foot-tall headless sculpture of just what its title — Demon with Bowl — suggests.
Neither the demon nor its bowl are exactly new to this earth. Hirst created both in 2014 and unveiled them to the public in 2017, as the centerpiece of his massive and polarizing shipwreck of an exhibition at Palazzo Grassi in Venice. Depending on who you ask, "Treasures from the Wreck of the Unbelievable" was either a tragedy or a runaway success; Demon with Bowl was just one of the 189 works Hirst created over the course of a decade which, according to the show's elaborate conceit, are all remnants of a former Turkish slave's art collection, which had been lost at sea until his vessel, The Unbelievable, was "rediscovered" off the eastern coast of Africa in 2008.
As possibly the single most expensive art show ever put on by a contemporary artist, unsurprisingly, billionaires can't seem to get enough of it — including, of course, the headless demon at its center, even though it was perhaps the most fake of all the faux pieces of sunken treasure in the collection. The version that the show's billionaire backer François Pinault showcased was in fact a resin cast of the original, which was reportedly too heavy to ship to Venice. That original was not, however, too heavy to ship to Las Vegas's Palms Casino Resort, as was discovered by the hoteliers Frank and Lorenzo Fertitta, who are currently hard at work on a $620 million renovation of the Palms into a "dayclub and nightclub amphitheater-style complex" (the only logical next step for a resort that, in the early aughts, played host to both MTV's The Real World and Paris Hilton's first-ever party/club appearance).
Even though it was already home to a Hirst-designed bar and two-story penthouse suite, it wasn't until Wednesday, when they unveiled Hirst's $14 million sculpture, that the Palms's transformation into a shrine to Hirst was complete, kicking off a weekend of celebrations with performances by Cardi B, Travis Scott, Skrillex, and Alicia Keys. Hirst might have already turned his attention towards another one of his giants, but from the look of Instagram, in Vegas, the marveling at the demon — and its sculpted, barnacle-free abs and derrière — has only just begun.
Related: From "Genius" to "Ugh": The Most Extreme Reviews of Damien Hirst's Massive, Polarizing New Shipwreck of a Show in Venice
A Brief History of Kardashians Posing with Extravagant Birthday Cakes In Las Vegas Nightclubs
Kim Kardashian celebrates her 27th Birthday Party at Les Deux on October 21, 2007 in Hollywood, California. (Photo by Jean Baptiste Lacroix/WireImage)

Jean Baptiste Lacroix
Kim Kardashian attends her 27th birthday celebration at Jet Nightclub at The Mirage Hotel and Casino Resort on October 26, 2007 in Las Vegas, Nevada. (Photo by Denise Truscello/WireImage for Jet Nightclub)

Denise Truscello
Kim Kardashian attends her birthday party at LAX Nightclub on October 24, 2008 in Las Vegas, Nevada. (Photo by Chris Weeks/WireImage)

Chris Weeks
Brittny Gastineau, Kim Kardashian and Lala Vasquez attends TAO Nightclub at the Venetian on October 16, 2009 in Las Vegas, Nevada. (Photo by Denise Truscello/WireImage)

Denise Truscello
Rob Kardashian, Kris Jenner, Kim Dsrdashian, Khloe Kardashian and Kourtney Kardashian as NEW VEGAS Celebrates Kim Kardashian's 30th Birthday At TAO At The Venetian on October 15, 2010 in Las Vegas, Nevada.

Denise Truscello
Kim Kardashian, Rob Kardashian and Khloe Kardashian celebrate Rob Kardashian's birthday at Jet at The Mirage Hotel and Casino on March 18, 2011 in Las Vegas, Nevada. (Photo by Jacob Andrzejczak/WireImage)

Jacob Andrzejczak
Scott Disick and Kourtney Kardashian celebrate Kourtney's birthday at the grand opening of Gallery Nightclub at Planet Hollywood on April 15, 2011 in Las Vegas, Nevada. (Photo by Denise Truscello/WireImage)

Denise Truscello
Kim Kardashian, Kris Humphries and Kris Jenner celebrate Kim Kardashian's birthday at Marquee Nightclun at the Cosmopolitan on October 22, 2011 in Las Vegas, Nevada. (Photo by Denise Truscello/WireImage)

Denise Truscello
Rob Kardashian celebrates his 26th birthday with his mom Kris Jenner at 1 OAK Nightclub at The Mirage Hotel & Casino on March 15, 2013 in Las Vegas, Nevada. (Photo by Denise Truscello/WireImage)

Denise Truscello
Kim Kardashian, Kourtney Kardashian and Khloe Kardashian celebrate Kourtney's birthday at Wet Republic on April 24, 2010 in Las Vegas, Nevada. (Photo by Denise Truscello/WireImage)

Denise Truscello
Khloe Kardashian celebrates her 30th birthday at TAO Nightclub on July 4, 2014 in Las Vegas, Nevada. (Photo by Denise Truscello/WireImage)

Denise Truscello
Scott Disick and Kourtney Kardashian celebrate Kourtney Kardashian's birthday at 1 OAK Nightclub at The Mirage Hotel & Casino on April 18, 2015 in Las Vegas, Nevada. (Photo by Denise Truscello/WireImage)

Denise Truscello
Kim Kardashian West, Khloe Kardashian and Kris Jenner celebrate Kim's birthday at TAO Nightclub at the Venetian on October 24, 2014 in Las Vegas, Nevada. (Photo by Denise Truscello/WireImage)

Denise Truscello