Daniel Day-Lewis Officially Quits Acting
There will be retirement.
---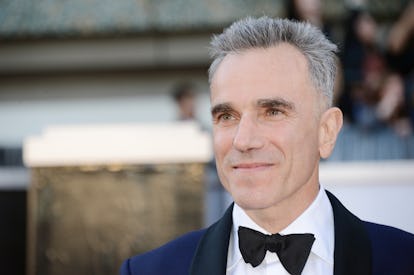 Jason Merritt/Getty Images
Daniel Day-Lewis is calling it a day on his acting career. The 60-year-old, three-time Oscar winner announced today via his publicist that he's done with acting for good.
Day-Lewis' spokeswoman Leslee Dart said in a statement to Variety, "Daniel Day-Lewis will no longer be working as an actor. He is immensely grateful to all of his collaborators and audiences over the many years. This is a private decision and neither he nor his representatives will make any further comment on this subject." The actor has made no comment on his decision to retire.
Day-Lewis is the first ever to win three Oscars for Best Actor: in 2012 as the titular character in Lincoln, fin 2007 or his role in There Will Be Blood, and in 1989 for My Left Foot. He also received nominations for his roles in Gangs of New York and In the Name of the Father. He's also known for classics, including The Last of the Mohicans, The Crucible, and The Age of Innocence. The (now-former) actor's purported final film Phantom Thread, in which he portrays a fashion designer who caters to high society, is in postproduction and will hit theaters on Dec. 25, according to The Hollywood Reporter. He'll reportedly still do promotional duty for the Paul Thomas Anderson-directed film.
We'll never know whether the Brit might come out of retirement if the perfect role happened to come along. Though for now, it seems his day in the spotlight is done.
At least you can still assuage your Day-Lewis withdrawals with his son, Gabriel-Kane Day-Lewis: