Former MTV VJ Dave Holmes on What the VMAs Were Really Like Behind the Scenes
The writer and TV host was just an innocent bystander during MTV's outrageous heyday.
---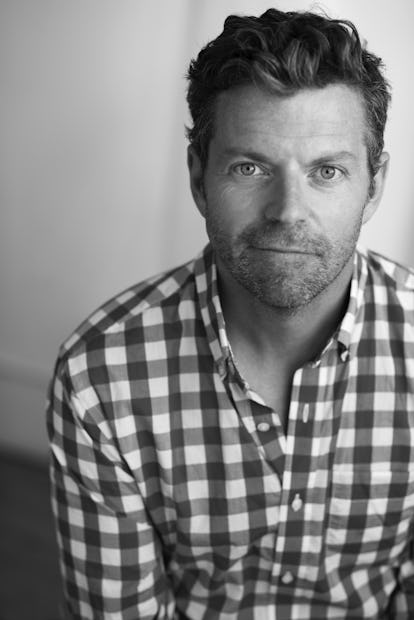 Caryn Leigh
In 1998, Dave Holmes, who like any other twenty-something then had grown up with MTV, entered its first Wanna Be a VJ contest—and famously lost to Jesse Camp, who ended up being his coworker when the network went on to hire Holmes anyway. Which is how, after a late night at his old advertising job, a car picked him up at home one morning and dropped him off at the infamous MTV beach house in Seaside Heights, where Funkmaster Flex was spinning and there was nary a shirt in sight. "It was just like, Oh, now this my life—a literal 180 degree turnaround over the course of 12 hours," Holmes recalled this week, just in time for tonight's Video Music Awards, this year hosted by Katy Perry.
Before Holmes left the network in 2002, he hosted shows ranging from Eye Spy Video to 120 Minutes to Say What? Karaoke to Total Request Live; spent a lot of time with "super media-coached" former Mouseketeers like Britney Spears; rocked a frosted tip that he'd "rather forget"; and kept a straight face while interviewing Lance Bass at his New Year's party, which Bass showed up to in "a silken I Dream of Jeannie number" that showed quite a lot of side leg.
These memories and more can be found in Holmes's book Party of One: A Memoir in 21 Songs, which came out on paperback earlier this summer, and which also dives into his relationship with music on a deeper level than just the hijinks of MTV in its bygone glory days, like the summer its crew relocated to the Bahamas, and Holmes took a jet ski to work every day to watch acts like Limp Bizkit perform. Here, Holmes, who is currently Esquire's editor-at-large, recalls VMAs past and fills us in on what else he's been up to lately with his culture diet.
What was it like behind the scenes at the VMAs back in your day?
I loved going to them for sure, but they're definitely made for the home viewer, so they were always more fun to hang out in the lobby during. I'd go for a couple of segments and then go to the lobby bar, where the action was happening and the celebrities were actually mixing and mingling.
What exactly went down at the lobby bar? Which memories stick out?
My first one, I was in line for the restroom with Ben Folds, and I thought I was going to fall out. I was still very brand new, and I couldn't quite believe it. I remember the after-party of the one where Blink-182 performed "All the Small Things" with all the little people—I felt so bad about that performance, for the little people involved, because I was scared people were laughing at them. But then I went to the after-party and they were all mixing with superstars. They were doing shots, and one was literally standing on a table talking to Bono, and I was like, Relax, Dave Holmes, they're fine. Yeah… Those were really interesting times.
Do you still watch the VMAs? Do you plan to this year?
I always tune in out of curiosity and stuff, and because I'm sure I'll have to write about something, so I'd like to know what's going on, but it's not for me—and it's emphatically not made for me, so that's okay. You know, between that and Game of Thrones, you have to make a decision, and this year especially, it's a tough choice. But Lorde is performing, and I'm a huge fan of hers, and Kendrick Lamar is performing, which will be incredible. But the Nicki Minaj and Miley Cyrus moment a couple years ago was when I said, Okay, I guess pop music is pro-wrestling now, and it may not be for me anymore.
Getting to what you're up to now, what's the first thing you read in the morning?
I wish this weren't true, but I tend to roll over and take my phone off airplane mode and open Twitter, and because I'm on the west coast the first thing I read is, like, the third wave of jokes and reactions to whatever terrible thing happened when I was asleep. Usually something will happen at 8 a.m. on the east coast, and three hours later, I wake up and have to catch up.
Also, I hate this, but especially now on Twitter, like twice a week, someone makes a comparison between me and Jesse and Donald Trump and Hillary Clinton. That's in my mentions a lot now, and I'm ready for that to pass. You know, we have talked recently—Jesse actually hit me up on Instagram, of all things—he sent me a direct message. He's just traveling the world and taking pictures and continuing to be Jesse. [Laughs.]
What books are on your bedside table right now?
I'm reading We Are Not Ourselves by Matthew Thomas, which is an epic story about a big Irish family; and Away with Words by Joe Berkowitz, about his adventures in the world of pun competitions. I also have a galley of a book called Spoiler Alert: The Hero Dies by Michael Ausiello, who's written about TV but wrote a memoir about his first relationship with a guy who ended up, I guess, dying.
What TV shows have been keeping you up at night?
If I'm gonna spend some time in the TV, it's probably Coronation Street. I'm addicted to British soap operas—they're fascinating. Everyone's normal looking, everyone's poor, and when someone dies, they're actually dead. Nobody's ever faked a death; nobody has an evil twin. I hesitate to say that it's real, because it's not, but it's realer. And I'm addicted.
MTV VMAs: See What Britney Spears, Taylor Swift, and More Wore to Their First Video Music Awards
Arguably the queen of the VMAs, Britney Spears made her first appearance in 1999 in sheer black; 17 years later, she wore a similarly-colored ensemble.

Photos by Getty Images.
Taylor Swift kicked off her storied VMA history in a blush pink dress in 2008; in 2015, she took home Video of the Year in sequined sweats.

Photos by Getty Images.
Alicia Keys attended her first VMA's in 2004 wearing a grecian-inspired gown; last year, she appeared bare-faced.

Photos by Getty Images.
In 2000, Beyoncé attended the ceremony with her Destiny's Child band members wearing matching leather looks; last year, she took home "Video of the Year" in a feathered couture gown.

Photos by Getty Images.
Ariana Grande opted for a sweet floral look for her first VMA red carpet; in 2016, she opted for something a bit more mature, by Alexander Wang.

Photos by Getty Images.
The picture of pop princess-dom, Christina Aguilera went leopard and sheer for the 1999 ceremony; by 2008, she was fully embracing the glam side of things.

Photos by Getty Images.
Justin Bieber piled on the accessories for his first ceremony in 2010; in 2015, he opted for a more streamlined look in ripped jeans and a leather jacket.

Photos by Getty Images.
Ciara attended her first show in 2008 wearing a silver minidress; in 2015, she took a much more fashion-forward approach in a fringed number.

Photos by Getty Images.
Jared Leto presented at the 2006 awards wearing some serious guyliner and a white skinny scarf; nine years later, despite a new Academy Award, the actor proved he still was into his goth ways.

Photos by Getty Images.
J.Lo showed up to the 1998 awards in a oversized cream suit and matching hat; the singer's look for the 2015 awards was far more on par to the Jennifer Lopez we know now.

Photos by Getty Images.
Kanye West arrived at the 2004 awards in an all-white ensemble; twelve years later, he wore a similar ensemble and arrived with now-wife Kim Kardashian.

Photos by Getty Images.
Justin Timberlake showed up with the rest of the 'Nsync gang in a leather jacket; by 2013, he had shifted to his signature fedora.

Photos by Getty Images.
Katy Perry, who will host this year's ceremony, crafted her own ensemble for the 2008 awards; at the 2014 awards, she riffed on Britney Spears's iconic denim gown.

Photos by Getty Images.
Lady Gaga kicked off her tradition of kooky ensembles in 2009 wearing a feathered look; in 2013, she saved her theatrics for the stage.

Photos by Getty Images.
In a leather mini and trailing braid, Kesha made her VMA debut in 2010; in 2014, she toned down the look with a pastel gown and matching hair.

Photos by Getty Images.
Madonna kicked off the inaugural ceremony in 1984; in 2009, she returned in a subdued black suit.
A year before her iconic lavendar catsuit, L'il Kim matched Lisa "Left Eye" Lopez at the 1997 awards; the rapper let her boots do the talking in 2013.

Photos by Getty Images.
Gwen Stefani attended the 1997 awards with her No Doubt bandmates; in 2014, she was solo and donning shocking pink.

Photos by Getty Images.
Miley Cyrus arrived at the 2008 awards in a modest metallic dress; in 2015, her look was still metallic but definitely not modest.

Photos by Getty Images.
Pink, who will receive this year's Video Vanguard Award, took home her first moon-man in 2001; the singer arrived at the 2012 awards in a metallic gown.

Photos by Getty Images.
Rihanna was a fresh-faced and little-known singer when she attended the show in 2005; last year, she recieved the Video Vanguard award.

Photos by Getty Images.
Demi Lovato attended the 2011 awards in a sequined minidress; four years later, she returned wearing a similar ensemble.

Photos by Getty Images.
Selena Gomez made her VMA debut in 2011 in a high-low black dress; in 2015, she was super sophisticated in navy Calvin Klein.

Photos by Getty Images.
Solange arrived at the 2001 awards in an ensemble she'd likely not be caught in today; the singer was much more in tune with her current sartorial standard by 2014.

Photos by Getty Images.
What's the last movie you saw in theaters?
Just yesterday I saw Brigsby Bear, the Kyle Mooney movie. I think he's an absolute genius, and I loved the movie. It's much heavier than I expected.
What's the last thing you saw at the theater?
I ended up at an outdoor regional staging of Newsies, up in Sullivan, California, and it was exactly what my soul was craving. We went up there for a weekend of wine tasting and stuff, and we had tasted the wine by the time we checked into our hotel, and they said, "Oh yeah, Newsies is up the street," and we were like, "That is exactly what is about to happen." So we threw our bags down, ran up, and got the last two seats. It was meant to be; it was really something.
What's the last piece of art you bought, or ogled?
I don't know if this counts, but there's this British graphic designer that makes street signs based on songs and albums, and I have these two things hanging in my office that are like British highway signs—one points to a town called "Malice," and the other says "Going Underground." So they're based on old The Jam singles, but they're British road signs.
What's the last museum exhibition that you loved?
This goes back a few months, but in London, I saw the Björk virtual reality show. She takes you to another reality anyway, but then when you put on a helmet and you're fully immersed, it's really jarring. There's one where you're literally inside a flaming Björk as she sings. It was almost too intense.
What release are you most eagerly anticipating?
I'm hoping that the second season of Take My Wife will find a home, because it was on Seeso, which is now going away. It's such a funny show, but it's also really important, because there's real queer and female representation on it—and it's just funny.
MTV VMAs: Jennifer Lopez, Madonna, Cher, and More of the Most Daring and Iconic Beauty Moments of All Time
Pairing her lavender smoky eye with her platinum blonde locks and a black headband, Cher was an original at the first annual MTV Video Music Awards in 1984.

Getty.
Tina Turner rocked her iconic choppy, voluminous locks with full bangs and a bold red lip in 1984.

Getty.
Posing at the MTV Music Awards, Madonna wore her tousled blonde waves with a coral red lip.

Getty.
Cyndi Lauper wore her platinum blonde tousled pixie embellished with hair tinsel at the 1988 MTV Video Music Awards.

Getty.
Sinead O'Connor attended the Seventh Annual MTV Video Music Awards wearing her buzz cut with a sheer, natural lip.

Getty.
Mariah Carey kept her look simple with natural curls and a mauve lip at the Eighth Annual MTV Video Music Awards.

Getty.
Bjork attended the 1994 MTV Video Music Awards wearing her brunette locks in playful top knots.

Getty.
The members of TLC, Chili, T-Boz and Lisa "Left Eye" Lopes, posed wearing asymmetrical bobs, tousled curls and dark smoky eyeshadow.

Getty.
Wearing her long brunette waves with a natural lip, Alanis Morissette attended the the 12th Annual MTV Video Music Awards.

Getty.
The Spice Girls hit the red carpet at the 1997 MTV Video Music Awards wearing elaborate hairstyles and a lot of eye makeup.

Getty.
Rocking a short, tousled hairstyle with a taupe smoky eye and a mauve lip, Janet Jackson attended the 12th Annual MTV Video Music Awards.

Getty.
Gwen Stefani wore her turquoise blue bob in pulled-back top knots with embellished makeup at the 1998 MTV Video Music Awards.

Getty.
As one of the most iconic moments on the MTV Video Music Awards red carpet, Lil' Kim matched her hair with her purple ensemble.

Getty.
At the 2000 MTV Music Video Awards, Jennifer Lopez wore her wavy hair in braids with a bandana and a glossy lip.

Getty.
The late musician Aaliyah wore her sleek, long brunette locks with a glossy coral lip at the 2000 Video Music Awards.

Getty.
Shakira styled her long blonde locks with a thin black headband at the 2001 MTV Video Music Awards.

Getty.
Lady Gaga attend the 2010 MTV Video Music Awards wearing her hair in silver and turquoise ombre waves with a golden headpiece.

Getty.
Opting for voluminous yellow curls with a Barbie pink lip, Nicki Minaj stole the show at the 2012 MTV Video Music Awards.

Getty.
Rihanna kept it simple at the 2012 MTV Video Music Awards, wearing her neat pixie with a bold red lip.

Getty.
Miley Cyrus wore her hair in a buzzed style with two sleek top knots at the 2013 MTV Video Music Awards.

Getty.
Katy Perry wore her dark brunette locks with a sleek cat eye at the 2014 MTV Video Music Awards.

Getty.
Rocking an ultra sleek, modern cat eye with side swept bangs, Taylor Swift arrives at the 2015 MTV Video Music Awards.

Getty.
Looking radiant with an elegant, braided up do and a golden cat eye, Beyoncé attends the 2016 MTV Video Music Awards.

Getty.
Paris Jackson wears lower lid smokey-eye and ombre hair to the 2017 MTV Video Music Awards on August 27, 2017. Photo courtesy of Getty Images.
Cardi B wears matching green earrings and rings with a pixie cut at the 2018 MTV Video Music Awards on August 20, 2018. Photo courtesy of Getty Images.
What's the last song you had on repeat?
I can't get enough of "On the Level" by Mac DeMarco—I've been listening to it all summer. The whole record is great, but that song in particular is just really beautiful.
What's the last concert you went to?
A couple of weeks ago, I saw Matthew Sweet at the Echo in L.A. I'm a huge fan of his, but his opening act was Tommy Keene, who's been one of my favorites since I was 15—he's like this unsung hero of pop-rock music. Susanna Hoffs also made a cameo, and she's ageless and super cool. So it was one of those shows where I felt like I was surrounded by my people—everyone who showed up, I was like, Okay, we're friends.
How do you discover new music these days?
It's really hard to keep up, and I don't know how much of that is a function of age, and how much of that is just that it's coming at you from a billion different directions at all times. It used to just be the radio and MTV, and that was how you found out about things, but now there are a zillion blogs and SoundCloud and what people are tweeting about. So even when I find a new album that I'm in love with, I listen to it a few times and then something else comes in and I forget about it.
What podcasts do you listen to?
I just started one called Homophilia with Matt McConkey, who's a writer on Heathers. It's just LBGT people having fun, deep conversations. But I listen to Throwing Shade, and my friend Drew Droege's podcast Minor Revelations, where he and his guests just tell stories they've never told before.
What are your favorite social media accounts to follow?
My favorite thing is that the people I grew up worshipping are now on Twitter, so I don't have to wait for another book or TV show or movie or whatever to hear their thoughts—Merrill Markoe, Albert Brooks, and more geniuses I loved when I was a teenager are now just tweeting, which is amazing. If we get Fran Lebowitz, we'll have a full house, though I can't imagine that.
Last thing: What's the last thing you do before you go to bed?
Oh boy. Okay, so we're deep into American Ninja Warrior season, and that's a show I genuinely, unabashedly love. Each episode is about two or three hours long, so we sort of parcel it out, and when it's bed time, we'll pull it out. I find it soothing.
Related: The VMAs Have Become The Wrestlemania of Pop Music
MTV VMAs: See the 20 Most Outrageous Red Carpet Looks Of All Time
Miley Cyrus arrives to the 2015 MTV Video Music Awards at Microsoft Theater on August 30, 2015 in Los Angeles, California.

C Flanigan
Britney Spears arrives at the 2002 MTV Video Music Awards at Radio City Music Hall in New York City. August 29, 2002.

Evan Agostini
Tommy Lee and Pamela Anderson arrive at the 1999 MTV Music Video Awards held at the Metropolitan Opera House, Lincoln Center in New York City on September 9, 1999.

Frank Micelotta Archive
Christina Aguilera at the Radio City Music Hall in New York City, New York.

Jim Spellman
Lil' Kim during The 1999 MTV Video Music Awards at Metropolitan Opera House in New York City, New York, United States.

Ron Galella
Destiny's Child during 2001 MTV Video Music Awards at The Metropolitan Opera House at Lincoln Center in New York City, New York,

KMazur
Jennifer Lopez during 2004 MTV Video Music Awards – Arrivals at American Airlines Arena in Miami, Florida, United States.

SGranitz
Carmen Electra posing outdoors on a red carpet in a long black sheath dress with cutaway sides at the MTV Video Music Awards, Radio City Music Hall, New York City.

Victor Malafronte
Fergie of Black Eyed Peas during 2006 MTV Video Music Awards at Radio City Music Hall in New York City, New York, United States.

Jason Merritt
Rose McGowan and Marilyn Manson during 15th Annual MTV Video Music Awards at Gibson Amphitheater in Los Angeles, California.

Ron Galella
Nicki Minaj arrives at the The 28th Annual MTV Video Music Awards at Nokia Theatre L.A. LIVE on August 28, 2011 in Los Angeles, California.

Steve Granitz
Avril Lavigne and Kelly Osbourne during 2003 MTV Video Music Awards at Radio City Music Hall in New York City, New York, United States.

Jim Spellman
Macy Gray during 2001 MTV Video Music Awards at The Metropolitan Opera House at Lincoln Center in New York City, New York, United States.

RJ Capak
Jessie J arrives at the 2011 MTV Video Music Awards at the Nokia Theatre L.A. Live on August 28, 2011 in Los Angeles, CA.

Gregg DeGuire
Gwen Stefani attends the 15th Annual MTV Video Music Awards on September 10, 1998 at Universal Amphitheatre in Universal City, California.

Ron Galella
Lady Gaga poses in the press room at the 2010 MTV Video Music Awards at the Nokia Theatre on September 13, 2010 in Los Angeles, CA.

Gregg DeGuire
Charli XCX attends the 2014 MTV Video Music Awards at The Forum on August 24, 2014 in Inglewood, California.

Steve Granitz
Riff Raff and Katy Perry arrives at the 2014 MTV Video Music Awards at The Forum on August 24, 2014 in Inglewood, California.

Steve Granitz
Blac Chyna and Amber Rose arrive at the 2015 MTV Video Music Awards at Microsoft Theater on August 30, 2015 in Los Angeles, California.

Jeffrey Mayer
INGLEWOOD, CA – AUGUST 27: Jared Leto of Thirty Seconds to Mars attends the 2017 MTV Video Music Awards at The Forum on August 27, 2017 in Inglewood, California. (Photo by Frazer Harrison/Getty Images)

Frazer Harrison
Katy Perry Confesses to Crying to Some of Her Own Songs: