David Beckham Also Has His Own Clothing Line, and Brooklyn Beckham Won't Stop Stealing From It
After attending his wife Victoria Beckham's spring 2018 show, David Beckham got to work with a Fashion Week event of his own for Kent & Curwen.
---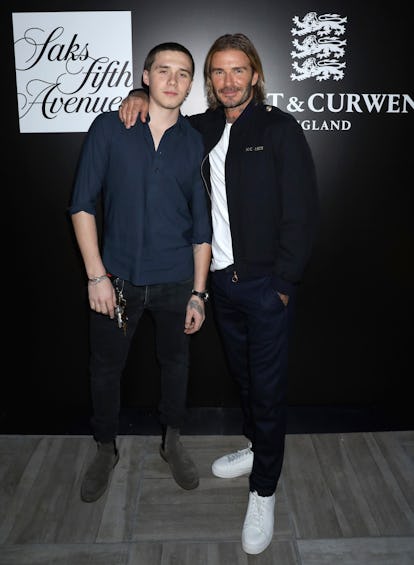 Darren Gerrish
On Sunday morning, David and Victoria Beckham's 18-year-old son Brooklyn took a break from his freshman year of college—and his various book signings this week—to sit front row at his mom's spring 2018 show, appropriately next to his dad. Upon closer inspection, though it turned out it was actually the latter parent whom he was arguably showing perhaps even more support for: Victoria's line now has an established and respected presence at New York Fashion Week, which made it the perfect place for Brooklyn to rep his dad's much lesser-known brand in the States by wearing a striped tee by Kent & Curwen, the British heritage menswear brand that Beckham is now a business partner of.
Never-ending support, however, seems to run in the family: A day later, following in the footsteps of his father, who last month dropped him off at college and continued to hang around the city, even picking him up from orientation, Brooklyn also made the trek uptown to simply to show face and support his dad for a total of about one minute on Monday, aka a school night, at Kent & Curwen's fall 2017 launch at Saks Fifth Avenue—and also to apparently finally say goodbye.
"I tend to stay away from most of the things going on during Fashion Week, just because it gets crazy, so I go to my wife's show and then I'm heading out tonight," David said after Brooklyn had made his exit from the celebratory garden party on Saks's terrace overlooking the Rockefeller Center plaza. "I think the energy in New York is incredible, but obviously Fashion Week gets kind of crazy, so I'm excited to be here, but then looking forward to going back to my other kids tonight."
Not that he hasn't been appreciative of Brooklyn's support ever since he teamed up with Kent & Curwen, which has been churning out rugby, cricket, and university-appropriate designs since 1926. Late last year, Beckham came on board as a business partner and brought along the designer Daniel Kearns, who's worked with everyone from Louis Vuitton to Alexander McQueen to John Galliano, as creative director; since then, they've put out two collections, and done their very best to make the heritage brand contemporary.
"From day one, we've spoken about how we wanted to create a brand that's multigenerational, and we're very proud to be able to say that we've done that so quickly in the partnership," Beckham said of his gratitude for Brooklyn's approval—even though it was actually getting a bit out of hand before his son moved to New York.
"Obviously, I go into the showroom most days and kind of end up coming home with more clothes than I'm probably allowed to," Beckham continued. "But I think the fact that I'm taking things home and then it's disappearing out of my wardrobe into my 18-year-old son's wardrobe tells us that we're on the right road."
Kearns and Beckham seem to have especially have succeeded with their fall 2017 collection, which is at long last, after making its debut in London in January, available in the U.S. (though only at Saks, as evidenced by the store's seven newly Kent & Curwen-filled windows). "The first one was about identifying what the DNA the brand stood for—the rugby shirt, the cricket sweater, the bomber jacket, the brass button blazer we invented—and this was about expanding on that," Kearns said.
And, after continually going to vintage stores together and trawling even further back through the brand's archives, they found influences not just in sportswear, but in Kent & Curwen's designs for everything from military and universities to the House of Parliament. "It's about really taking the breadth of all those uniforms and clothes and making them contemporary for today," Kearns said of what they came up with for fall, which features plenty of English rose emblems among the brand's usual signature crests.
After eagerly listening to Kearns, Beckham, who'd opted for one of the bomber jackets adorned with some low-key brass buttons that night, admitted he himself would love to dip his toes into doing the actual designing as well: "Designing is something I've never done," he said ruefully. "If I had the time, I'd love to learn, but obviously I have four kids and other things that I'm involved in. That's why Daniel's appointment and having someone I could work really closely with was really important for me, because when I'm involved with something, I like to be really involved."
Still, Beckham was far from selling himself short: "But obviously one of the things I bring to our partnership is he fact that I've been able to work with a number of brands over the years—H&M, Armani, Belstaff, Adidas—and I have the experience in that part," he added. Designing, he continued, "is where Daniel's expertise comes into it." (At least until Victoria shares her secrets in being a successful multihyphenate.)
Related: Brooklyn Beckham On His Photography, His Parents, Those Haters, and Plan to "Disappear For a Few Years"
Jourdan Dunn Thinks Victoria Beckham Is Fashion Royalty: