How to Move Into College When You're an Obama, a Beckham, and a Trump
Spoiler alert: Barack eagerly offered Malia his help, while the Donald kept his distance from Tiffany.
---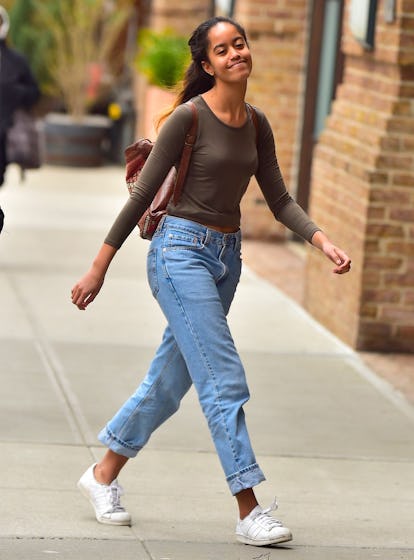 Alo Ceballos/Getty Images
Last week, we witnessed an end of an era: Malia Obama's illustrious gap year, in which she accomplished not only interning for Hollywood impresario Harvey Weinstein, but adding hoods and short shorts to the annals of acceptable intern wear, partying with Jenna Lyons and Jemima Kirke, making hot Fashion Week friends, and earning glowing recommendations from former bosses Lena Dunham and Halle Berry to boot, has officially come to a close. Last Monday, the 19-year-old daughter of Barack and Michelle Obama bid adieu to the blithe spirit she so successfully unleashed and reported for duty—that is to say, she showed up the campus of Harvard University, where she's now currently enrolled like a completely normal student, in a two-SUV Secret Service convoy, and had the former president and first lady of the United States help move her in.
Meanwhile, a bit further south, after visiting the set of Modern Family with his own quite modern family, not to mention publishing a book (and surviving the ensuing wrath of the internet), 18-year-old Brooklyn Beckham said goodbye to London and Los Angeles and, just like his mom Victoria Beckham suggested, moved to New York to more formally pursue photography, intern with names like Mario Sorrenti, and, as he told W earlier this month, just generally "disappear for a few years."
And while Victoria posted an emotional Instagram with the hashtag #yesiamcrying—and proudly took care to note her son's "amazing" A Level scores—it was in fact her husband, David Beckham, who really ended up outing his anxieties of becoming an empty nester. (Despite the fact that the pair have three more younger children.) It was David who flew to JFK with Brooklyn earlier this week to be there for his son as he geared up to start the year at Parsons School of Design—and posted not one, but two selfies to prove it.
He also took care to pick up Brooklyn from orientation, and has kept enforcing family time by continuing to hang around not only Brooklyn, but his younger son Romeo, too.
Meanwhile, Victoria is also obviously also in town—if you couldn't tell by the fact that she's been parading around in pajamas—but seems to know it's time to let go, choosing to spend her time with simply Romeo instead.
Marla Maples can perhaps relate: She's now partying in the Bahamas, having successfully dropped her daughter Tiffany Trump off at Georgetown University Law School in Washington, D.C., where she'll be continuing her education after graduating from the University of Pennsylvania with a degree in sociology and concentration in law, without so much of a paparazzi snapshot. (While campus is just a mere 12 minutes from the White House, Trump's father, The Donald, chose not to accompany her—though he did apparently hook her up with a motorcade and no less than six bodyguards.)
In fact, the only indication that Trump has made it to campus at all is an Instagram she posted of her textbooks, and just a couple of scattered tweets that primarily feature mention of her security details. Obama, on the other hand, can't even go for a jog around campus with the fact that she's wearing Nikes being reported, or run out for a salad without being asked for photos.
Given that there hasn't been a single snapshot of Trump on campus, we haven't yet gotten insight into her college wardrobe, though here's hoping it's more appropriate than her stepmom's choice in heels. As for Obama's? She seems to so far be blending in just fine, though it's still yet to be determined whether or not she packed her legendary "smoking kills" tee.
Related: How to Do a Gap Year Like Malia Obama, Blithe Spirit Unleashed
Taraji P. Henson on How She Failed Math in College: