The Beckham Family Visited the Modern Family Set
Can David Beckham play Lily's soccer coach?
---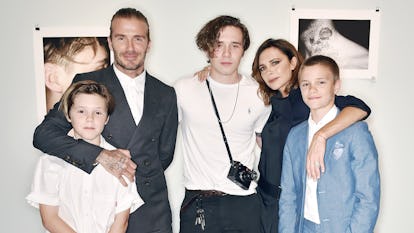 Nick Harvey/REX/Shutterstock
America's favorite televised family has met Britain's (second) most famous family. Yes, the Dunphys and the Beckhams have collided.
Continuing an epic family summer that has also included little Harper Beckham celebrating her sixth birthday at Buckingham Palace, Victoria and David Beckham brought Brooklyn, Romeo, Cruz, and Harper to the home of the fictional Dunphy family in Los Angeles, and posted pictures of the experience on Instagram.
Victoria Beckham wrote, "Dunphy's are out, the Beckham's moved in. The new modern family! #DavidDumphy
mitchstolemypose @jessetyler ? @davidbeckham X VB," pointing out how Jesse Tyler Ferguson, who plays Mitchell Pritchett on the show, modeled with a very Posh-like sunken pose and contemplative look. Ferguson took to the re-casting, dubbing himself Victoria Beckham, saying,"The role of Claire is being played by @victoriabeckham. The role of Phil is being played by @davidbeckham. The role of Victoria Beckham is being played by @jessetyler. Thank you all for coming to visit the Modern Family set today! We loved having you all!!!"
When some overly-excited fans freaked out at the possibility of the Beckham family swapping places with the Dumphys, Ferguson issued a clarification: "The family was only visiting the set, not shooting an episode. Although I think David could be Lily's new soccer coach."
Related: Victoria Beckham's Daughter Just Found Out Her Mom Was a Pop Star